We've seen hybrid designs before, and if I'm honest when I first heard about the Solana I thought someone was talking about the hotel in "Benidorm". Not so, this is the new Android tablet slash Windows 7 laptop from novero. It's got a 10″ screen and has a rather trick revolving mechanism to keep your kids entertained switch to the Android tablet.
There's WiFi / 3.5G connectivity plus Bluetooth, and it's powered by a dual-core N2600 Cedar Trail Atom CPU, which we assume will run at the standard 1.6GHz. Storage-wise you can have up to 128GB SSD and further storage via the microSD slot. It weighs in at just 1.3Kg and has stereo speakers, video camera, 2GB DDR RAM and a HDMI output.
Expect this to hit the streets for around £500 in Q2.
We'll be sniffing around this when it's displayed at Mobile World Congress shortly.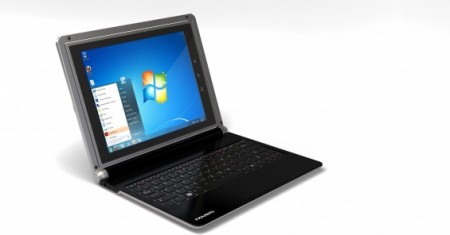 Düsseldorf, Germany/Barcelona, Spain, February 23, 2012 – Today novero announced the introduction of Solana, a lightweight, 10-inch laptop/tablet hybrid with a flip-rotating design at the Mobile World Congress in Barcelona. Designed to deliver the best combination of everyday business computing and mobile entertainment, Solana offers optimal flexibility and state-of-the-art features in one unique device. Whether converting between laptop and tablet mode with just one flip of the screen, or switching between the two operating systems Genuine Windows 7 (Windows 8 ready) and Android within seconds, or staying seamlessly connected through high-speed 3.5G (HSPA+), WiFi or Bluetooth®, Solana is the premium lifestyle mobile device built to work, watch, listen, play and connect in multiple ways. Its capacitive sensing multi-touch panel, built-in video camera, stereo loudspeakers and six row full QWERTY keyboard all support the requirements of today's mobile life. Solana is endowed with the most energy efficient Intel® dual-core Atom® processor available today, and with up to 128GB SSD extendable storage via a micro SD card, storage capacity will never be an issue. The lightweight, 1.3kg laptop/tablet hybrid is expected to be available at the beginning of Q2/2012. The recommended retail price is an estimated 550 EUR (699 USD) for the standard configuration, with 64GB SSD.

Solana will be showcased during the Mobile World Congress in Barcelona (February 27 -March 1, 2012) at novero´s booth in hall 2.0 /2C15.

"By introducing Solana we have marked the next milestone in offering intelligent and affordable, multi-feature products which perfectly match today's professional consumer needs", says Razvan Olosu, CEO, at novero. Olosu adds "the idea to merge a laptop and a tablet as such is not ground breaking at all. However, the way we have designed Solana´s body and brain, combining two of the most widely used operating systems, Windows and Android, and addressing the needs of the mobile business community to carry a single device for both productivity and entertainment is unique and outstanding. I am proud that the esprit and the extraordinary capabilities of Solana do mirror the teamwork and brainpower of our development and design teams in Canada, Germany and Denmark. That we have our finger on the pulse of the time has already been confirmed by the great feedback we received from developers and other experts who already could experience the look and feel of Solana's first prototype at the Intel Developer Forum 2011. Now we are ready to launch Solana, and offer everybody more for less with the freedom to smoothly flip between work and fun, between laptop and tablet mode, and between Windows and Android applications."

Being the slimmest in its class, novero´s Solana laptop/tablet hybrid combines mobile entertainment and everyday business computing. It offers flawless conversion between tablet and laptop mode in one motion with its flip-rotating screen design. Solana works with the most powerful and yet most energy efficient Intel Atom Dual-Core N2600 Cedar Trail processor backed by an Intel GMA3600 graphics processor. An extended 32 Whr battery, 2GB DDR3 RAM memory and configurable 32-128 GB SSD storage are part of Solana's core features. Solana´s 10-inch LED back-lit display comes equipped with a capacitive touch panel with multi-touch option, a video camera, an ambient light sensor, as well as an accelerometer. The main body is constructed with high quality magnesium, and detailed with stylish black piano-lacquer elements. In addition to the full QWERTY keyboard, a track pad with multi-touch and gesture support is also integrated. Stereo loudspeakers and ports for DC power, USB (2x), SIM card, microSD card, audio and microphone jack as well as video (HDMI) support round up the feature offerings. The weight of the laptop/tablet hybrid is 1,3 kg – significantly less than the weight of the lightest laptop and tablet combined.