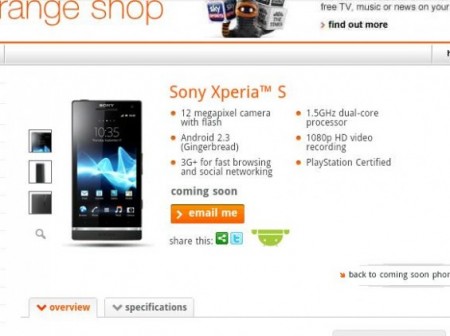 Well, we knew that Orange were taking the Xperia S, but now things have moved a step closer with the new Sony Mobile proudly sitting on the "Coming Soon" section.
We're hearing very good things about this phone, and we can't wait to take a look in Barcelona. The Xperia S has a 4.3″ HD Reality display (720×1280.. nice!) and runs Android 2.3, although an upgrade to Android 4.0 will trot along faily soon.
It's got a very nippy 1.5GHz dual-core processor, 12 megapixel HD rear camera (plus another 1.3 megapixel one up front), NFC, GPS, WiFi, DLNA but alas no microSD expansion. Still, the 32GB on-board should do you fine. 🙂
Want.
Link – Orange
Credit – Big Tony