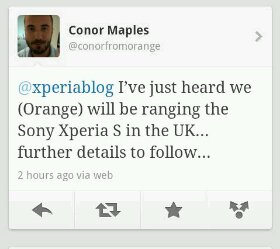 Three confirmed their intention to carry the new Xperia S within minutes of the device getting shown at CES the other day. Now O2 and Orange have both stepped forward to confirm the same.
Conor has just posted a tweet to confirm that Orange will be carrying the phone, although there's no concrete dates or prices just yet.
Meanwhile O2 have, according to a number of blogs, also said that they will carry it but we're awaiting full confirmation from them at the moment. Phones 4U look to be getting the handset in an exclusive white shade. The Xperia S has a 12 megapixel camera at the back, another 1.3 megapixel one up front, a 4.3″ 1280×720 pixel screen and a dual core 1.5 GHz CPU. You can see more of it here.
Link – Twitter