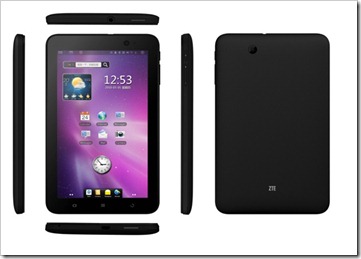 The ZTE V9A Light Tab we spotted last month now has an official Press Release and, as we mentioned earlier, will arrive in shops soon. Known now as the "ZTE Light II Tablet" it's the first own-branded tablet from the company to UK customers. ZTE, like HTC many years ago, have followed the path of lettting operators stick logos onto their kit.
The Light II runs Android 2.3 (Gingerbread) on a Qualcomm MSM8255 and has 7″ TFT-LCD capacitive screen, FM radio and, according to ZTE, the battery should give you 5.5 hours of movie play. The tablet also has 2 cameras, 4GB of in-built memory and WiFi.
If you'd like to see more of the V9A, Clove have got an unboxing video, and you can of course buy it over there for£234.99.
http://www.youtube.com/watch?v=R_4Dzat9c7k
Link – Earlier story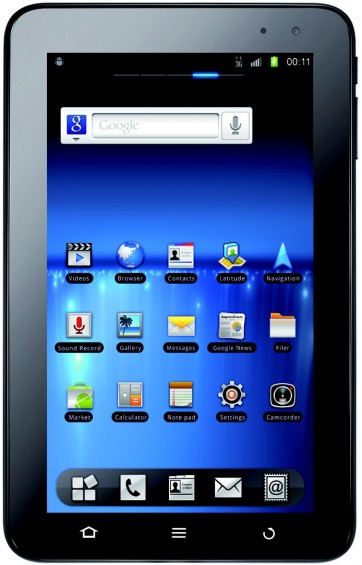 ZTE Light II Tablet Coming Soon to the UK

ZTE 7-inch Android 2.3 tablet with dual cameras

14 February 2012, Shenzhen, China – ZTE Corporation ("ZTE") (H share stock code: 0763.HK / A share stock code: 000063.SZ), a publicly-listed global provider of telecommunications equipment and network solutions, has launched its 7-inch V9A tablet, the ZTE Light Tab II, in the UK.

The highly-anticipated device will be ZTE's first own-branded tablet available to UK consumers. Running on Android 2.3 (Gingerbread) it has a tidy 7- inch TFT-LCD, capacitive touch screen and speedy Qualcomm MSM8255 processor which allows for efficient data usage on the move.

Weighing in at just 402g and small enough to carry around, the portable device comes equipped with popular apps such as YouTube and Google talk. It has an FM radio and battery life enabling 5.5 hours of movie play, ideal for extended commutes.

With 4GB of in-built memory the tablet can hold over 200 photographs taken on either the front facing 0.3MP camera or with the larger 3MP rear camera, or over 500 of users' favourite tracks, which can be bolstered with an external micro SD memory card.

Operating on GSM, UMTS, and HSPA networks, the tablet will be available for purchase through a number of channels in the open market.

"ZTE V9A is ZTE's first own-branded tablet made available in the UK and we are very excited about its entry into the market. We plan to continue our progress in the UK, introducing ZTE branded consumer devices with key capabilities at reasonable prices," said Wu Sa, Director, Mobile Device Operations, ZTE. "Our UK strategy is very much focused on providing quality devices – a factor which is apparent through our growth and development in the handset arena".

ZTE Light Tablets are shipped to more than 30 countries and regions around the world. The V9A is also currently sold in Spain, Indonesia and Hong Kong.