The mid range tablet market is sometimes a bit of a nightmare. There are too many manufacturers just making cheap tablets with poor specs and not fully thinking about the end user. Things like not having the Android Market, not being able to play the latest games, missing vitals specs like micro sd slots. The list could go on for a while. Luckily there are notable exceptions such as Archos who still manage to make devices like the Archos 80 G9 (which we reviewed here).
ZTE have succeeded before with devices like the ZTE Blade which captured the imagination of the hackers who loved it. Maybe they will recreate that buzz with their new tablet.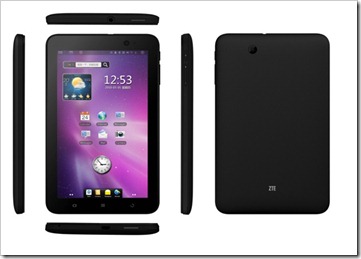 Clove announced recently that they would be getting the Light Tab into stock late February. So hopefully we will see then what it's capable of. I hope it has some sort of custom skin on it, as some people seem to get upset about tablets running Gingerbread. Take the HTC Flyer for instance which has Sense on top of Android.
The spec of the ZTE Light Tab is as follows. It sounds like it could be a great device. I do like a good 7″ tablet with 3G and this sounds great. The only slight problem I can see is the competition of tablets like the Orange Tahiti which has a slightly better spec and a newer version of Android. Does someone buying a tablet like this care though?
7″ Capacitive Touchscreen Display (1024×600)
Google Android 2.3
1.4GHz Processor (Qualcomm Snapdragon MSM8255)
WiFi
3G
4GB ROM
Micro SDHC slot
12.6mm Thick
Rear facing 3.2 Megapixel Camera
Front facing 0.3 Megapixel Camera
3400mAh Battery
The ZTE V9A – Light Tab 2 is due to be available at the end of February at a price of £234.99 inclusive of VAT.
Source – Clove