Can you remember the other week we covered the ZTE Tania event in London? If not the details are here. Well Clove and Unlocked Mobiles now both have them in stock for £199.99 inc vat. They only have the black ones in stock at the moment which is a shame. But hey if you want a bargain new Windows Phone then head over to one of these and grab one now.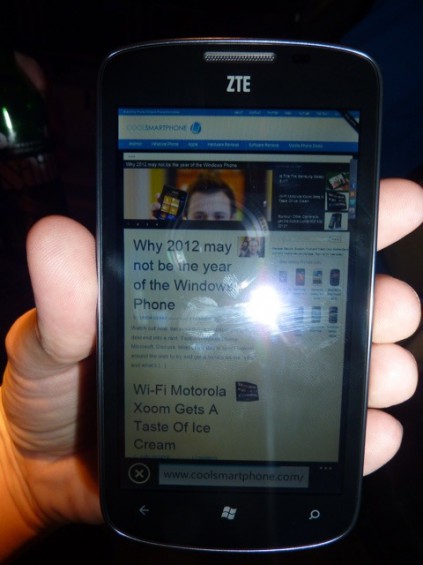 Overview of ZTE Tania
The ZTE Tania is fully equipped with the latest Windows Phone 7.5 software which is great for both business and pleasure and makes it easier than ever to connect and share with friends, family, and colleagues.
Web browsing, social networking, document and email handling, it is all possible on the Tania and it will be handled with relative ease by the phone thanks to the 1GHz processor. It might not be fast enough for the gamers out there but if communication and general smartphone use is what you want then the Tania is certainly an ideal candidate.
The 4.3 inch display with a 800 x 480 resolution gives a more immersive user experience. Web pages are easier to view, documents easier to handle and pictures bigger and clearer.
At only 10.7mm depth the Tania is not as big as you may expect. A 5MP camera with autofocus and flash allows you to capture images and these can be easily shared online or through social media networks thanks to the 3G and WiFi connections available on the Tania.
A product that offers performance and a price that wont break the bank, consider the ZTE Tania.Features of ZTE Tania 1GHz processor 4.3 inch display 5 megapixel camera with auto focus & flash 4GB Internal Memory WiFi 802.11b/g/n 3G/HSPA What's in the box of ZTE Tania ZTE Tania Battery USB Cable 3 Pin UK Mains Charger Documentation