Normally smartphones come in grey, black, brown, silver and more increasingly in white. White is my favourite colour for a phone and not a week goes by without me going on about another white phone. Well imagine my horror when Samsung announced that the Samsung Galaxy S2 would be sold in pink. I  didn't know whether to laugh or cry.
Yes Samsung want to capture as many customers as possible. Colours are obviously a way to capture new customers. Which is something Nokia have obviously picked up on, as they are shipping smartphones in a range of the most vibrant colours ever seen.
Well now Samsung seem to have leaked an image of the latest device to come in pink. This time it is the turn of the Samsung Galaxy Note. Yes the huge pen toting Galaxy Note which we reviewed here. Could you see you wife/partner with one of these?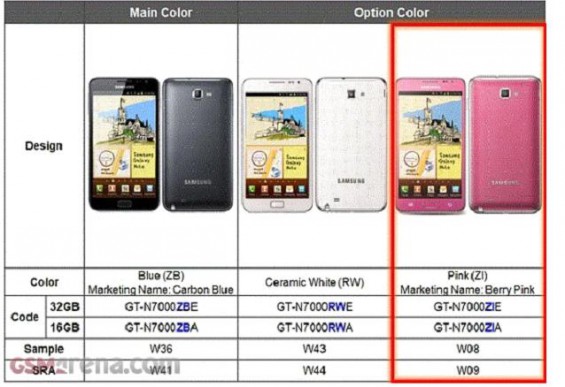 Gsmarena have had a tip off from an insider with this photo showing the Pink Galxy Note and the new model number.
So hands up who will be getting ones of these then?
Source – gsmarena