Want to try your hand at build an iPhone or Android app? Sure, you can start learnng code, but let's admit it, that's a little time consuming and sometimes difficult. There's a few sites out there which will let you create an app online – Andromo and Pocket-Portal.com to name just a few. Today we've tried out iBuildApp.
If you're looking for something quick and painless, try it out here. They've recently added 4 new templates for speedy app-creation and they've now had over 25,000 apps created using the system.
Additional templates now include a customizable mobile app for restaurants and bars with menus, reservations and the ability to add pictures of your food. A musicians template will let you add your music, videos and gig dates. Other templates also include E-Books, Galleries, Healthcare, Business apps and a widget-style app.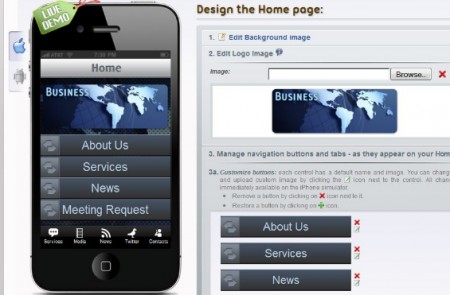 Everything is done online and there's a simple interface to get you going.
Link – iBuildApp