OK, story so far. We picked up some tweets from the T-Mobile UK Help Team stating that "Full Monty Tariffs have a max speed of 1MB/s". A day later, and T-Mobile told us that this was a mistake, but still we were getting sent phone calls where customers were being told pretty much the same thing. OK, it was probably an honest mistake. Perhaps some incorrect info on the internal systems that got regurgitated by staff.
However, we decided to do some "quick 'n dirty" speed tests with other networks, just to see what would happen. This revealed possible capping or "traffic shaping".
Dale Kilborn started the whole discussion about a strangely-named "GPRS Premium" package on Digital Spy. This add-on, it is said, lifts the "2Mb/s cap" we apparently saw on Orange yesterday. GPRS Premium is included in iPhone packages and, when I recently asked for it to be added onto my package (I don't have an iPhone), I was told that it wasn't possible.
Meanwhile, back to the T-Mobile Full Monty Plan. Again, we must reiterate the fact that T-Mobile now tell us..
Full Monty plans do NOT have a max speed of 1MB/s. We give all our customers the best possible speeds
Andy Murray is enjoying his Full Monty plan, and has sent us his Speedtest.net results. They all show a download no higher than 0.93Mb/s. Make of that what you will…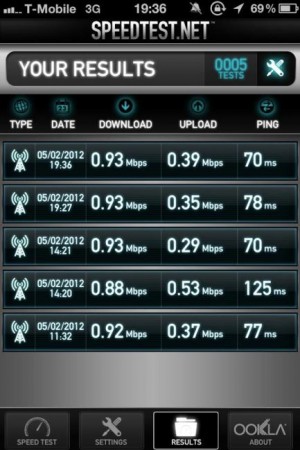 Update – James is on a "normal" T-Mobile plan (not a Full Monty tariff) and has sent us his results. They're similar to the tests we did on Orange and, once again, never go beyond 2Mb/s.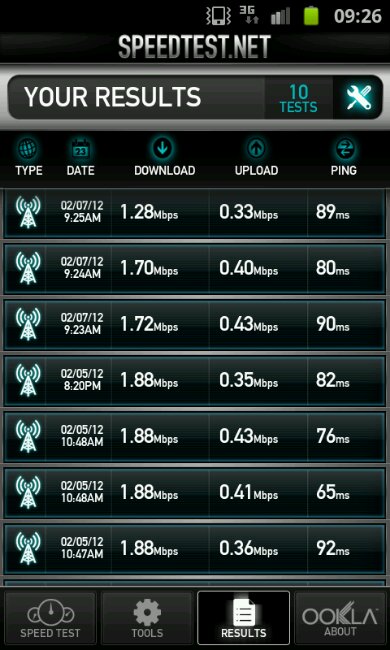 Update 2 – A rather interesting comment popped up below from Beaker656. It reads..
Not so much to do with "The Full Monty" but I upgraded to a SGS2 in December and, on my way to work I ran some speed tests and didn't get anything above 0.94Mbps download.

Got to work, rang T-Mo and told them that I got a quicker speed before the upgrade. They apologised saying "We don't know how your download rate has been reduced, but we'll put it to where it was before the upgrade". Within seconds I was back to 1.89Mbps. They have tiered download rates, the more you pay the more you get and it's a simple mouse click away for them. The thing is the average customer doesn't know so they never ask.

The sad thing is, T-Mo and 3UK use the same 3G network, yet T-Mo cap you, 3UK don't. Makes 3UK look very tempting.
Credit – Andy Murray – Dale Kilborn – James Pearce – Beaker656