Upon opening the Lumia 800 quick guide, I'm pointed to the Zune software…….."Well that's one plus for Android already" I quietly say to myself before navigating to Zune.net to get the aforementioned software.
Firstly, I think it's only fair to warn you all now before you continue reading. This is an editorial piece about my use of a Windows Phone 7 phone for the very first time, and my observations of it. This piece will follow no specific pattern and will jump around in a narrative normally associated with a trashy thriller (you know the sort!). It's fully intentional I assure you.
As you can probably tell from my first paragraph, I'm an Android user. I've been an Android user since Android launched really. I became increasingly frustrated with Windows Mobile, as it was back then and yearned for something different. I used Windows Mobile during my working day as it was the standard mobile device deployment for roaming users. I always loved the way I could get access to various web applications from my device without having to whip out my laptop. Ahh those were the days. Later, I came to find the use of WiFi built into such Windows Mobile devices (my favourite being HP iPAQ 6320) as completely and utterly imperative for my daily needs (and my sneaky Quote DB reading late at night whilst in bed).
My appetite for mobile devices was wet even further when SPB released their Mobile Shell for Windows Mobile. Not only could I now have the business functions I required, I could also now envelop them in a fully customisable, and frankly fun, environment. So when Android came out, with it's configurable UI and Widgets…I was sold! I have been ever since. It wasn't an easy transition. Swiping to view certain notifications was something new, however luckily SPB Mobile Shel prepared me for the UI.


I still look back at my WinMo days with great affection though. My O2 XDA Mini S still has pride of place in a bag somewhere, in my loft…….well, I couldn't ever bin it could I!!???!
Anyway, that was my first thought when I plucked my Lumia 800 review unit from it's box. "I have to download software? Oh dear lord…..it's really an Apple in disguise isn't it"
The Nokia Lumia is the first Nokia based Windows Phone 7 device to hit the market. It did so in November 2011 and has experienced steady sales since ( recently


reported to top the 1 million mark, and signals the departure of Nokia from it's Symbian and ill-fated MeeGo operating systems.
It boasts a 1.4Ghz Qualcomm Snapdragon processor, 16GB of internal memory, a 3.7″ AMOLED display for popping colours, and an 8Megapixel Carl Zeiss camera with dual LED flash. Quite standard sort of specifications by today's standards….it's what we've become used to with many HTC/Samsung/Motorola devices for instance.


Being an Android user I've gotten used to not needing specific software to start my life with a new device. Turn on my device, enter some account details and Go! That's the way forward isn't it? Surely! As stated above (the WinMo SPB Mobile Shell days), I've also gotten used to customising my device…….so that's 2 advantages already for Android isn't it?




Well, the fact that I can get my device up to scratch immediately via a "hard wired" solution is something that actually is quite a nice feeling. With Android, you could be sitting there waiting for the OTA update, or finding the update (if indeed one exists) online and flashing yourself. Making sure your build number is the same as the build number you are flashing to avoid "bricking" your phone is something many Android users are familiar with. The fact that my Zune software notified me, downloaded the updates, and pushed the update to the phone all in the space of 20minutes made me smile…..not a huge smile you understand. I'm an Android die hard fan you know….but a smile nonetheless. "This might be interesting".
SIM card locked and loaded, and with the Lumia fired up and updated, I set above the relatively simple task of configuring my corperate Exchange account.
Doddle…..synchronising before I knew it. Back to the home screen then…let's see what's going on shall we.
Urgh, blue tiles? What the hell is this…I can't even swipe down and display notifications? Oh dear god! I let out a short chuckle as I marvel at Android's brilliance. Hold on though…what's this…..my "tiles" are giving me some information. OK, there goes an SMS….my Exchange account….oh and my Windows Live picture has appeared. OK that's pretty cool!
Right let's see how the built in browser get's the job done. As I currently use an iPhone 4 for work, and my Galaxy Nexus (*kiss*) as my personal device, I'm used to a speedy, buttery smooth Browser experience. It must be said that with the iPhone's browser especially, I find it incredibly speedy and smooth to scroll around web pages. My Nexus is great too, and it has the size going for it (a winner for me) but the iPhone normally wins in terms of the smooth transitions, in most reviews. So I was rather surprised when I found the Windows Phone 7 browser to be as fast and intuative. The browser address bar is at the bottom. Ahh, near my thumb…okay, I'll give them that one! A quick test to the BBC website, and Neowin (a popular tech haunt for me) probide me with a quick test of the experience WP7 can deliver. I'm impressed. Speedy, no checker boarding when scrolling around loading websites. Pinch zooming is smooth and fast, comparable with the iPhone and occasionally faster than the Galaxy Nexus, although it pains me to say it. Under the hood of the browser, it's possible to customise the default user agent to use when loading a webpage (Mobile or Desktop version), delete the history, configure various privacy settings and other standard browser based configurables.
Lumia Browser

ICS Browser
OK so that's my two most frequently used applications looked at. Both work absolutely as I'd expect. Advanced settings are hidden away to allow the user to simply get on and use the device. Quite nice and neat – good job Microsoft/Nokia!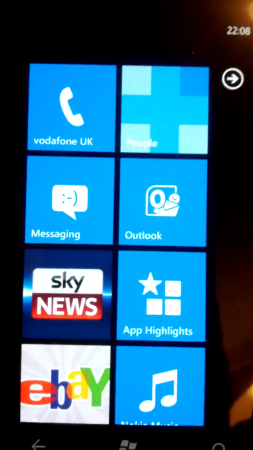 I suppose that leads me onto the general UI of the device. Windows Phone 7 employs the "Metro" style which will become even more previlent with Windows 8's imminent release. It's curved icons, bold blue tiles on the home screen, monochrome menu structure and it's rather bold method of using more text than graphics to allow users to select options, makes for a rather pleasant experience. As previously mentioned, the home screen is a set of tiles which give specific information relating to a linked application (Email and Exchange for example), and is a live indication of your digital world, keeping you up to date.
The tiles can be held down and moved up or down the tile structure to be repositioned, giving an element of customising. Marketplace applications can help to tweak the UI even further. Connectivity Shortcuts for example provides quick and simple access to WiFi, Bluetooth and Airplane Mode to name a few. These tiles can be "pinned" to the start menu. This helps to add the most frequent of tasks to your start tiles.
It's not without it's downsides however. Whilst I like the idea of having a uniform environment, somewhere where you are always going to be able to find what you are looking for, it can become a little bland, and quite quickly. It did have me yearning to add a new widget, or to swipe gesture to get information from my notification bar. However, these idiosyncracies are something that becomes second nature after a while. However die hard Android fans will find it difficult to accept.
OK, what's next? OK, let's get some applications on my device. I plumped for the aforementioned Connectivity Shortcuts. Marketplace launched and gave me a few options relating to the type of application I wanted to look for. Application, Game or Music?…..Application please! Featured, Categories of Applications, New Apps, or Top? I'll plump for the search button here. I found what I was after relatively quickly.
Windows Marketplace now has over 60000 applications available, so you'll not be short of a few to choose from. Most, like iTunes, or the Android Market, are reasonably priced or free. With 10000 new applications added since Christmas 2011, it's safe to assume that if your favourite application hasn't been made available for WP7 yet….it surely isn't long before it is!
It's then I get an email from my boss. It's a Powerpoint presentation. "Here we go". I instinctively look to launch one of my Office-friendly applications on my Nexus in order to try and get the right featureset. Instead, I simply opened my PPTX file from within my mail client, and Powerpoint launched. Before long I was looking at some organisational charts for my company. As an aside, worryingly I wasn't listed on it!
That got me thinking…what other Office applications are bundled. Word, Excel and Powerpoint come as standard, with access to Microsoft's Skydrive for sharing documents easily (a-la Dropbox) and also access to Office365, the online version of Office, equivilent to Google Documents. Interestingly also, the Lumia comes with OneNote. Notes can be created and stored on Skydrive for easily sharing Notebooks, but can also be synchronised with Shaerpoint 2012. A very nice touch as OneNote is one of my frequently used applications for work.
There are many other areas for me to get involved in, however my time with the Lumia has come to an end.
So given my rather limited use of a Windows Phone 7 device, I have to ask myself a few questions (and answer them hopefully too).
Would I use a WP7 device as my daily driver?
What is the Lumia device like in terms of hardware?
What improvements could be made?
Well starting with my second question first, I'd like to say I found the Lumia 800 device a pleasure to use. It's sleek curves and matt finish give it an expensive feel. It's quite heavy, which coming from my bigger but lighter Galaxy Nexus device, shocked me somewhat, but it's nothing that can't be gotten used to. I've always been a fan of dedicated camera buttons on devices, so I was obviously happy that a device with such an illustrious camera, delivered on this button.
All in all a nice device. I have gotten used to the larger screen of my Nexus however, but as a standard screen size device goes, it's gorgeous.
So would I use WP7 as my daily device? Absolutely. Would I swap it for my Galaxy Nexus? Absolutely not! The screen size is a winner for me, as is the sheer customisation of my device. What I will say is that as a work phone, it's between iPhone 4S and a WP7 device for me. I would look to use it daily for work given the chance.
So, what can Microsoft do to develop the OS? The first aspect is customisation. However I don't think they want to head too far in that direction as my opinion is that currently WP7 sits nicely on the fence between "fun device" and "business device".
So what else? The fact is, in my opinion, that WP7 simply needs a bit of time to mature…..as Android did. I seriously rate WP7.
I'll look forward to getting my greasy hands on another device shortly……..has my mind changed relating to WP7…..partially yes. Hold on…just getting a phone call on my lovely Galaxy Nexus though….I can't cheat on it just yet!