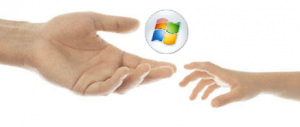 Rumours are rife that NOKIA may be announcing Windows Phone 7 as a partner, having previously partnered could it be that NOKIA are lining up the Windows platform for "a major platform shift"
Although these rumours have been around for a while, what makes these more believable is that recently-appointed CEO Stephen Elop, still maintains a good relationship with Microsoft and has been given orders to take Nokia in a new direction, a more profitable direction, having already toned down the SYMBIAN foundation, and demanded shorter gaps between announcement and realise of future products.
He hinted a few days ago that joining an existing ecosystem could make sense. Engadget states that a trusted source of theirs has now told them that the tide has turned and this appears to be happening at Capital Markets Day.
One of Nokia's existing platforms will be dropped as a direct result. Surely not Symbian, though terribly out-of-date, it remains popular in Europe and emerging markets, MeeGo is technically promising but has yet to make any impact in the market.
Perhaps the E7 has been delayed so it can launch with Windows Phone 7 on board ? Just kidding!