Remember Tweakker? The idea was simple. If you stick a new SIM into your phone, Tweakker steps in and sets all that APN / MMS business so that you can get browsing on your Android handset pretty quickly. It'll setup your iPhone too, just browse to their site and off you go.
Although smartphone prooducers like HTC now have their own "auto-setup" functionality, many "normal handsets" still have to be tweaked manually. Now however, Tweakker have done a deal with Doro to offer "over the air" provisioning. It basically means that you don't even need to download an app or browse to a site – the phone will do it all for you out of the box.
Doro produce those .. errmm.. "friendly looking" phones that you may have seen in Tesco. We did have a look at one some 4 years ago and it looked like a big calculator, but thankfully the designs have become a little nicer since then and they seemed to have sold out of our local store.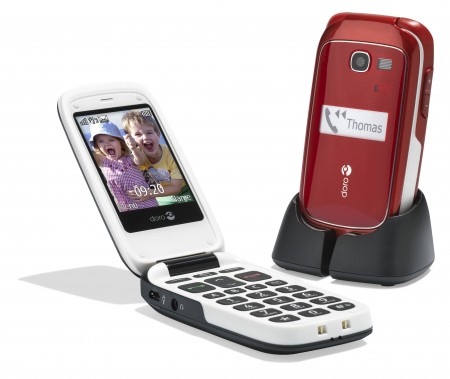 Doro, Tweakker Sign Global Connectivity Partnership

Licensing agreement for Tweakker's mobile connectivity service enables subscribers of the Swedish telecoms specialist to seamlessly access Tweakker's database to send SMS and MMS and surf the net in a handful of seconds

Mobile Internet connectivity specialist Tweakker A/S (www.tweakker.com) today announces that specialist telecoms leader Doro (www.doro.com) has become the first device manufacturer to embrace its Over-the-Air mobile phone connectivity service.

With Tweakker's service, Doro can now better serve its growing subscriber base in global markets. For the future range of its devices, Doro's customers will now be able to connect to the mobile net in near real-time from power-up in order to get the requested parameters for SMS and MMS.

But teaming with Tweakker provides the Swedish telecoms specialist with another major business advantage … it improves their handling of customer care issues related to connectivity issues.

Customer care for connectivity issues becomes automated and cloud-based.

"As Doro extends its businesses in global markets, the knowledge and settings of the parameters requested by the phone to be able to handle SMS, MMS and data connection in each country become complex," says Doro's VP Product Development, Thomas Bergdahl. "That's why we decided to implement Tweakker's automated service."

Doro has long been the market leader in telecommunications for seniors. A Swedish public company with more than 37 years of experience in the telecom sector, Doro is focused on developing, marketing and selling products, software, TeleCare and mHealth solutions that are specifically adapted for seniors – the fastest growing group of people worldwide.

Doro's range of user-friendly mobile phones is unique and the company's know-how has been acknowledged with several international design awards. The products are sold in more than 30 countries on five continents.

Tweakker is the world's leading mobile internet connectivity company and has a growing customer base of network operators and MVNO's in all continents.

The connectivity firm also offers device makers a licensing agreement to its settings database with world-wide network operator support for Internet and Multimedia Messaging Settings and is in advanced licensing discussions with other device manufacturers to solve the connectivity issues of their mobile warriors as well.

"Clearly, Tweakker is delighted that Doro becomes the first device manufacturer to license its cloud-based connectivity database service," says Dennis Juul Poulsen, Tweakker's CEO. "As the mobile landscape changes and the connectivity complexity of devices proliferates, all network operators, service providers and device manufacturers in Europe, Africa, Asia and India for example need a fast track mechanism to get consumers using ARPU-enhancing Internet services without delay. And that's where Tweakker's value-add comes into the food chain."

Poulsen also believes that service providers need to better address churn issues and offer mobile users automated on-device, self-care support. "The industry spends unknown millions of dollars each year in marketing campaigns to capture new subscribers and then turns to the age-old mechanism of call-centres to offer support. That's time wasting, costly and does not enhance the customer experience. With Tweakker's service, they can become pro-active and reduce customer churn.

Tweakker's connectivity database is the largest in the world. It now supports devices used in more than 1,000 networks in 200 countries and its cloud-based mobile configuration service is fundamental to the daily operations of millions of mobile users.