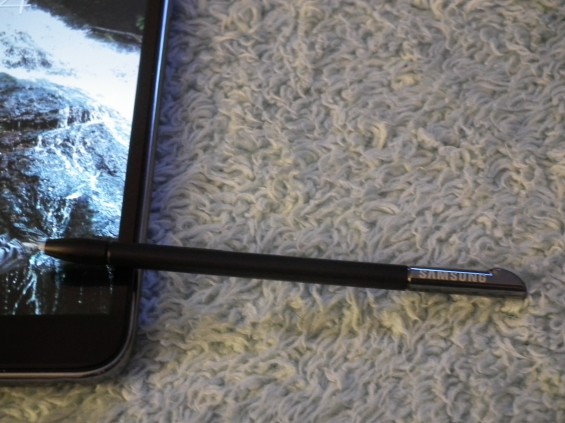 So I have been a very lucky geek this Christmas in that I have managed to get my hands on the present that I really wanted (even though I had to buy it myself). I am now the proud owner of a Samsung Galaxy Note. I thought it might be useful for other potential owners of the device to see how I have been getting on with it and also what I hope that Ice Cream Sandwich will bring in the New Year.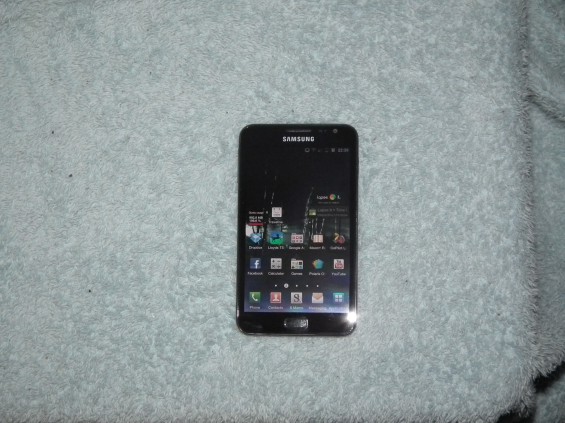 Hardware
First things first the actual hardware, I can honestly say I have not found any conceivable fault on the unit at all and it is living up to Samsung's promise of having the lowest returns rate of all the manufacturers. I love the way this thing looks and feels in my hand and also in my pocket were it lives most of the day. Just being able to take this out of my pocket and start browsing on that gorgeous 5.3″ Super AMOLED HD screen is such a nice experience and one I don't think I will ever tire of. Now the biggest question I get asked when I pull the phone from my pocket is why is it so big (behave!!)? Well my honest answer is that the size of the phone for me is the appeal and I don't really use the phone for phone calls that much so it doesn't really bother me that it is quite big. It still fits into my hand very easily and it is light enough to be comfortable too. I have also found that it will fit into most styles of gents trouser pockets without too much bother, although it has to be said those who wear skinny jeans should beware it is a tight fit in those.
All in all I am very impressed with what Samsung have done here and I can see others following their lead into 2012. As far as I am concerned the more the better. Maybe even Apple will think about it seeing as they are watching Samsung's every move, or at least so it would seem.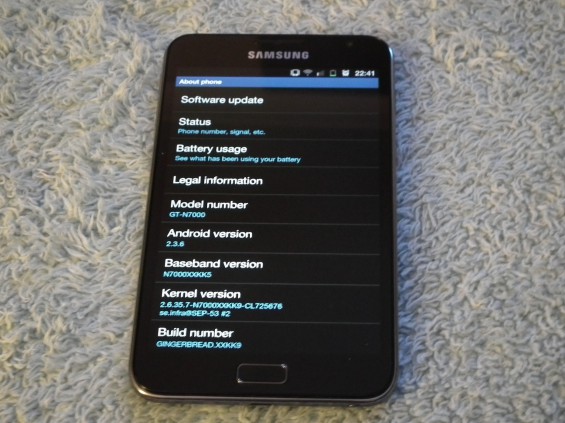 Software
Those of you that have used a Galaxy S2 or a Galaxy W will be very familiar with the layout that we are seeing here as it is virtually identical. It uses the latest version of Touchwiz and also the latest build of Gingerbread in 2.3.6. It should be no surprise that with the bigger screen and higher resolution things do look a little different. Instead of just seeing four icons in width, the screen will now accommodate five across. A new trick that comes with the latest version of Touchwiz is that you can resize the Weather, Bookmarks and S Memo Widgets to fit the screen accordingly. Due to this I have managed to fit all the stuff I need onto the three screens with the addition of a full page schedule from the brilliantly designed S Planner.
I personally think the S Pen is a great addition to the platform. It is incredibly useful for making quick notes and annotations to your pics and to then share etc. I haven't really had that much need to use it but I will strive to use it more and now that there's a Developers SDK. More apps are coming in the future too.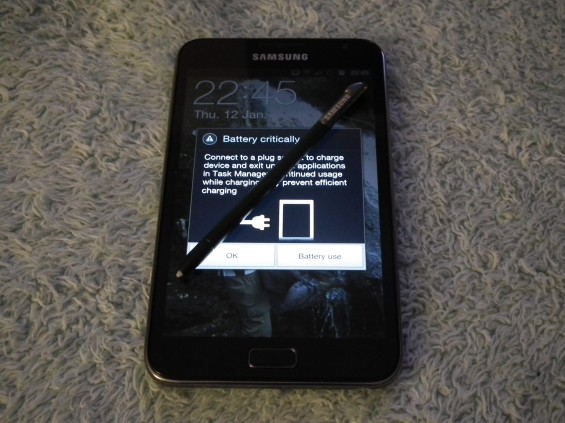 So being that this device is being aimed at those wanting to use the S Pen, how is that feature incorporated into the OS? Those of you who frequent this site often will have seen Leigh's superb review of the device so I am not going to rehash what has already been said there.
What I will say is that now I have been using for about a month I do find it genuinely useful. For example if I need to make an appointment quickly while talking to a customer I can very easily get out the pen, press the side button and double-tap to get into a S Memo to note the details and then I can share those details with my Google calendar with a few simple keystrokes. I have not used it that extensively for note-taking as my handwriting is pretty awful (even I struggle to read it) so it would be counterproductive for me to use it in this way.
Media
As you would hope the screen is awesome for viewing content both taken on the device or from other sources. I have an iPad 2 and I can honestly say that it is getting used less and less now as if I want to read a book I do so on my Note, the same is true for viewing pictures and I can see it becoming the case for my TV Shows as well. Movies is something I would still use my iPad for as the bigger screen is more comfortable for using over a longer timescale. There are also some neat wee tricks that Touchwiz brings to the front here such as mass codec support for video. I also noticed that of you slide you finger up the far left of the screen while watching a video it adjust the volume up or down and then if you slide left to right at the bottom you will adjust the brightness. It may be a small thing but I really like it.
Productivity
So unfortunately we are all either back at work or will be very soon after the New Year break. How could I fit this device into my work day?
Well don't worry, the Note has got you covered. The brilliant Polaris Office suite is built in and this is the Full version. Typing on the large screen is a joy. Where I would normally have written this article on my iPad, I am happily doing it on my Note on the train to work using the great WordPress app. I also think that the integration of the S Pen shines through here – it allows you another means of entering details. It is also now possible to hold conference calls on the Note via the free Cisco App available on the Marketplace.
Camera
I would like to refer to Leigh's review with regard to the Camera in further detail but I would like to add that I have found it superb in my limited use so far. Leigh's review
My hopes for the future of the Note
This is not so much a hope as a inevitable occurrence, my belief from discussions with Samsung is that their ICS build for the Note is being tested and is coming along nicely. They should be releasing at some time in the coming months. I'm very much looking forward to this after having had the opportunity to play with a Galaxy Nexus as there were several features that will bring the Note up to being one of the best Android devices out there.
I also really hope that some of the developers really embrace the the S Pen as this could make or break the device.
I know that Samsung are going to want to put their own UI on here in the form of Touchwiz, but I beg of you please make it possible for us to not have that UI if we don't want it. I personally prefer not having all the fancy options incorporated into Touchwiz and prefer the look of Android in its naked form. I do understand the need for this UI and I know that you can get rid of it (ie Rooting and Cyanogen mods) but this is not something that we all want to have to do to our phones. I quite like having my warranty intact, just in case something did wrong. I don't want to have to invalidate that to change what apps I have preinstalled.
The days of bloatware on Android devices are very much here and I feel that it should be something that the user can opt to use or not – just like a PC. If there is anyone from a manufacturer that is reading this then please bear this in mind for the future. It is about what the people want not what you think they want!
At the moment this is a very highly priced device, and so it should be for now. However for Samsung to really make this a viable market proposition, they are going to need to price it accordingly if they are going to make future devices. As it stands you could get a tablet for less.
Now the argument stands that if you have a Note you don't need both a tablet and a phone. This may or may not be true depending on your usage. I find that in my own usage I will use my Note as my quick "go to" device but if I am wanting an extended browsing session I will get out my iPad (assuming I have the correct connectivity available). So it is really matter of convenience for me to have both options. Yes ,of course I could ditch the iPad and just use the Note, but I'm not sure if that is the way I want to go just yet.
Summary
As has already been identified in several other reviews this device is in a bit of an identity crisis and users are not sure how it fits into their lives. I would put myself firmly in that group as well, as I am still deciding where this goes. I love the size of the device due to the benefits it gives me in the larger screen. It makes for highly enjoyable web browsing and is easy use as a productivity tool. It also makes it a great in car Sat Nav when paired with the Galaxy Note Car dock.
I do find it is now fast becoming my "go to" device for a lot of things, but there are still the limitations that we have come to expect as smartphone users.
Is it the step forward that Samsung want it to be? Well the jury is still out on that, but in my opinion it is definitely a step in the right direction and a device that I thoroughly enjoy using. The S Pen is useful and it does enhance the product, but I don't think it is vital. If Samsung are to pesue this as a genuine middle ground device they could maybe make a model without the pen, which would therefore be cheaper and more appealing to the masses.
So the Galaxy Note has pushed the envelope in creating a device that we don't currently need but we do want. Now they just need to hone it to what we actually need, but without diminishing the form factor too much so that it slips away into a black hole between the tablet and the super phone.