Just announced in Las Vegas and Three have announced they are going to range the new Sony Xperia S on their network here in the UK,
The Xperia S is the first Sony branded phone to hit the UK afte Sony bought out Ericsson from their Sony Ericsson brand.
Interesting though there is no mention of pricing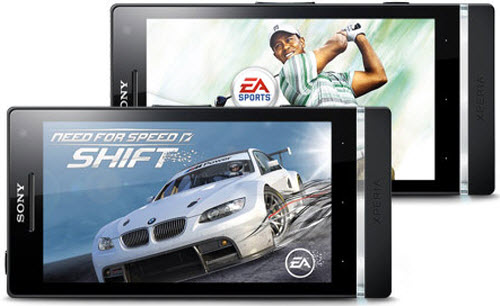 [yframe url='http://www.youtube.com/watch?v=aopokix5O0A']
In a press release Three say
Coming soon to Three –Sony Xperia™ S.

Today Three announces that the Sony Xperia™ S will be coming soon to the network.

With HD at the heart of the Sony Xperia™ S, this desirable smartphone has a 4.3" HD Reality Display with Mobile BRAVIA® Engine, making for a brilliant viewing experience with vivid colours and super-fine detail. The Xperia™ S also features a 12 megapixel camera with Exmor™ R sensor to enhance images in low light. Pictures can then be shared with friends and family in true HD on TVs or laptops.

With a truly unique design, the Sony Xperia™ S boasts an illuminating transparent strip that not only looks great but helps users get to the features they want quicker than ever. People can also multitask quickly, switching between their favourite apps and browsing the web, using the smartphone's powerful 1.5GHz dual core processor.

Sylvia Chind, head of handsets at Three said, "The Sony Xperia™ S brings the best HD technology straight into the palm of your hand. Plus, with an impressive 12 megapixel camera, it's perfect for fast-fingered photographers who want to upload images straight onto Facebook making the most of Three's fast 3G network*".

Key features:

Unique, stylish design.
4.3" HD Reality Display with Mobile BRAVIA© Engine.
12MP camera with Exmor™ R sensor + HD video.
HD sharing with HDMI (cable in-box).
Super-fast1.5GHz dual core processor.
32GB internal memory.
NFC compatible.

*Three is rated as the best network for speed, overall quality, ease of use and customer satisfaction by UK Smartphone customers (YouGov).