Hi there folks. This article has been a long time in the making. For me at least. Anyone who does so, will know that running a business on your own, takes up so much time, time with your family and just general you time! Its a massive commitment, so much so that sometimes it has us all questioning, is it really worth it?!
Well for me it is. I'm determined. But I'm also determined not to sacrifice too much of my personal life.
So to start with, years ago all my financial paperwork was done on my main PC at home. But I had grander ideas, laptops were just becoming mainstream and I had to have one. It would in theory allow me to do more work, at work instead of at home.  But it had a 15.4 inch screen! Which was humongous and cumbersome.  So not a lot ever got done at work. Always on my lap at home.
Then came the age of the netbook! More convenient for me, so I got one! But straight away I was questioning my reasoning for buying one. Mainly because it was painfully slow and it took an age to do anything once I'd installed all my accounting stuff.
So now we come to the present day and the beautiful and revolutionary age of the tablet PC. More specifically the android tablet. My love of this open source platform has always intrigued me as to its business uses. What with cloud sync and lattitude and the like.
I am the proud owner of an HP touchpad. Running cyanogenod 7 and now I have decided to start the migration.
Nowadays if you search for accounting / invoicing apps in the Android market you are presented with a veritable plethora. Some trade specific ones too like Tradies App Starter which is superb. I could go into vast detail comparing them all. But I have bored you enough already!
So having downloaded a few I am left with these, that I am happy to recommend.
The first is Mobilebiz pro.  There is a lite version in the market that is free to try.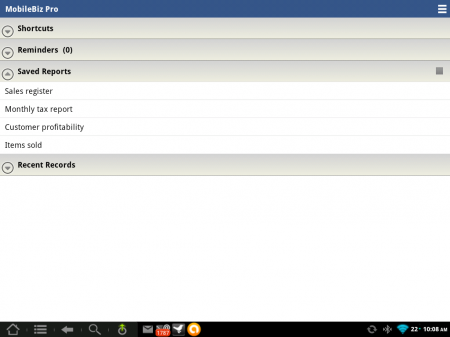 I really like this app.  On the first run, I had to input all the usual company details (address, phone numbers etc). I have a screen which very easily puts me where I need to be with just one or two clicks.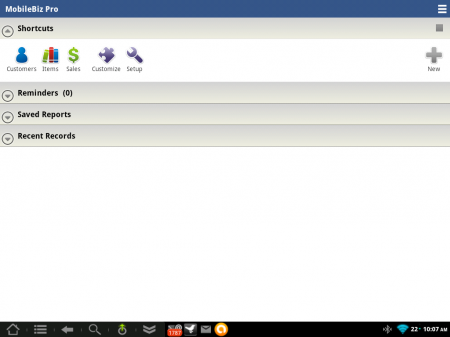 As you can see from the screenshot above, everything i need is one click away.  I can add customers, items that I buy or sell. Or I can start a new sales record.  As you can see, I can also personalize the app and my printouts from here. I can also get the usual sales reports and the like.  which can be exported for printing.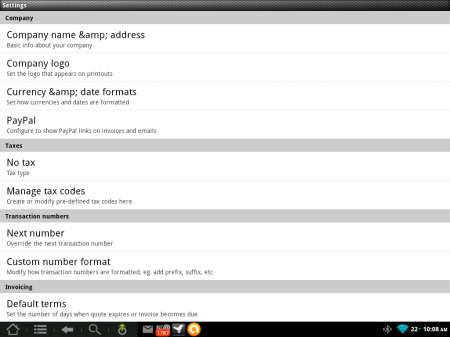 I have been able to personalise the app and invoices to the degree that my company logo is on the printouts. Which makes invoices look as good as any pc software I have.  The emphasis though is always on simplicity, but still user configurability. It's exactly how convenient I imagined a touch interface to be with an app like this. Very well done guys. I will be sticking with this one!
It also has support for printing which is also a major feature if I am to totally migrate over. Although printing requires another app. My recommendation here would be Cloud Print from the market. It hooks up with Google's cloud printing service and will print from any shared printers on your home network.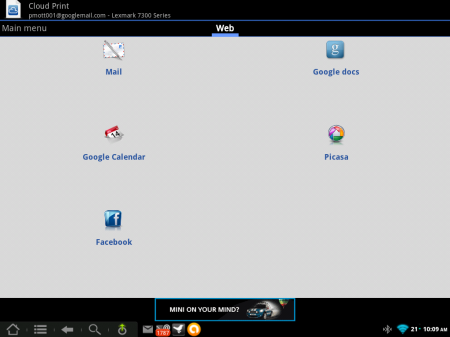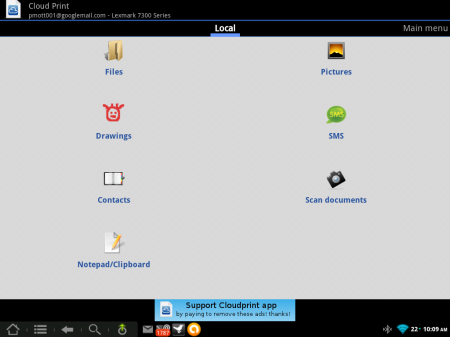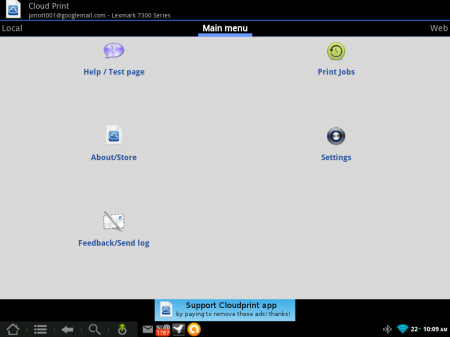 This requires you to have a printer shared on a PC at home or your office and requires that you setup Google cloud printing.  But once setup on your pc.. you simply install the app, and select a google account to associate with it.. and magically your printer appears in the list! Once all set up, you can export from MobileBiz and you then are presented with the usual 'what app would you like to open this with' menu.. of which Cloud Print is one of the choices!  Easy Peasy!!
A lot of printers these days come with wifi and this then removes the need for a pc sharing your printer. Although to print directly to a wifi printer you again need another app. My recommendation here would be Printershare. Which was one of the daily free apps on amazon app store a few months ago. Although it now costs £7.95 on the android market. A very good app that comes with support for quite a lot of printers.
Upon starting the app if you hit the menu button, you are presented with various options on what type of printer your looking to print from.  It has support for wifi, bluetooth and network shared printers.  It also supports google cloud printing.  Which might have you asking why bother with the Cloud Print app?  Well personally I prefer it, as it has been updated to have an ICS style user interface.  Which is much better than the old style, which only used a small portion of my screen.  They both have slightly different ways of approaching printing.  So again it's a matter of personal preference.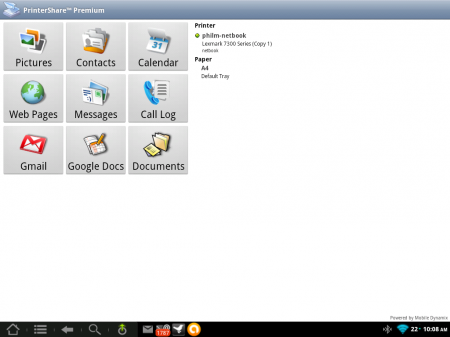 So we have the invoicing and printing of invoices sorted, now for recording of expenses.
My app of choice here would be ProOnGo Expense.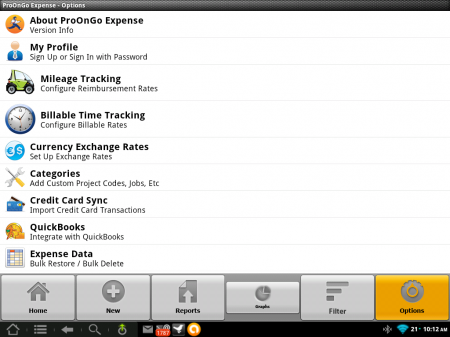 Available for free from the android market. Although this app is free you can also purchase several different upgrade packages, which enable features like Quickbooks integration and cloud backup of your data.
All in all this app looks great. Accounting software can be inherently complicated and here its kept relatively simple. Upon startup.. the only thing you need to do is start adding expenses.  There isn't really a lot to set up. You just record expenses and take pictures of receipts to associate with the record. Another cool feature is the mileage expense tracker. It will use your GPS location and mileage readings from your car against pre-input cost / mile settings to work out your mileage costs.
All of this data is easily synced with quickbooks if you buy that package. I however only aim to use Android. So the free package exports excel spreadsheets. Which is good enough for me as I have cloud print installed!
Is it possible?
So to answer my original question "is it possible to migrate yet?" I would say YES! (with some degree of confidence!). There are many business type apps out there. I would recommend trying a few though and finding the right ones for your needs. The ones I recommended here are merely good for me because they simplify things and I run a small business. For those that have more going on. They may not suit.
So all in all. I am incredibly impressed with business offerings in the market. Although the apps cost. They don't cost as much as their PC equivalents. Which if you are on a budget is great.
4/5 for the effort from corporate app designers! Missing the final point because its not quite there yet, printing should be integrated into tho operating system really and the apps just need a little more polish which will come with time.