AT&T are having a conference right now at CES over on Las Vegas and a handset they just announced was the Sony Xperia Ion (No Ericsson here!).
Specs are said to include the following:
Android 2.3 Gingerbread (Upgradable to 4.0)
4.6 inch Screen
12 Megapixel Exmor R Camera
1.5Ghz Dual Core Processor
More information to come as we get it but if you check the pictures above these are the first pictures of a new SONY branded phone without the Ericsson name for which I am very excited!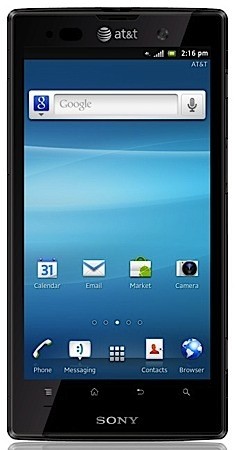 Xperia ion revealed – first LTE smartphone from Sony available exclusively from AT&T

09 January 2012

HD powerhouse – two HD cameras, 4.6-inch1 HD screen and HDMI-out support
Unmatched Android camera experience in the US with 12 megapixel rear camera
Effortless sharing of content with easy connectivity across multiple screens within the world of Sony
PlayStation™ Certified and access to entertainment services from Sony Entertainment Network

January 9, 2012, Las Vegas, Nev. – Xperia™ ion, the first LTE smartphone from Sony®*, was introduced today at the 2012 International CES and will be available exclusively in the U.S. from AT&T in the second quarter.
Xperia ion from Sony enables easy connectivity with multiple screens for consumers looking to share and enjoy content on whichever screen they choose, whether it's TV, smartphone, laptop or tablet.

Xperia ion from Sony has a stunning 4.6-inch HD display (1280 X 720 pixels) that provides a visual brilliance for superior viewing experiences. For photo enthusiasts, Xperia ion features a new Fast Capture innovation to make sure life's unexpected moments are not missed: the HD camera goes from standby mode to first shot in 1.5 seconds.1 The impressive images taken with the 12-megapixel rear camera are unmatched by any other Android smartphone. Additionally, both rear- and front-facing cameras deliver HD recording capabilities.

"With Xperia ion, we're bringing together several firsts that will take users beyond the smartphone," said Paul Hamnett, President, Sony Ericsson North America. "Designed to deliver a seamless experience across the multiple screens we use to play, watch, listen, and share, Xperia ion is the gateway to entertainment when and – most importantly – where you want it."

Xperia ion users will be able to access the richest entertainment experiences from Sony Entertainment Network**. Music Unlimited offers a global catalogue of 12 million unique songs while Video Unlimited has the latest Hollywood blockbusters and TV shows from all major studios***.

Xperia ion is also PlayStation™ Certified, guaranteeing a high quality smartphone gaming experience.****

Xperia ion is launching on Android platform 2.3 (Gingerbread).

Key Features for Xperia ion:

4.6-inch HD Reality display with Mobile BRAVIA® Engine with HD resolution screen (1280 x 720), as well as rear (1080p) and front (720p) cameras for HD recording.
1.5GHz dual-core processor for fast browsing and content download, which can be stored on the internal 16GB flash storage.
12MP rear camera with Sony Exmor R™ for mobile with fast-capture to go from standby to first shot in less than two seconds.
HD sharing through DLNA, HDMI and BRAVIA Sync to quickly and easily stream content on other screens.
Links – TechnoBuffalo – SonyEricsson.com