The guys over at Orange have kindly lent us an Orange Barcelona to review.
The Orange Barcelona is a low priced Android handset in the candy bar format with a hardware keyboard and touch screen. Think Blackberry (or just look at the picture below).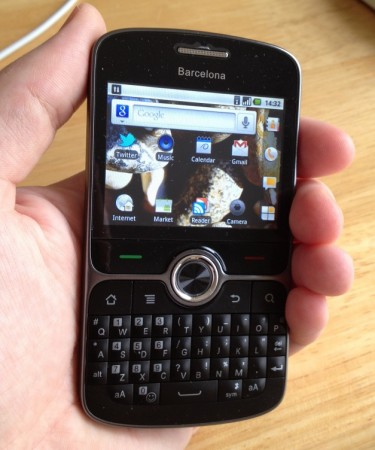 The spec highlights are as follows;
OS = Android 2.2 Froyo
256mb RAM
Qualcomm MSM7227 processor running at 528mhz
2.6″ 320×240 pixels screen (capacitive touch screen)
microSD, microSDHC (up to 32 GB)
FM Radio
HD Voice
Supports HSDPA, WIFI, A-GPS and all other usual connectivity features supported by Android
3.2mp camera with video recording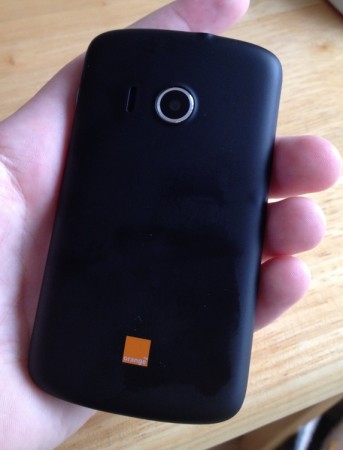 So, in terms of specs, a fairly budget handset. But how does it perform in real life?
Firstly, the hardware is very nice. The phone looks great, feels solid in the hand, and the keyboard is actually very nice to use (even though personally, I'm not a fan of physical keyboards at all). The screen is pleasant on the eye but clearly isn't going to compete with the iPhones and Super Amoled Android handsets out there, and is also relatively low resolution, even for it's small size. That said, it does the job, and you can clearly see websites, tweets and texts without any issues.
On top of the device you have a 3.5mm headphone jack, a micro USB port, and the power button (you can choose to 'wake' the phone using this button, or any of the top two rows of physical buttons). On the right hand side is the volume rocker, and a microphone is on the bottom of the device.
The black circle in the middle is a push 'select' button, with the silver circle around the outside taking care of directional duties. It feels great when navigating, and is actually refreshingly different from prodding at the screen all the time, a bit old school even 🙂
Battery life is about the same as most smartphones, and lasted a day even whilst being played with. However, the phone wasn't being used as my main device, so it got less usage than my main handset.
Camera
Firstly, you shouldn't buy this device for it's camera. Having said that, the 3.2 MP pictures were of a reasonable quality, providing lighting is acceptable. Videos are not good, with low resolution 352×288 with frame rates barely scraping double figures. Here are a couple of pictures taken with the device.
Multimedia 
Music playback is a great experience on the Barcelona. Simply connect the phone using the USB cable, copy your music over, and (as long as it's properly formatted and tagged) the Android Music app will do the rest.
Songs sounded great, with plenty of volume and no skipping, even when using other apps at the same time. Considering 32gb microSD cards have been flirting around the £20 mark recently, this device is a great stand in for a dedicated MP3 player at around £110 with 32gb of music!
The FM radio performs adequately, although as usual the signal can fade in and out when the handset is moving.
Apps and performance
During my time with the Barcelona, I mainly used my normal collection of apps, the Android apps  I use on day-to-day basis. The small amount of real estate does cause some issues with some apps, but not having to obscure the screen with your finger does offset some of those issues. Games are a different story, however. I'm not much of a gamer (at least not on my phones) but whilst Angry Birds installed and ran, the performance was not very good. Playable, but not as much fun.
Most of the apps I use are not that demanding however. Gmail, Twitter, Facebook, Google Reader, the Music application (see Multimedia section above) all performed well without any unreasonable delays. The keyboard is great, and actually enjoyable to use after a short while of getting used to it (the last device this reviewer owned with a physical keyboard was the XDA Exec!).
Phone!
The Barcelona is clear enough on calls, and texts sent and received with no issues. That keyboard is great for sending texts, and also useful for dialling contacts in the Android dialler. The speakerphone is slightly quiet, but I find this to be the case with most phones.
The Competition
So £89-99 is cheap, right? What else is out there at this price point..  Well the sequel to the popular San Francisco handset (called, unsurprisingly the San Francisco II)
 is now available for £99-99
 which offers a faster processor, double the ram and a larger screen, but forgoes the physical keyboard. Then there's the
Monte Carlo
 at £119-99 with a whopping 4.3 inch screen which has previously been reviewed by our very own Ravi Patel –
here.
 After that (assuming you're in the market for a smartphone) things start to get nearer the £150 mark, which is really a different price bracket to that of the Barcelona.
Conclusion
The Orange Barcelona is a budget phone, at £89-99 is priced as such. No-one should expect it to compete with the high end. Having said that, there is a lot to love here. An excellent keyboard, reasonable performance and a reasonable spec sheet. If you're a gamer or like to use your phone camera, then this may not be the phone for you. However, for the casual user that likes to text, tweet and email a lot, as well as listening to music on their mobile, this is a fantastic handset with terrific value.
Just don't expect it to blow your socks off 🙂