One of the things I like about Android is that you can install a file manager. Something where you can look at all of the files and folders on your phone and on your phones sd card. I like the weekly of scrolling through and deleting the orphan folders from games un-installed a few days before.
The Android Market has a lot of file manager apps though. Some are basic, some are a little more complex offering app backup as well, some are a little more complex again adding app management on top. Then you have the root access file managers which can access the system folders deep within the phone, with which you can remove system apps, remove bloatware or to replace or backup system files. Whichever sort you go for there are a lot to choose from. Some are free and some are not. This app is free which is always nice.
File Expert is a clean, well laid out multi tabbed file manager, app manager, backup app, cloud storage management app, network browser, ftp server and root access file manager. When you open the app you are presented with a list of things that you can do. Within each section there are lots of options as you would expect such as multi select, cut, paste, rename, delete and lots of others. File Expert lets you create shortcuts to folders by just pressing an holding and choosing more from the options. It can zip and unzip folders. It will batch install a whole folder of apk's.
File Expert has a whole host of sharing options you can create shares to files on your device via the web, ftp, bluetooth or via wifi. File Expert can also browse a wide range of network shares as well. Using File Expert you can browse Windows shares, Samba shares, FTP, SFTP, FTPS, WebDAV or Bluetooth OBEX. Which means getting content to and from your device has never been easier.
File Expert also Cloud storage options built in, once you have added Dropbox, Box.net, Kanboxx or Sina VDisk details to the app you can browse your Cloud files from within the File Expert.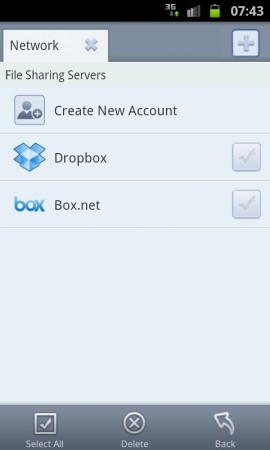 To enable the root access section you need to go into menu>more>settings>file explorer settings and then tick the "Root Explorer" box this will then enable you to get at the various system folders that were previously hidden.
File Expert also acts as handy app manager and backup app. Being able to uninstall apps is always handy as I quite often have a few apps that did not come from the Market and uninstalling them is a little long winded without a third party app. File Expert will also create backups of your apps, but only the fresh installed state so game saves will be lost.
There are also themes available for File Expert so you can change the colour of the app as well. There are a few examples in the shots below. A good thing about File Expert is that it is free and totally ad-free as well. You really get a complete package that in my opinion offers more than a few of the paid File Managers out there. Below is the link to the Market so you try it out for yourself.
Market Link – File Expert