I am a huge fan of hardware QWERTY keyboards in mobile phones. My affection towards such devices started with the i-Mate K-Jam (better known as the HTC Wizard) back in 2005. It iterated through many different handsets ever since, up until the HTC Desire Z which I currently own. However, my absolute favourite of all times was the Nokia E71 and after leaving it behind, I strive to find a handset that could match its compact, lightweight and simply ingenious form-factor. I also wanted a handset which ran Android or similarly modern OS and didn't have specs that suck. Sure, there were few nice models featuring slide-out keyboards but otherwise it has been nearly impossible to find a decent example of a handset having QWERTY keypad directly beneath the screen. The HTC ChaCha was a close match but its display was tad too small for my taste and the specs weren't particularly ground-breaking either.
However, after seeing a press release from Motorola regarding their new Pro+ handset, the very first E71-a-like, Android-powered mobile that didn't suck in any crucial department, I instantly thought.. This is it! Thanks to the really nice people at Handtec, I was able to put Motorola Pro+ through its paces for a couple of weeks and determine whether my pursuit for a perfect QWERTY handset came to an end. Read on to find out.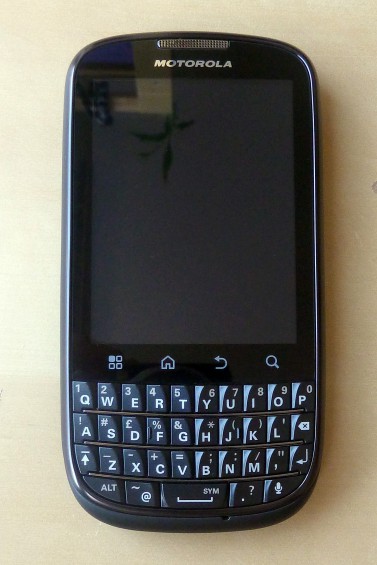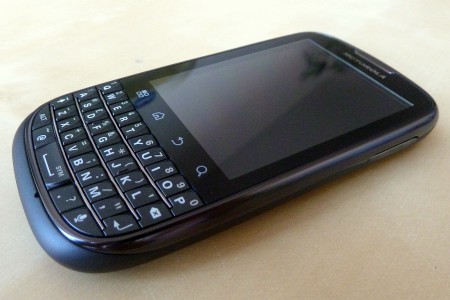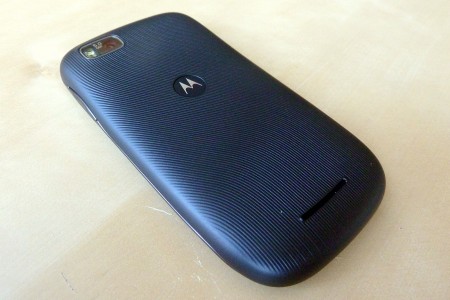 Motorola Pro+ is aimed at the business market and has corresponding looks – sleek, classy and nothing fancy, yet still quite attractive. Build quality is pretty solid too, the battery cover is plastic but sits firmly in its place and doesn't pose any problems. I also liked its groovy and curved finish, which is a nice touch over usually flat surface found in most handsets. The volume rocker and power buttons are both easy to operate too. The whole device is fairly lightweight just 130 grams according to the specs, which isn't maybe the lightest around but feels like a relief from the 180g of the HTC Desire Z. A secondary microphone for active noise cancelling is interestingly (and wisely, I think) located on the very top of the device. I reckon it does its job quite well, as the call quality was always very good in both directions.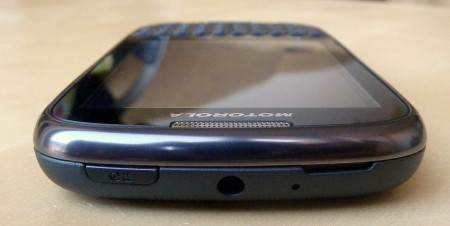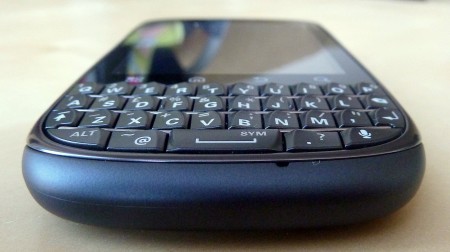 The Display in the Pro+ is a 3.1″ TFT LCD featuring a pretty decent 480×640 resolution – finally a display that doesn't suck in a front-facing QWERTY device! Sure, it doesn't stand up to the AMOLED displays I've recently seen but is definitely better than the SLCD used in the HTC Desire Z for instance. Viewing angles are fine, readability in direct sunlight is pretty good too and all icons and texts on the screen are crisp as they should be. I found automatic brightness working very good as well. Oddly enough, I was surprised to see a lot of apps struggling to work properly with this resolution, as some of them seemed to have the graphical interface hard-coded to work with wider resolutions such as 480×800. One such example was "Go Launcher EX" where larger widgets on home screen or icons in the app drawer were overlapping each other.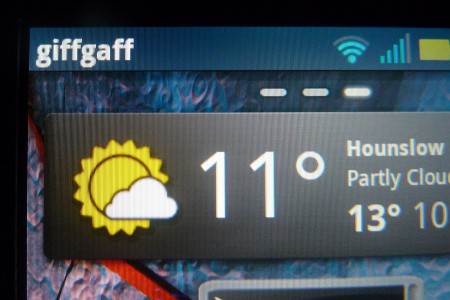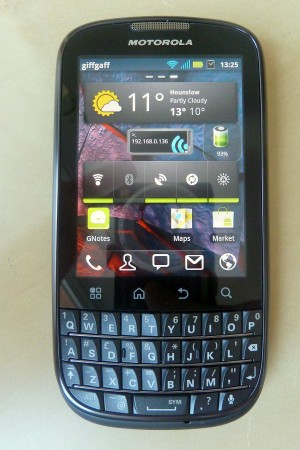 The Hardware keyboard of the Motorola Pro+ is a mixed bag. Keys feel quite stiff at first yet have a fair amount of tactile feedback which is good. I reckon that the "hardness" of the keypad is a matter of getting used to anyway, as I didn't even notice it after few days of use. The most evident problem with the hardware keyboard in my eyes is the shape of individual keys, curved and angled accordingly on the left or right half of the device. I'm not really sure what the point of this design is, but I personally found that this shape severely impacted the overall experience and caused frequent typing mistakes. The other problem is that the keypad doesn't feature arrow keys, nor there is a D-pad or such like, hence the only way of navigating through the UI is to use the touchscreen. This makes quick edits of large chunks of text somewhat difficult.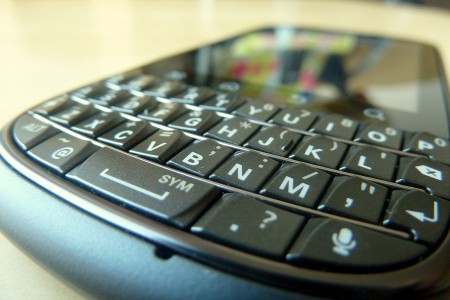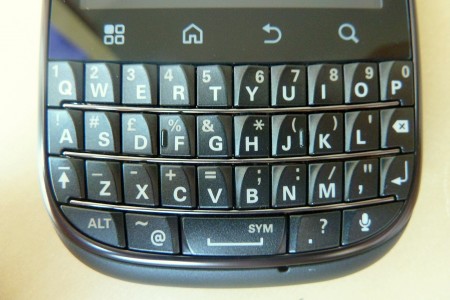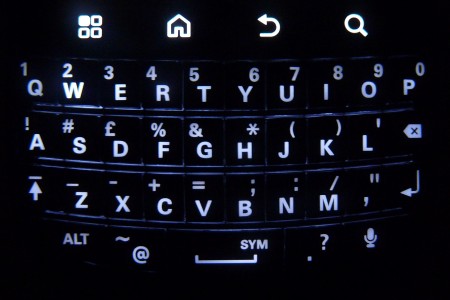 Internal storage capacity is advertised as 4GB but beware as only around 1.3GB is user accessible and no external memory card is included in the box.
I wasn't expecting anything decent from the camera in a business-oriented handset, however the 5 megapixel shooter did surprise me. Let's start with the fact that there is no dedicated shutter button and also none of the QWERTY keyboard keys gets mapped as a shutter (I see the space key as a strong candidate for such role), so once again using a button on the touchscreen is the only way to take a picture. Secondly, the shutter sound is ridiculously loud and there's no way of turning it off (perhaps this is something actually desired from a business-user point of view?). To be honest, these things have put me off from using the camera right from the start.
But, once I've downloaded photos and seen them on the somewhat bigger screen, I've changed my mind. In fact, I did few head-to-head comparison photos with Nokia Lumia 800 featuring the Carl Zeis 8 megapixel shooter and found that actually Moto did just a bit better job! Perhaps the difference wasn't immediately obvious, however the Pro+ seems to use slightly a less aggressive JPEG compression, hence fine details are better preserved. So, assuming hands are steady and you can survive the shutter lag and loud shutter sounds, pics from the Pro+ should be pretty good.
Speaking of the camera, there's also a 720p video recording mode which also does a fairly good job but nothing spectacular – especially in the sound department, which gets recorded slightly too quietly if you ask me.
Another nice surprise that the Motorola Pro+ keeps up in its sleeve is battery performance. I already consider recharging every modern smartphone at least once in 24 hour cycle as an unchangeable law of modern physics. In fact, considering my daily smartphone usage pattern I tend to charge the battery also while at work, just to make sure it will last until the night. Motorola, however, was the first smartphone in ages which not only managed to last through my typical day without a midday charge but also kept approx 25-35% of battery reserve by the time I called it a day. It wasn't just a one-day occurrence, I've been using Pro+ as my primary handset and got consistently good battery performance throughout the whole trial period. Again, impressive!
Having covered most of the hardware bits of Pro+, let's get into software side as this is where the key for success (or lack of thereof) really lies.
Firstly, I have to say that I much prefer the vanilla Android experience (perhaps just slightly coloured with cyan) than various customisations and "skins" which manufacturers tend to bake atop of it. Having said that, I wasn't particularly keen on Motorola's Motoblur UI. However, in the end it didn't turn out to be that bad after all. While I felt completely overwhelmed by HTC Sense a year ago when I've got Desire Z, Motoblur in Pro+ feels much less obtrusive and actually acceptable to certain extent.
Motoblur's Home app, which manages the standby screen, widgets, application launchers etc, is quite basic. It does support a couple of neat features like homescreen "profiles", so you can define three different sets of homescreens – for work, private or party use etc. The App drawer also supports app-grouping. Nonetheless, many advanced features are missing, so I've quickly resorted to my personal favourite – "Go Launcher EX". However, as mentioned before, the main advantage of Motorola's launcher was native support for supposedly non-standard 480×640 screen resolution, whereas "Go Launcher EX" posed minor problems displaying widgets and app icons correctly.
In the Home application, I found that the major advantage of the hardware keypad sitting directly under the screen was the ability to perform universal search across device assets right from the standby screen. Usually I can just type a word on the keyboard. This is a feature that works in Pro+ too, also with non-standard homescreen launchers, however I found the search app a bit buggy for some reason. Despite setting search scope to "All" it often failed to bring up installed applications unless I manually changed the scope to "Apps", this vastly undermined the usability of an otherwise handy feature. It's probably worth mentioning that universal search never posed such problems on my Desire Z running CyanogenMod custom ROM, so I reckon that's some weird bug specific to Motorola.
Most of the standard Android applications were customized with Motoblur UI too, that includes Phone dialer, Contacts, Messaging or Calendar. Thankfully, interface changes aren't too dramatic, in fact they provide a neat and consistent UI across all essential apps and bring some useful features here and there too. The Phone app, for example, supports smart dialling, a very handy feature which sadly isn't supported in stock Android.
An interesting utility can be found in the "Settings" section – "Battery & data manager". This handy app gives ability to define power saving profiles, so for example it could disable all background syncing activity during the night (or any other, user-defined period) to preserve battery. The data section of the same utility gives you the opportunity to see which app uses the most data and block those accordingly. Quite neat.
Unfortunately a few common apps were replaced completely by Motorola's equivalents and some of them are tragically bad. Let's take the music player as an example. It looks promising to start with – it offers non-standard features like Shoutcast streaming and built-in song recognition (based of Soundhound apparently). But in day-to-day use the player is simply awful. Its user interface is clunky, very laggy and just ugly. It doesn't support AVRCP Bluetooth profile either, so in order to perform a simple task of pausing playback while using A2DP headphones, the user is required to dig through the UI to reach appropriate on-screen button.
Social networking integration is another feature that looks good on paper but real-world usage doesn't match up. Motoblur lets you hook up with a multitude of online accounts, ranging from obvious choices like Twitter or Facebook through to LinkedIn and YouTube. There's also some odd ones like Picasa or Photobucket. The idea itself seems nice – integrate all these networks into single cohesive experience. The thing is that this integrated experience feels a bit too loosely scattered all over the shop, rather than being, well… integrated. There's the Messaging app featuring a Unified Inbox which nicely concatenates direct messages from all relevant sources (including standard SMS messages, Facebook, Twitter, LinkedIn etc.) into one place. Fine, but there's no sort of Gmail integration at all, so I still have completely separate app and inboxes just for that. Then there's the Gallery app which for some weird and wonderful reason decides to display my Facebook friends' photos directly on the startup screen – why the hell I would go to my Gallery app to see Facebook photos?! Finally, there is social networking client supporting Twitter, Facebook and such likes in single place, yet it has slightly old-fashioned UI and is way too basic for my taste – there are plenty standalone yet much better apps out there anyway.
Web browsing is a fairly standard affair in Pro+, just as you'd expect from every modern Android handset. Despite the small'ish screen, I haven't found any major problems with the browser itself and was pretty happy with it overall.
On the whole, the Motoblur UI is the same mixed bag that I've experienced before. On one hand, it's fairly unobtrusive and actually nice in few places, but on the other some of its features are not quite stellar, to say the least, and deserve much more attention from Motorola to get them in line with modern standards.
The final but crucial bit to say about Motorola Pro+ is its overall performance and stability. Performance-wise, given the 1 GHz single-core CPU and 512 MB of RAM, it isn't exactly a speed demon, however I was nicely surprised to see Flash-based online TV streaming in fullscreen mode working without a glitch (no, it wasn't iPlayer, but something similar), something that Desire Z can only have wet dreams of. In typical daily use, however, the Pro+ is usually pretty snappy but there are occurrences of considerable lock-ups that tend to happen on very irregular basis.
Speaking of overall software stability and reliability, unfortunately I have to say it was by far the biggest letdown. The Pro+ has proven to be flaky over the past couple of weeks. Firstly, nearly every boot of the device was accompanied with Phone app doing dreaded "Force Close" rather than politely asking for a PIN code (funny that force close also happened with no SIM card inserted!). Heck, the Phone app was doing force closes during normal usage too, ie. while wandering through apps and menus  – and that usually rendered phone part of the device completely unusable and leaded to reboot anyway. While I was trialling the Pro+, my wife complained that she often couldn't reach my number and was redirected to voicemail straight away. It could be the network having bad day but it could well be connected to the Phone app crashing. Sure, it's a guess but it's too much of a coincidence. I was also experiencing a sudden reboot of the device literally each time I hooked up a cable in USB storage mode – agghhhh! It was also rebooting while using the web browser sometimes, for no apparent reason. Sometimes these sudden reboots actually were ending up in a reboot loop so physically removing the battery was the only option to resurrect the handset.
It all sounds more dramatic than it actually was, nonetheless, I think on the average there was a stability issue at least once a day. Of course, there's a zillions factors that could cause this – a faulty SIM card, a combination of installed apps, or maybe a dodgy external microSD card. But to be fair, I've been using Pro+ as my primary device in the exactly same fashion I've been using Desire Z running the unofficial CyanogenMod firmware for last year and I've never experienced as many issues. Perhaps my unit had some sort of hardware fault causing instability, I'll never know.
Conclusion
I've had really high expectations towards Motorola Pro+ as I genuinely believed it to be the very first E71-a-like, Android-powered, decent handset and a fair replacement for my Desire Z. In fact, I was considering buying Pro+ straight away. Thankfully, I've had the opportunity to take it for a test drive first. This saved me £281.99 (at the time of writing at Handtec)… unfortunately my expectations weren't exactly met.
The thing is that Motorola Pro+ is really nice device. It does look sleek, it has my favourite form-factor, a decent screen, impressive battery and I was already getting used to the keyboard too. But the main problem is the software. And not even the instability as such, as I'm pretty sure these issues could be addressed either by software update or physical unit replacement. The thing I'm most worried about is that the Moto Pro+ is unlikely to get enough traction on the market to deserve an official upgrade to Ice Cream Sandwich, or gain enough interest among Android hackers community so I could flash a custom ROM onto it myself later on. The current Gingerbread-based software with Motoblur on top isn't going to cut it.
So unless I hear the news that the Motorola Pro+ will get an official ICS upgrade or a working rooting method and custom ROM support, I'm going to stick to Desire Z for time being and pursue my dream E71-a-like device further.