So here it is, the Nokia Lumia 800 – the "first real Windows Phone" phone made by Nokia. I've had virtually no experience with Windows Phone 7 before and was looking very much forward to the Lumia 800. Is WP7 able to impress me as much as Nokia N9 and MeeGo Harmattan did recently? I actually doubted that Windows Phone 7 could stand up to expectations set so high by Harmattan but having solid, hands-on experience with both now, I might revise my stance a little bit after all. Let's see…
The Nokia N9 and Lumia 800 are almost identical handsets but run completely different software platforms. Hardware differences are noticeable but fairly minor. The best addition in the Lumia is the dedicated camera shutter button, which I missed a lot with the N9. On the other hand, the Lumia has a slightly smaller display which is required to accommodate additional UI control buttons. These were completely obsolete in the N9 thanks to its unique Swipe UI. Thankfully, Lumia's display is the same, top-notch ClearBlack AMOLED kit which is simply stunning.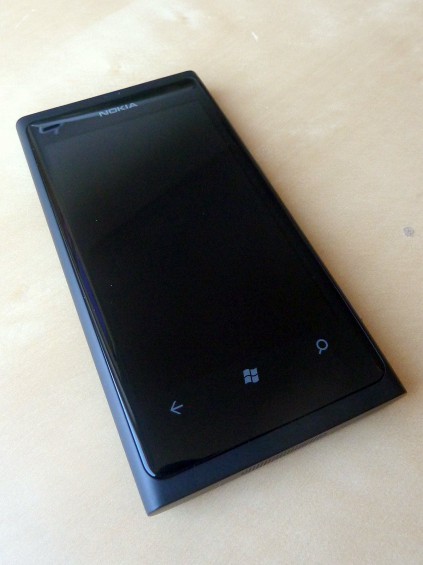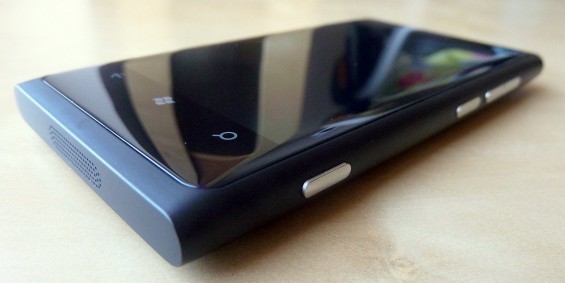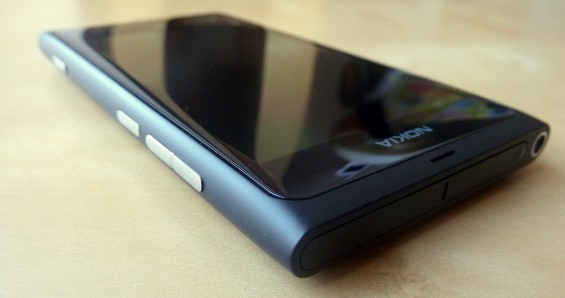 There's no point of elaborating on hardware and design of Lumia 800. I've praised it in my earlier Nokia N9 review and all of that applies equally here. Simply speaking, both the Lumia 800 and N9 are extraordinarily designed, solidly built and very good looking handsets which are pure pleasure to look at, hold in hand and use. Period.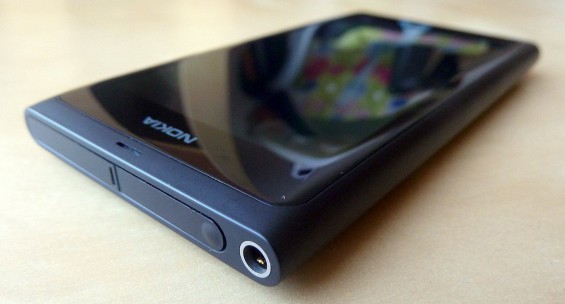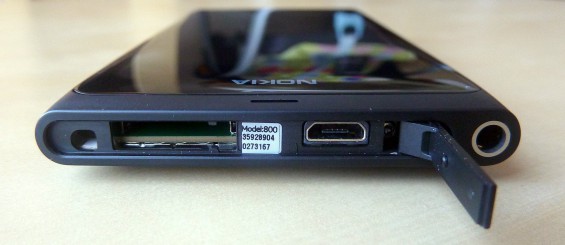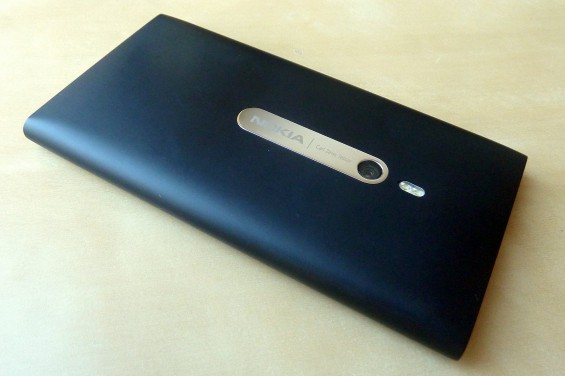 Now, let's jump into the world of Windows Phone 7, as this is where real difference is. First of all, WP7 brings a really refreshing approach to the user interface and experience. The design of the UI is aesthetically minimalistic, very clean and consistent. All the on-screen buttons are simple rectangles with plain text inside – no fancy shapes, shadows and all that. Oversized fonts splashed virtually everywhere might look silly at first but they're actually part of a cohesive design story. All interface animations and transitions are not only eye-candy but also flawless – I haven't spotted even the slightest sign of stuttering of those effects at any point. Impressive.
I praised the user interface of MeeGo Harmattan recently, however Windows Phone adds a new perspective to the case. While Harmattan's Swipe UI is a unique way of controlling a fairly standard user interface, WP7 has a quite unique interface controlled with a fairly standard set of control buttons below the screen. They're both great, just in slightly different ways.
The first thing to notice in Windows Phone are the tiles. This approach to the homescreen was something I was initially quite sceptical about, as I prefer (or rather – I'm used to) highly customizable widgets to serve different purposes and Android in particular does that very well. However, a couple of days later I actually started to like these tiles, mostly because they are indeed a kind-of widgets serving different purposes. They're square or rectangular but unfortunately not as customizable as I wanted.
Those tiles are nicely animated and it's not just a visual appeal, but practical too. For example, the phone tile will tell me how many calls I've missed, or a tile representing a person (ie. contact card) will let me know as soon as a given individual has been busy posting a photo on Facebook, updating Twitter status or doing something similarly important. A very nice touch is the dynamic smiley icon on the messaging tile – with no unread messages it's a winking smiley like this: 😉 but after I've received received 5 unread texts the icons turns "surprised", like this.. :-o. Clever and amusing. All these little notifications and animations work together to make a really cool, dynamic, "living" homescreen.
Applications are next to the tiled homescreen, listed alphabetically in a long vertical stack. Unfortunately there's no way of organizing them into folders or groups. However, they can be quickly sought via an easily accessible app search or pinned as a tile into the homescreen. A feature I found particularly interesting was the ability to rate and review or uninstall an app directly from that list, just by tapping and holding an item on the list. I often don't rate the apps in Android just because I'm not really bothered to specifically go to the Market, find a given app and leave my rating or write a review. With the approach used here in WP7 that excuse just won't work.
Speaking of Marketplace, I was nicely surprised with it. I thought that the WP7 app store wasn't mature enough yet but it turned out that number of useful and well implemented apps exceeded my expectations. I also found many official apps from big names like Twitter, eBay or even Tesco (however their Groceries app isn't as good as the Android one). The only issue I've got with the Marketplace is jumping back to the apps list each time an app is chosen for installation. It's really annoying when you're browsing for apps and want to install a few in a single session.
Online support is very good. It obviously revolves around a Microsoft Live ID account, which adds the benefit of a 25GB cloud storage account in the SkyDrive service. I was impressed to see support for Google accounts out of the box too. It supports mail, calendar and contacts with no glitch. Other supported services include Twitter, Facebook, LinkedIn, Yahoo Mail, Nokia Mail and Office 365.
All these connected services are very nicely put together in the People app, which is basically a fancy, yet useful hub which aggregates a standard contacts list with social networking accounts. Plus it's a basic Twitter/Facebook/etc client as well. To be fair, integrating contacts lists with social networking services isn't a particularly new idea, but I haven't seen it as nicely implemented as this before.
Since I'm touching on online activities, I guess it's time to mention web browsing. As we're dealing with Windows Phone here, there's probably no escape from the dreaded Internet Explorer and, as a web developer, I was obviously very sceptical to find a decent browsing experience. However, my prejudice was hugely overrated. Internet Explorer in Windows Phone does actually provide a pretty good experience after all. Sites load fast, basic UI interactions are fluid and I haven't felt any major discomfort at all.
I'm a big fan of hardware keyboards, so I'm always sceptical about on-screen input methods. However, I found the keyboard in WP7 fairly nice. Just as the rest of the UI, keyboard layout is clean and straightforward, keys are quite large, word prediction and auto-correction works reasonably well and typing overall is pretty accurate. Most of all, it does super-quick input language switching at the touch of a single button and allows accessing national characters easily, which is a killer feature to me in particular. I still would much prefer hardware keyboard instead, but it's hard for me to blame WP7's on-screen keyboard either.
The camera in the Lumia 800 is an 8-megapixel unit with the famous Carl Zeiss optic kit. I must say I really liked the ease of use of the camera application, most notably how easy it was to reach previously taken pictures from the camera viewfinder. Just swipe from the edge of the screen and that's it. When it comes to the quality of shots, well… these are fine but to be fair I wasn't massively impressed. I've had a feeling that JPEG compression was a tad to high on few shots. What I disliked was video recorder – it was set to record 480p videos by default, despite being able to shoot 720p. Secondly, it has continuous auto-focus feature, which is great, but I found it quite laggy, especially in poor light conditions. This meant that some videos turned out blurry.
There's nothing to write home about with the Lumia's battery. It manages to last through my usual working day on a single charge but I tend to recharge it at midday anyway – not having done that it could prematurely die just before going to bed around 11PM-midnight each day. That's pretty much in line with most modern smartphones I've got in my hands recently, so there are no surprises in this department. However, there is a battery saver mode, which turns data sync and presumably some other features off to keep the battery running a little longer. According to my unscientific test, the battery saver mode gave few extra stand-by hours without recharging during the day.
Time to get some balance on board, so I guess it's time to mention things I really disliked about Windows Phone 7.
For starters – no USB mass storage support! The one and only way of exchanging any kind of files over USB port is via the Zune application, which obviously is Windows only. Apparently there's also a way of hooking up WP7 with iTunes in Mac, but obviously Linux guys (myself included) are shown a big fat finger. I found a way around that by launching Windows and Zune in a VMware-based virtual machine inside Linux host – it turned out that a connection between the Lumia and VM over USB worked seamlessly and Zune had no problems syncing my photos, music and stuff. Nonetheless, that's a super-dirty workaround which shouldn't take place if good old USB mass storage support was there.
Another major "WTF?" moment was discovering the inability to configure MMS service by default. It's just not there in settings menu or anywhere else, hence I had no chance of making multimedia messaging work with GiffGaff. I've been informed, however, that MMS configuration could be done with a bit of hackery involving ChevronWP7 thingie, but I haven't really explored it yet. Nonetheless, lack of custom MMS configuration support was pretty shocking to me.
Generally, I felt that the settings section of WP7 was somewhat basic. It just doesn't seem to offer as many options and tweaks as you could usually expect – not sure it that's intentional, or things are just not there yet.
The things I missed in the UI. I missed some sort of notification centre – a unified place where I could easily pick up awaiting messages, emails, events etc. Yes, I can pick it all up through the fancy tiles on the homescreen, but that requires jumping out of any current activity back to the main door. Even common indicators like signal strength, battery level, vibration profile etc. are usually hidden unless the very top of the screen is tapped once.
Speaking of phone profiles, these are very limited too. The choice is between two modes only: vibration or ringing+vibration. There's no way of completely muting device or putting it into ring-only mode. Also, sound volume settings are global for both media playback and ringing, so playing music loud (ie. while on headphones) yet keeping ringtones quiet is mission impossible with WP7 currently. Oddly enough, I couldn't find any apps covering these shortcomings in the Marketplace either. Weird.
Oh, and WP7 apparently doesn't send anything via Bluetooth. Anyone cares anyway?
Conclusion
I was nicely surprised by the Nokia Lumia 800 and Windows Phone 7. It didn't blow me away as hard as the Nokia N9 did but that doesn't mean my experience with the Lumia was any worse. In fact, it was equally great, but just… different. The Lumia with WP7 offers a consistent and very attractive user experience, it already has a pretty good choice of third party apps and those notable shortcomings will probably get ironed out in future updates anyway. On the whole, I just need to say something I never expected ever to be saying: Good job, Microsoft!
While I still feel sort-of disappointed that Nokia decided to ditch MeeGo Harmattan in the long run, I am now more reassured about WP7 as a platform with pretty bright prospects for the future. I tend to believe it has all the potential necessary to become a strong contender in the global smartphone market. This is a market currently dominated by Android and iOS, and I believe that this now has the potential to contend within the next year or two. I am definitely going to watch Nokia's efforts with Windows Phone more closely from now on. After all, it's a make or break situation for Finns (and one Canadian), so they'll take all measures allowed by law to make sure every human being on Earth will at least hear about Nokia-made WP7 device very soon.
Author opinions
With the Nokia Lumia 800 being such a crucial phone for Microsoft and Nokia, we handed the device out to our authors and, as opinions come in, we'll post them below..

Mark Armstrong
I was a dedicated Windows Phone user from the first Windows Phone (the SPV). Last year my impatience got the better of me and I jumped on to the iPhone bandwagon. Yes it was nice. Yes, it was interesting to use but for me it wasn't a Windows Phone.
I will be honest in that I wasn't expecting to enjoy the change to the Metro UI as much as I have. I love the way everything gets linked and integrated into tiles. If you have friends/work people who are on Twitter/Facebook then you'll see their interactions – plus business and personal email – all in one place.
Another feature I liked was having separate signatures for your email accounts. On my iPhone, business emails and personal had the same default signature so I had to edit it each time, but WP7 allows different ones up for each account, a small thing but very welcome.
I am a big Xbox gamer and love the Xbox Live tile. Yes there were apps on the other devices that did a similar job but nowhere near as good as this. Sending messages to friends was quick and all your Xbox Live games are listed on one screen. You can edit your avatar with the free app that is available, which I think works better than the version on the dashboard. Plus, with a proposed Xbox companion coming soon, you will be able to interact and control your Xbox from your phone.
I will say I am disappointed with the official Twitter app but have found a great replacement call moTweets. It has a great feature so that you can see who is tweeting nearby, which can result in some interesting conversations.
I could say plenty more, it's a phone and UI that needs to be used for a period of time to fully appreciate. A quick play around in a phone shop will not do this justice.
As a final shout out follow @WinPhoneSupport they are a great source of information and technical help if you have any issues or questions.