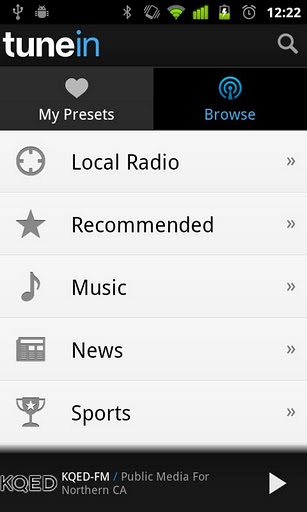 I love listening to radio on my Android phone. It's great, and I've found a number of online radio stations that are either exclusive to the internet or broadcast in an area I'm not in. TuneIn Radio has been an app I've used for a good while now. It'll give you access to 50,000 stations and a massive amount of on-demand streams.
This is all good, but you need WiFi. We tried using it on the move using a mobile network and, if you're going to use a good-quality 128k stream, it racks up 60MB per hour, which is 1MB a minute. As we mentioned in our earlier article, that means that 2 hours a day will use aound 600MB per week (based on 5 days). So… what to do?
Well, for just 61p you can get TuneIn Radio Pro. This adds a magic record function, so you can plug in your phone at home, turn on your WiFi, record yourself a few hours of your favourite station, then go out and listen to it anywhere with absolutely no mobile data charges.
A simple "Recordings" tab is added and it too uses about 60MB for a one hour show. That's 1MB per minute, but this time it's not coming out of your mobile data allowance.
Links – Is In Car Internet Radio a Reality ? – TuneIn Radio Pro – TuneIn Radio