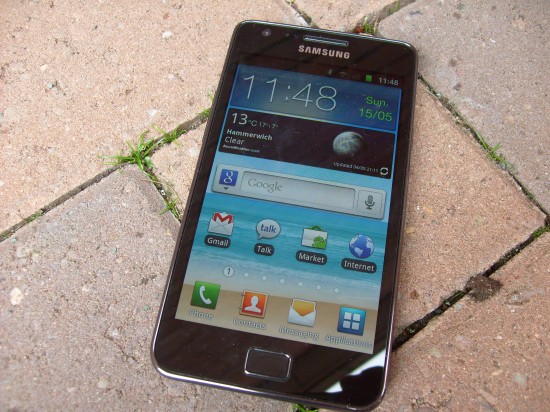 A lot of people have seen me carrying the Samsung Galaxy S II around and they're initially mentioning how similar it looks to the iPhone. The inevitable comparisons will be drawn to the iPhone and there's lots of sites already calling this the "iPhone killer". Is it ? Well, let's take a look.
Specs
Dual core 1.2GHz CPU ARM Cortex A9
116 grams in weight, 8.49mm thick
480×800 4.3″ AMOLED Plus screen with Gorilla Glass
16GB internal storage, up to 32GB microSD storage
Bluetooth 3.0
WiFi 802.11 a/b/g/n, Hotspot capabilities
DLNA
8 megapixel camera at rear, 2 megapixel up front
Android 2.3
GPS, geo-tagging, compass
FM radio
1650 mAh battery
Initial reactions are good. The phone is slightly larger than the Apple device but that 4.3" screen jumps out at you when it's turned on. This is a mobile phone which is both light and sleek, with an all-black finish except for the dark silver trim around the edge.
Speed. Woahhhhhhhh… Speed. The second thing you notice is the sheer "Oomph" this thing has. It skids along like a boy-racer in a car-park. Put it next to the original HTC Wildfire, which I never saw as being "slow" in any way, and you suddenly see just how staggeringly quick this Galaxy S II.
Ahh, but wait. I know what you're thinking right now. Extra speed, faster CPU.. that's gotta mean less battery life, right ? Well, in a word. No. That's the third thing you notice. The battery (a 1650 mAh unit from Samsung themselves) lasts for ages. Sure, with hefty GPS use you'll nail it, but with my "normal geeky workload" it still had 25-35% battery left at midnight, and that's after turning it on at 5.30AM. If you're careful (and perhaps don't do as much tweeting / emailing / browsing as me) you can even get away with not charging it overnight and get two days use out of it. Stunning, and I really mean that. We've reviewed phones for years and this really is the first one to not be pretty much flat at the end of the day.
OK, back to point two. Speed. Turn this on and, without any clever "Fast boot" technology, it'll load up it around 20 seconds.
Outside
The handset is much lighter than you'd think. Even the battery cover has been slimmed down to save weight – it's a flexible piece of plastic that you almost have to tuck-in.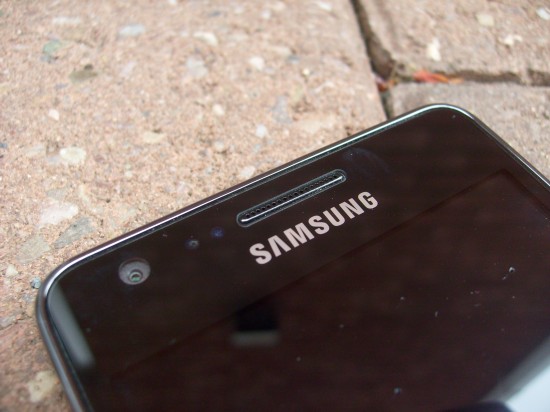 Starting up-front and, on the upper left, you can see the front camera and sensors for proximity and light. These do magic tricks like increasing screen brightness in bright light (outdoors for example) and detecting when your ear has moved away from the screen in order to activate the screen again. Here on the Galaxy S II you'll find Android 2.3.3 and, good news, video calling works right out of the box, so you can use the standard video-calling system to see friends instead of just hearing them. You can still use those free video-calling apps like Tango or Fring.
The earpiece, just above that Samsung logo, punches out a deep, "bassy" tone to phone calls. It's definitely different to other handsets I've used and gives calls a really pleasant and clear quality. Beneath that 480 x 800 Gorilla Glass Super AMOLED screen you'll find the central selection button. Press this once to go back "Home" or twice to activate the in-built Voice Talk system. This system will let you make calls, navigate, start and stop music, compose texts and memos – all just through the voice recognition. Press and hold that selection button down and you can see all the recent apps you've got open and switch between them.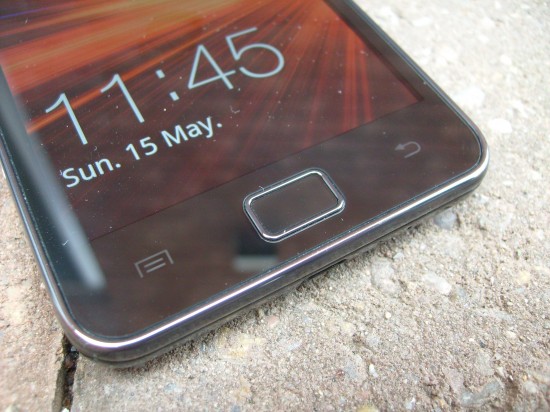 Either side of this selection button there's a couple of press-sensitive buttons (the main central one will click when you press it and is separated somewhat by a raised groove around the edge). These other buttons will let up when in use but stay dark when you're not. It gives the front a stealthy, clutter-free feel. To the right is the "back" button, to the left is the "menu" one. This has two functions because, yes, we've not got a dedicated "Search" button. Press and hold the "Menu" button to do a search – you can then activate the voice recognition system and use that. There's the option from the main search screen to look through the web, your apps or search contacts. It's all very clever. Tap it once to bring up the options – you can add widgets from here, change the wallpaper, search, edit the sequence of your screens or dive into the settings. This button also takes on the role of "menu" or "options" in apps you download.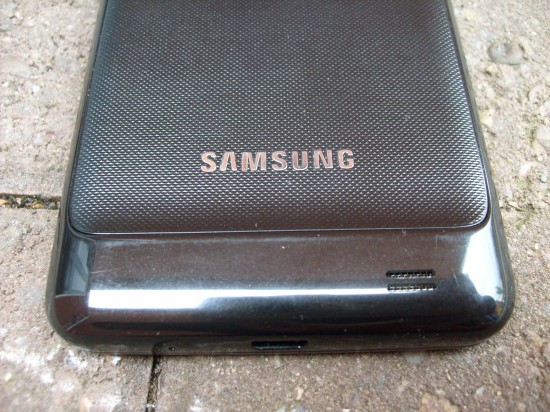 On the bottom edge is your microphone and microUSB port for sync'ing with your computer. Not much to see here but you can at least see how thin the device is – just 8.49mm. Connect it up, turn on USB storage and you'll get a little surprise – the Galaxy S II actually shows up two Removable Storage devices – an 16GB "internal microSD" (on this version) which actually isn't removable and the removable microSD you've inserted yourself. I've added by own 6GB microSD but, if you add a 32GB microSD, you can get a total of 48GB of user storage. Oh. My. Lord. 48GB of storage. This is epic. When I started looking around the phone I found out this little chunk of info and suddenly thought, "Woah, this is turning into one heck of a phone".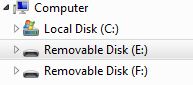 Then things get better. Around the back, amongst the grippy rear panel, is an 8 megapixel shooter. This will take 8 megapixel photos (3264×2448) with the front camera doing 2 megapixel (1600×1200). That rear camera will also do FULL HD (and I do mean full) 1080P video recording – this pumps out 1920×1080 resolution videos and they're staggering. The clarity and the lack of "shake" was quite something, and there was constant focus too, so you could switch from filming your mates to a plane flying overhead without any blurred out-of-focus nonsense.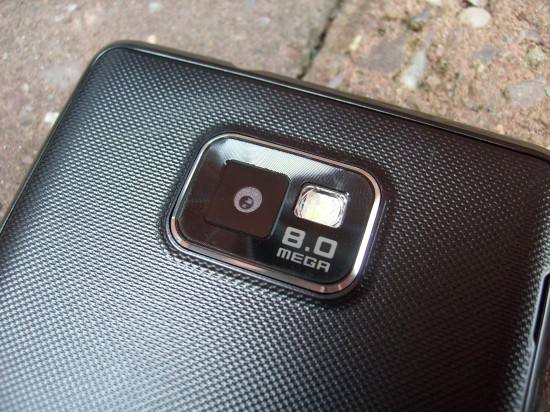 We'll have a look at some of the pics produced by the camera in a moment, but up top there's a 3.5mm audio port. This is sculpted into the curvature of the handset and you can either plugin your own headphones or use the hands-free / headphones provided. There's also what looks like a second microphone here for removing background noise.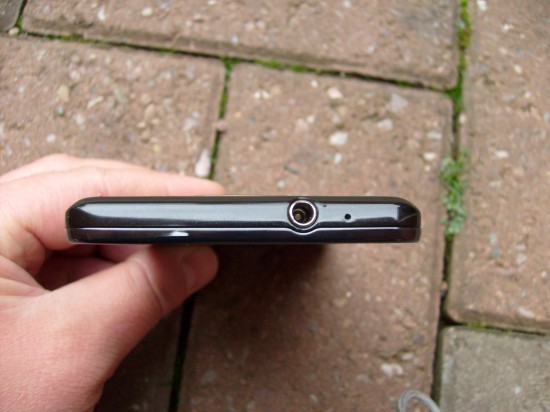 Down the left are the volume controls. These adjust volume in whatever app you're using. If you're listening to music, it'll adjust that, if you're not, it'll adjust the ringer volume, if you're in a call, it'll adjust the call volume. You get the idea. There's a huge range of ringtones and message alerts on this phone and you can be uber-geeky – select one sound for email, another for text messages – it's no longer just a "notification" sound, which is good.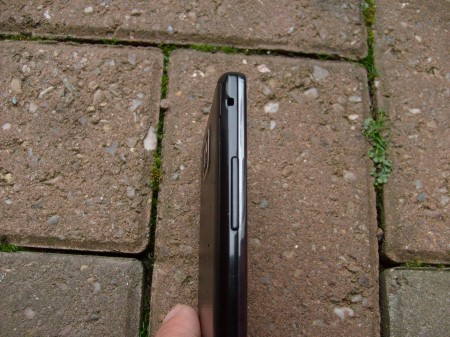 On the right spine is the power button. Press to wake the device, press and hold to go into the profile settings, switch to flight mode, silent, turn the data network off or just power down.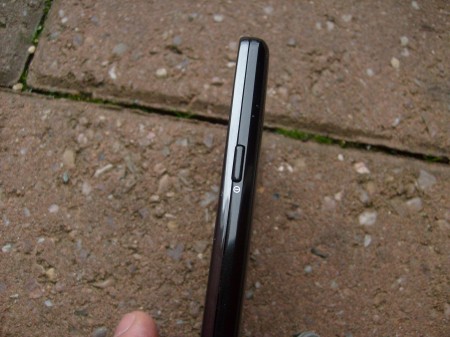 Inside
Speed. Did I mention the speed? Oh, yes I did. So, did I mention how quick this thing is ? Seriously, when you jump into the OS everything is on rails. There's the standard Android panels when you look at the device. Slide left, right, add widgets, moved stuff arond and create shortcuts, folders or change the wallpapers. On this review handset we did find a couple of things that bugged us though. First was the "selection" sound. Out of the box everything "clicked" when you selected it. Hit an icon. Click. Open the browser, click. Click a link. Click. We turned this off.
We also found that the Samsung on-screen keyboard seemed to have the XT9 predictive dictionary turned off by default, so we turned it on. Once this was on we also found that the phone took a little while to "learn" words. On a HTC I can merrily mash around with the on-screen keyboard, safe in the knowledge that the clever on-board dictionary will realise that I meant "lager" and not "later" or "lagew", but here the Samsung keyboard seemed to offer me the wrong word, or just happily let me use the mis-spelt word instead. After a short while though it did learn to spot the words and gradually got better.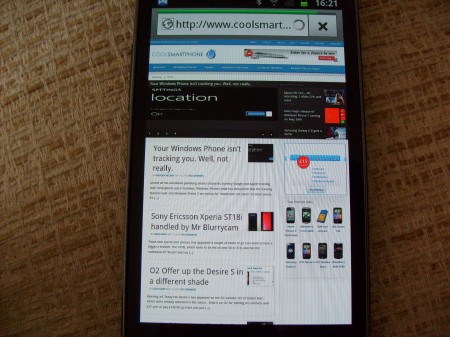 Luckily the ever-excellent Swype stepped in to let me simply drag my finger over the keyboard and enter words quickly. It's installed as part of the build on the S II. Good times.
Other additions include "Say N Go". Double-tap that main action button on the front and a Vlingo-powered app called "Voice Talk" will appear allowing apps, music, calls and messages to be fired up merely by speaking to your phone. You can even compose memos on-the go, which is a great way to capture your thoughts or remind yourself about a task you need to complete.
Samsung have added their "Hubs" to the handset too. These include a Readers, Social, Music and Game hub. First, the "Readers Hub" takes you to a virtual bookshelf where you can flick through your favourite newspapers (this actually fires up another app called Press Reader, which is subscription-based). You can also go through some books, but again this fires up another app by "Kobo" where you'll need another account, and finally there's a magazines shelf which will open an app by Zinio.. where you'll need another account. Essentially this hub is just a collection of three apps which you can grab yourself anyway, but it's nice of Samsung to at least group them together for their customers.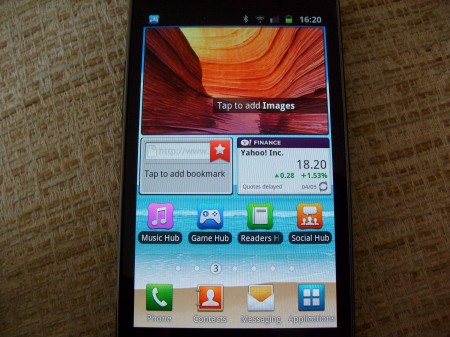 In the "Social" hub you can add an "SNS Account" (which we assume means "Social Network(s)"). The Games network features Gameloft Premium games plus social games where you can challenge online players. The Music hub is particularly good and taps into over 13 million songs available from online store "7 Digital". It'll sort songs into genres but there's a powerful search function for easily finding that track you're after. It'll catalogue and sort your on-board music too, so if you've got a stack on MP3's, you can simply copy them across to your storage card and even use the Music hub to create your own album (playlist) with all your favourite tunes. Songs from the store appear to cost 99p plus there's a preview option which I'll showyou in the videos below.
Now, this being an Android device from Google you can expect certain stuff. Google Maps, with the street view and satellite view – GPS and all that good stuff. Google Navigation, with a nice lady telling you where you turn and what to do. Google Mail, with instant always-on access to your mail. POP3 mail accounts a-plenty, Exchange mail, sync'd contacts, sync'd calendars, the Android Market with truck-loads of apps to tickle your fancy, Google Talk for instant messaging and calling, voice search and more.
The other rather fantastic Android additions kinda step up to another level on this handset. Yes, you can totally customize everything, you can drag stuff around and position it as you want, you can share pictures, videos and URL's with your friends via Twitter, email or any of the relevant apps you've installed. You can go into the glorious gallery, click a video and share – or pump it out onto your DLNA-capable TV across the room. You can edit photos and video on the go, you can record audio, track your movements and check out the latest apps recommended in the Samsung Apps .. err.. app. You even get a Samsung utility which delivers the latest fixes to the handset.
Videos
To be honest there's quite a bit to show you in the handset itself so we've added quite a bit of video here to show you the interface in action. Everything is in HD so feel free to switch up the YouTube resolution.
[yframe url='http://www.youtube.com/watch?v=P3Dttl4Ks7c']
[yframe url='http://www.youtube.com/watch?v=vTU5OklRLoQ']
[yframe url='http://www.youtube.com/watch?v=cgobUHb1ZQ4′]
[yframe url='http://www.youtube.com/watch?v=wsdZwqMaZr4′]
Camera
The video directly above showed you most of the camera functionality and the settings. Although there's no dedicated camera button it's simple enough to drag a dedicated icon onto the main screen and fire it up. It's quick and easy to flick between a camera or video shot and there's settings a-plenty, although the standard options are fine.

Example videos from the Samsung Galaxy S II. In a word, it's spectacular. We shot in complete darkness, in low light, inside, outside, it didn't matter. This easily matches the latest Sony Ericsson devices in terms of quality. We're looking at companies like HTC to step-up here. Samsung and Sony Ericsson really are jumping ahead in terms of camera quality and, believe me, it shows.
[yframe url='http://www.youtube.com/watch?v=7ZziMxblTUQ']
[yframe url='http://www.youtube.com/watch?v=10pKahnxa70′]
Here's some of the shots I took on the camera. Click on for the original size.
Conclusion
Is this phone an iPhone killer ? Well, if I was writing for a tabloid newspaper I'd have to say a definite "Yes". If, however, I'm being realistic I'd have to say "No". Why ? Because there won't be just "one iPhone killer". The iPhone is so massive, so prevalent that it's crazy to claim that one phone alone can knock it aside. This, though, is the best Android handset I have ever reviewed. Ever. It's the best phone out there at the moment. Other handsets have come close. They've had fast processors, or a good camera, or lots of storage, or a good interface. This has the lot, in spades.
I've done a little reading and found that some are complaining about battery life, but the loaner device we tested from Clove didn't have any of these issues. The battery lasted much longer than I've seen in other handsets. I'm a phone geek, and I play with the phone A LOT when I'm reviewing it, so to see 30% battery life remaining at the end of the day is astonishing.
I loved the little Samsung tweaks. They're not "in your face". They're not annoying. They're brilliant. The Kies Air app is stunning. The Hubs, whilst mostly out-sourced, help to aggregate content that would normally just get dumped in the apps-list. The AllShare DLNA app and the integration with the OS, it's all good in my book.
Sure, I had a couple of little gripes, but believe me they're so tiny. I can't play GT Racing in landscape without my finger covering up the external speaker.  Oh and the keyboard maybe took a little too long to "get" me but… pff.. these are tiny, tiny little foibles.
If you want a handset with the best of everything, no compromises, get this phone. It's the most complete package I've seen in years. Pots of storage, a great camera, great design, a fluid and pleasant GUI, the very latest flavour of Android, all the tricks and … speed, did I mention speed?
Link – Clove