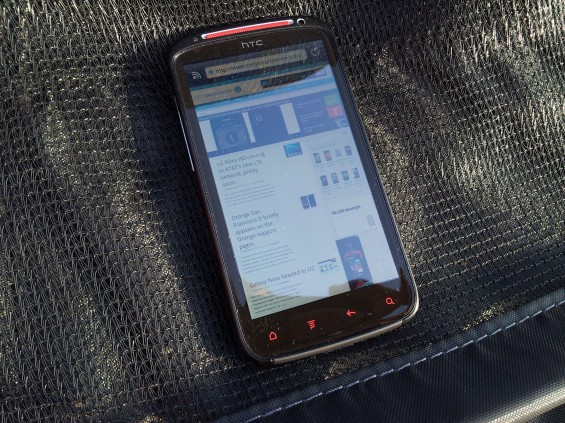 We've been sent a quite a few headphones over recent weeks. Some noise-cancelling ones, some fashionables ones, some really big over-ear ones. All of them try and solve a long-term problem with most smartphones, and that's the sound quality coming out of the 3.5mm audio port.
Ever since we first started seeing 2.5mm audio ports changing to 3.5mm audio ports we've seen more people adding in their own headphones to try and get a better audio experience. Most Android handsets output just one sound type, and other than the odd graphic equalizer or audio adjustment setting, there's been no massive improvement.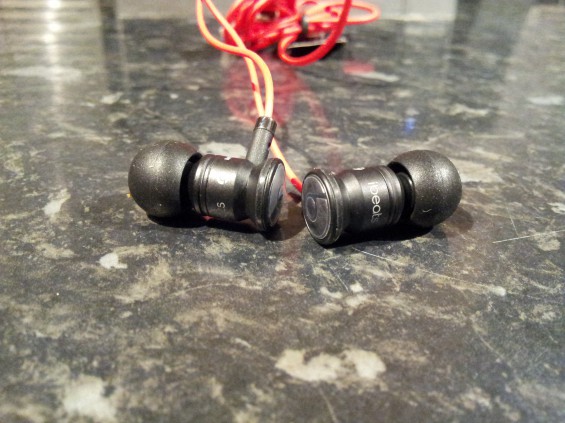 Step forward this, the HTC Sensation XE with Beats Audio technology. It comes complete with Beats Audio headphones which are, by themselves, really cool headphones. However, it also has some clever on-board technology which detects those headphones and then makes the audio sound exactly how the artist intended.
We're beginning to see more and more "differentiators" added to phones. We've seen the cradle and the charm accessory on the HTC Rhyme, we've seen 3D technology in the Evo 3D. Now, with the XE, we've got this new audio technology which will no doubt appear in other HTC handsets.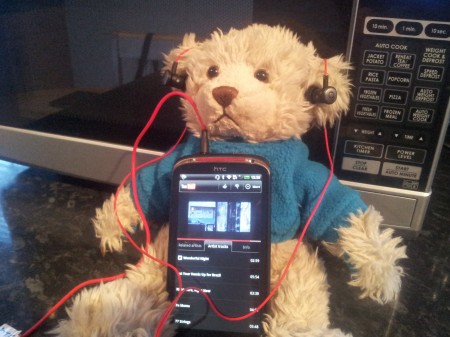 Specs
1.5GHz Dual-core CPU
4.3″ qHD 540×960
3.5mm audio jack
microUSB / HDMI output
Gyro sensor, G-sensor, Digital compass, Proximity sensor, light sensor
Rear 8 megapixel camera with auto-focus and dual LED flash, 1080p HD video recording
Front VGA fixed focus camera
WiFi, DLNA streaming
Bluetooth 3.0 with A2DP
FM radio
Beat Audio
WiFi Tethering
GPS
1730 mAh battery
Video Overview
If you don't have time to read the whole review, here's our quite look at the phone itself..
Outside
Built, as many HTC handsets are now, in a aluminium unibody construction it instantly feels strong. A cool metal strip wraps around the back of the handset and forms the frame of the rear battery panel.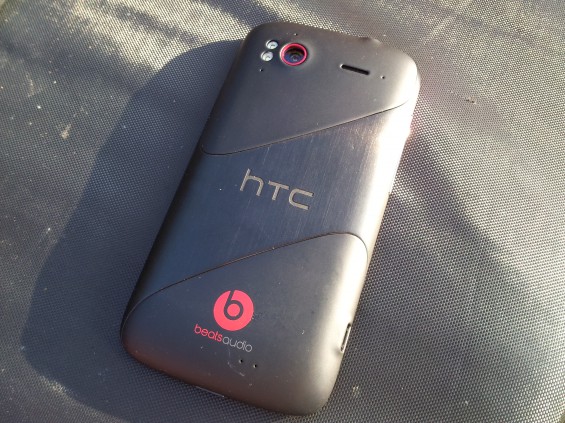 At the bottom there's the read "b" logo to show the Beats technology. This whole rear panel can be removed to access the battery, SIM card and microSD card. As usual now, the rear panel forms the antenna and the hole for the camera has now plastic so the camera itself produces some excellent photos. There's a red rim around that lens too.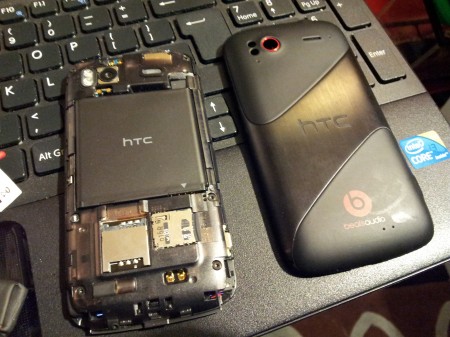 The rear panel does actually form a large part of the device. When you remove it the earpiece actually comes with it, as does the power button, 3.5mm audio port hole, audio controls and more. What you're leftwith, when you look at the phone itself, is nothing more than the chassis itself and the techy bits.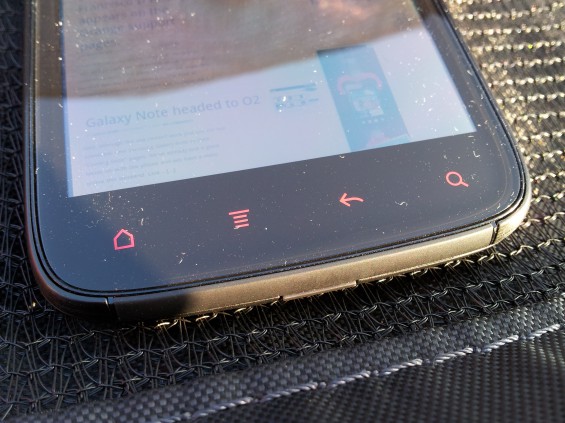 Up on the front there's the usual four touch-sensative buttons which are backlit in red. The earpiece is coloured red too, and this gives the handset a very distinctive look. Up top, and to the right of that earpiece, it's the VGA camera for video calls.
Up top there's the 3.5mm audio port and the power button.
To the left, the volume controls and the microUSB connector for charging and moving data.
Inside
Powered by Android 2.3.4 and with the rather excellent HTC Sense 3. The dual-core 1.5GHz CPU makes everything glide along on rails. The Sense interface itself has yet again improved, with graphics sliding round at slightly different rates when you move the panels from side-to-side. It's a welcoming experience and a fun one too. Oh, and this being Sense you can of course slide widgets around the screen, add, remove and change them as you need. Press and hold on the main screen and you get a raft of options – change the scene (a pre-made batch of themes for your handset), change the wallpaper, lock screen or add widgets, apps, shortcuts, folders and more. You can also choose or download sound sets, adjust ringtones, alarms and notification sounds. You can also download more, with helpful "get more" links dotted around the customization sections.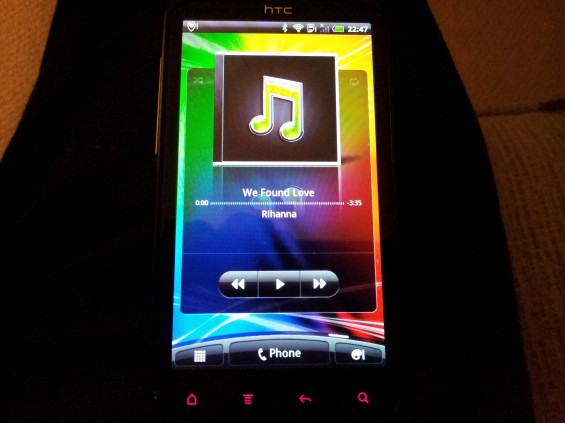 Slide the ring up to unlock the phone and you're met with a main screen showing (as part of the default setup) the weather and time in your location. You can also whack the "phone" button and start a call by either typing a number in or adding the first few letters of someone's name through the predictive dial feature. This being a Google product, everything is sync'd online and you can be safe in the knowledge that your contacts, appointment, tasks and even documents are stored in the cloud.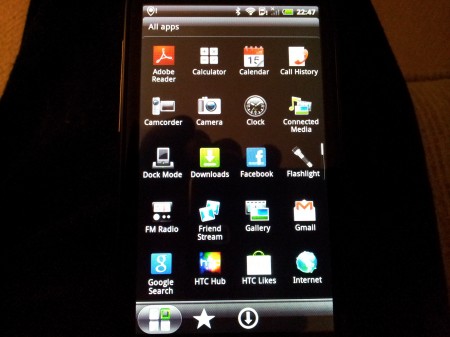 A stack of apps are included too. Adobe Reader, Polaris Office, GMail and Microsoft Exchange / POP3 clients will keep you connected with the office whilst Facebook, HTC Peep (Twitter) and YouTube apps will keep you entertained out of the office.
We were particularly impressed with HTC Watch, the new online video service from HTC. It lets you rent and purchase movies and TV shows online and watch them on up to five HTC devices. It's been somewhat overtaken in recent months by YouTube / Android Market offerings but the quality was rather good and there was a decent enough choice.
The browser was, as it usually is on Android, particularly epic. Pinch / zoom, smooth scrolling and brilliant handling of all the pages we dared through at it. Everything was blended and connected together – sharing pages between apps, being able to send pictures via Twitter, email and so-on. It's all so pain free.
Camera
The camera is snappy and responsive, activating the flash quickly and saving images fast. There's a raft of options and effects to choose from – you can distort, posterize or make your photos look old instantly and record in full 1080p.
All these photos were taken with the camera and the flash on. Click to get the bigger version.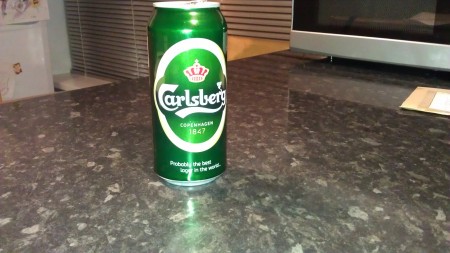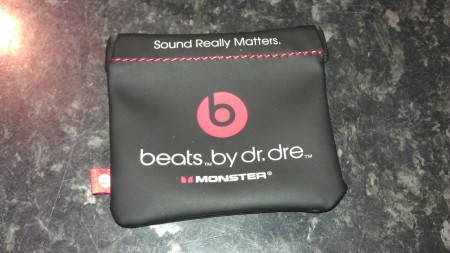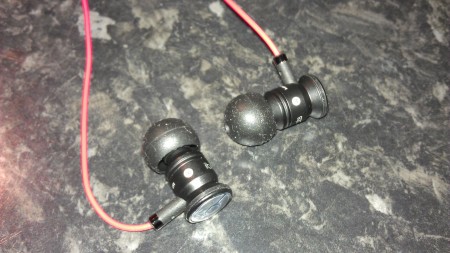 Beats Audio
The Beats headphones, endorsed by Dr Dre himself, are bloody fantastic. They're branded with the "b" logo again and are well solidly built. Put these together with the special Beats software on-board and, I've got to say, the sound experience is phenomenal. They normally cost around £80 and, even when the heavy bass rhythms are pounding out, you can clearly hear those tiny tweaks and high notes at the same time.
Whilst reviewing this phone I tried several other headphones and, whilst the sound is better than an "ordinary phone", there's a definite improvement when the Beats headphones are connected to the on-board wizardry. The sound is so clear and responsive. Suddenly it seems that listening to music through standard "give-away" headphones on normal Android phones is offensive. It really is as if you're listening to the track for the very first time. New layers of sound emerge that you never noticed before. It really does work.
The only minor gripe we had was that the Beats technology only really turned on when you used a HTC app, but that wasn't able to do things like gapless playback.
Conclusion
We did have a few gripes with HTC Sync seemingly wanting to port all of our iTunes music across and eventually running out of space but overall we were very happy with the Sensation XE on all levels.
The phone itself is great, although it is basically a Sensation that decided it needed a few steroids when it saw the Samsung Galaxy SII kicking around. The battery life is pretty admirable to, with a couple of days use out of it if you don't go crazy.
If we're honest, this whole package shouldn't be as good as it is. The Sensation, with some extra grunt and whizzy bits? Surely it can't be that much better? Well, it is. It runs so smoothly and the sound quality is so stunning that you'll instantly fall in love, especially if you're a music lover.
Link – HTC.com