HTC keep producing great devices one after the other and this is a review on not only a new device but a move in technology as this is one of only two 3D phones on the market today….. the HTC EVO 3D.
This review device was sent to us by the kind people at HTC PR who are a great supporter of the site and allow us to bring you all these reviews on new handsets which have just hit the market.
The EVO 3D has some very impressive specifications as you would expect on a device these days and they are:
Android 2.3
2x 5 Megapixel Cameras (for 3D photos)
HSDPA 14.4mb/s
HSUPA 5.76mb/s
Bluetooth, WiFi & GPS
[yframe url='http://www.youtube.com/watch?v=uO7UrHSkFGY']
The EVO range has been around for a while, just only in America until now when HTC have decided to bring their 3D Android smartphone to Europe.  Weighing in at 170 grams the EVO is a rather large and heavy device but that is to be expected when you consider everything which it has packed inside the case including a large 1730mah battery and 2x 5 megapixel cameras which produce the 3D image (or just a single camera for a normal photo).
Also included is a 1.2 Ghz Dual Core CPU, 1GB memory and 1GB storage plus a MicroSD slot supporting up to 32GB memory cards you are getting a seriously powerful phone here!.
Looking at the front of the device you have the large speaker grill at the top, next to this is the front facing 1.3 megapixel camera which is there for WiFi video calls using 3rd party applications like Skype and Tango, of which both apps works on other platforms such as iOS and computers so you can have true video calling over different devices.  There is also a little LED status light which alerts you of missed calls, emails or text messages.
The screen is a large 4.3 inch display with a resolution of 540 x 960 pixels…. a really high quality screen which is great for watching videos or for browsing through pictures you have taken.  The screen also shows 3D content due to the technology used, this is of course glasses free 3D so you do not need anything special to be able to experience 3D on the phone.
Due to the way 3D is displayed you really have to hold the EVO at a certain angle to get the best viewing experience, if you tilt in any way this moves the display and your eyes lose focus.  Whilst having 3D was rather interesting and a good idea at first, after a while it just becomes a bit of a gimmick and a rather expensive one considering what you have to pay to own your own EVO 3D.
Below the screen are the four standard Android buttons on nearly all phones and these are touch sensitive, not actual buttons and are for HOME, MENU, BACK and SEARCH which if you have used an Android phone before you will know exactly how to use these.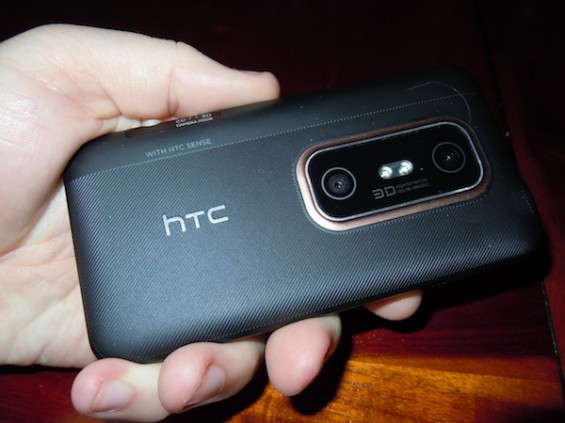 The back of the phone has both 5 megapixel cameras in a raised rectangle area with a dual LED flash in the middle which can be used for photos or video mode to give an extra boost to the lighting conditions if you need it, but they also act as a flashlight when you use the app on the phone which can be quite handy.
The whole back cover is made up of plastic but with a nice horizontal lines going across which gives it a nice design, there is also the traditional large HTC logo on the back but apart from that and the camera the back is pretty basic.
CAMERA EXAMPLE COMING SOON
CAMERA EXAMPLE COMING SOON
CAMERA EXAMPLE COMING SOON
The main focus of this phone is of course the 3D technology used in the screen and the camera, unfortunately this then takes away from the basic 2D features.  One example is the camera, the EVO 3D is fitted with 2x 5 megapixel camera which produce the 3D image, fine for viewing on the phone itself or if you are lucky enough to have a 3D TV, however if you do take a 3D picture they are 2 megapixel images from each camera so if you then at a later date wish you had taken the photo in 2D instead of 3D you are left with a rather poor resolution 2 megapixel picture.  if you take a photo in 2D mode this uses just one of the cameras in 5 megapixel mode.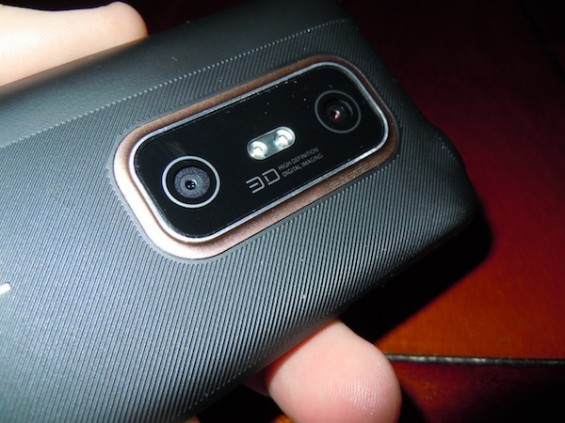 Video is at what seems to be standard now 720p HD quality in both 2D and 3D but again as with the camera to get 720P 3D video you really need a 3D TV to be able to get the best viewing of your content, just viewing on the phone might seem fun for a short time but in the long run you might just find this a gimmick you no longer use and just switch to 2D mode for everything.
The bottom of the phone has the microphone for voice calls and also has the small  slot you use to take the back cover on and off again to reveal the SIM card, MicroSD card and the removable battery.
At the top of the device you have a single button which is used to switch the phone on and off but also to lock the keys when not in use.  You also have a very handy 3.5mm headset jack as seen on a lot of HTC devices now and this is where you can plug in a headset to listen to music.  The audio quality is actually pretty good on the EVO although with a deal just agreed with Beats for superior audio on future phones if audio quality is what your after then the new Sensation XE will be a great alternative to consider.
Looking at the left side is very plain only having the MicroUSB port which is used for the charger or for plugging the EVO 3D into a computer for backing up content or for using tethering although you can also use WiFi Tethering as this is supplied on all android phones running 2.2 FroYo or higher.  This came in especially handy when attending a HTC evening for the Radar and Titan and the WiFi crashed for press but the EVO was down to 10% battery i was able to plus in a small USB cable and use tethering to post the news as it was announced which was really handy, and with O2, Vodafone and Three allowing tethering use on most peice plans now this was a great way to get online.
The right hand side of the EVO has a lot more to offer.  At the top is a up and down volume buttons which like any Android phone can be used on the main menu to change between the system volume and silent/vibrate mode.  It can also be used in calls for adjusting the speaker volume.  Below this is a silver two way switch which is used for the camera to change between 2D and 3D modes, this is a great hardware addition and saves going through on screen menu options.  Below that is a camera shutter button which is used to take photos and to start or stop the camcorder.  This is something I missed on the Sensation so it is great to see HTC have decided to take the camera seriously and added this simple yet handy extra.
Final Thoughts
The EVO 3D is a very interesting device with only one competitor at the moment which is the LG Optimus 3D announced back at Mobile World Congress in February this year.
Whilst the EVO overall is a better device than the LG is still has a very 'niche' market as the 3D features keep the price of the device rather high around the £500 mark sim free or £35-40 a month on a contract and if you were to take out the 3D part of this device you are not left with anything which really stands out, it has a large screen like the Sensation, a 5 megapixel camera compared to an 8 on the Sensation and costs more than the flagship device.
With 3D TV's still being quite new and also also quite expensive still, most people will have their only 3D experience using the phone itself which due to some clever technology means you get a 3D picture without needing any silly glasses.  You really have to hold the EVO at the right angle to get the best picture, any slight movement and due to the way the 3D image is made you will notice a small change which is hard to focus again afterwards.
Due to the high price and the limitations of 3D technology it is hard to recommend going out and buying an EVO 3D, especially for a cheaper price you can get the superior HTC Sensation and soon to be the new Sensation XE featuring even better audio quality.
Battery was also a concern, even though you get a 1730mah battery in the box I was finding that 99% of the time I was not even getting a day of use and that was with no 3D use, no music playing and just some Internet use.
If you REALLY want a 3D phone then I would have to choose the EVO every time over the Optimus 3D, however for normal use there are other better phones out there which cost less, have better battery life and do more which are worth a look at, the new Sensation from HTC being one of them and the flagship device.
As much as I hate to admit it 3D is just not there yet on mobiles, the 3D mode was interesting for a little while as it was so different but i soon found myself using 2D for everything and not touching the 3D mode which is a shame and the main reason for this phone, if you are only using 2D you are better off going for a HTC Sensation or a Samsung Galaxy S2 as you will get more use from it.