Cases, eh? It seems a shame to wrap your new shiny smartphone up, adding bulk, hiding it away. On the other hand, we've all seen the horror of a smashed screen, normally acquired during an "energetic" evening and a few shandies.
So, if you're going to have a case, it would be good if you didn't have to take it off all the time, and.. shock horror.. it actually looked quite nice too.
Now I usually just buy cheap cases from Ebay. Couple of quid, job done, but then I notice something doesn't quite fit right, or more recently, my iPhone cases were shaped too close to the camera "flash" resulting in a nasty white hue on any pictures taken with the flash.
So you're in a pub, and you want to take the picture, but you have to take the case off to stop the flash breaking the picture.. and you drop your phone.
Now you wish you'd bought a better case!
Enter the Case Mate Barely There for iPhone 4S – the first case I've felt compelled to write something about, because it is, quite frankly, brilliant.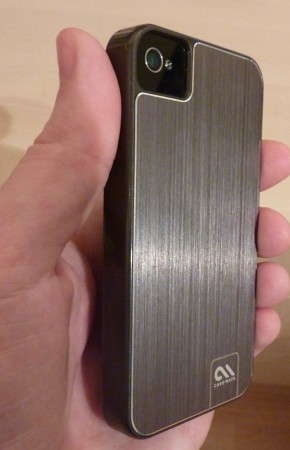 As you can see from the pictures, the brushed aluminium look is great, there is a sufficiently large hole for the camera and "flash" so you don't ever need to take it off. It was very easy to fit, and feels great in the hand too. This one's a keeper.
There is a slight 'lip' all around the edges to offer maximum protection for the edges of the phone – but if you're particularly accident prone, you may want to add a screen protector to the phone.
Every case is a trade off between protection and bulk, but this model gets the ratio right, the result means not wishing it wasn't in a case in the first place.
This case and a range of other iPhone 4S Skins are available from MobileFun.co.uk