The HTC Explorer, announced just over a month ago, is now available on Three. It's available from stores and their site and is an entry-level smartphone with 600MHz CPU, 3.2″ screen, WiFi, GPS and 3 megapixel camera.
You can pick this up for just £15 per month or, if you need all-you-can-eat data, £27 with 2000 anytime, any network and 5000 texts. If you want to pick up the handset on Pay As You Go then it'll cost £129.99 with a £15 top-up.
The Explorer is powered by Android 2.3 (Gingerbread) and comes with HTC Sense for keeping all your data organised and easy to access. Changeable rear covers are also available.
Links – Three Press Release – Previous Story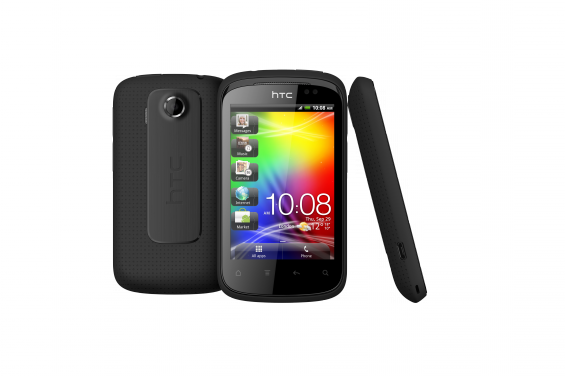 Today Three announces that the HTC Explorer is now available in Three stores and online from www.Three.co.uk.

With a new version of HTC Sense, featuring simplified menus, this compact new phone from HTC is perfect for the first time smartphone user.

Running Google Android 2.3 (Gingerbread), the Explorer also features a 3.2" touchscreen, 3MP camera, a 600MHz processor and comes preloaded with the HTC Friendstream app making it easy to stay in touch with friends and family at the touch of button. The smart black rubber casing can easily be interchanged with a selection of colourful covers, allowing people to personalise their HTC.

Sylvia Chind, head of handsets at Three said, "The HTC Explorer offers first time smartphone customers a fantastic experience. The redesigned HTC Sense makes it easy for people to get to grips with the Android operating system, which is even speedier on our award winning network*."

The HTC Explorer is available from £15 a month or £27 a month The One Plan with all-you-can-eat data, 2,000 anytime, any network minutes and 5,000 texts.

PAYG customers can get the HTC Explorer for £129.99. All in One 15 costs £15 and gives 30-days access to all-you-can-eat data along with 300 any-network minutes and 3,000 texts. Or All in One 25 costs £25 and offers 500 minutes, 3,000 texts and all-you-can-eat data for a 30-day period.

Key features include:

· 600MHz processor
· 3.2 inch screen
· Android 2.3 (Gingerbread) with Sense
· 3MP Camera
· 102.7mm x 58.5mm x 12.9mm
· GPS / WiFi
· Changeable back covers

*Three is rated as the best network for speed, overall quality, ease of use and customer satisfaction by UK Smartphone customers (YouGov).