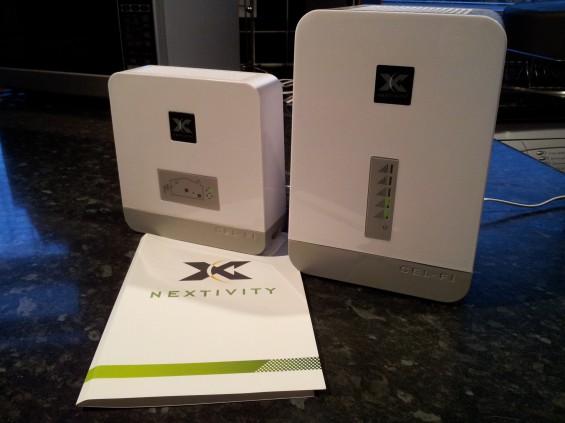 How's your mobile signal? Are you one of those people who have to stand next to a window to get a signal or a decent 3G connection? There's a few solutions to your problems. You could use Signal Boost, but that's only available on certain Orange handsets. There's Vodafone Sure Signal too but, if you need some serious coverage, you can try a repeater. The trouble is that a lot of repeaters or signal boosters aren't strictly legal. What we have here is the only legal signal booster available in the UK. It's easy to get going and continually seeks out the best available signal in an area up to 13,000 square feet.
The Cel-Fi RS2 3G booster fully complies with OFCOM regulations and works on T-Mobile, Orange and O2. If you'd like to learn more about the legal issues surrounding boosters and repeaters, have a read of this post. The Cel-Fi RS2 Booster consists of just two boxes and there's no big antenna or stuff to screw in.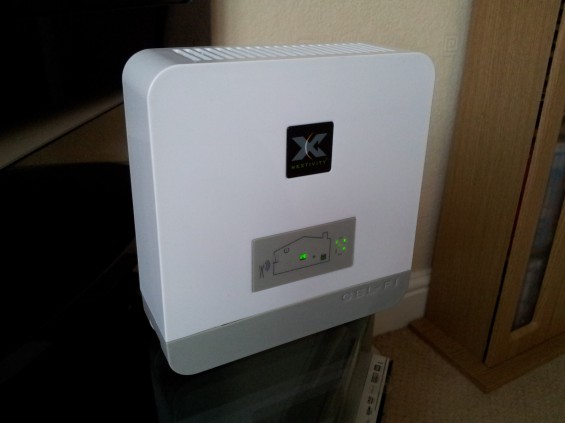 Video Overview
We filmed the setup and unboxing below. Switch to HD for the clearest picture.
In the box there's two units which are powered by 12 volt power supplies. Installation is pretty easy. One unit, cunningly named the "window unit" lives next to a window. Ideally this will be upstairs and at the the point where you normally get the best signal. In an office you'd stick this next to the window or as high as possible, and at home you'd stick it upstairs on a window-sill.
The window unit is fairly sizeable. It's about the same size as one of those mini hi-fi systems. On the underside, right next to the power port, is a small microSD card slot. In the press review kit we received there were two microSD cards, one for Orange and one for T-Mobile. The microSD card slot appears to contain the configuration information for your chosen network, so I plugged in the Orange one. On the front of the window unit there's display to show you the signal strength. Get this as high as possible, then you can move onto the second unit.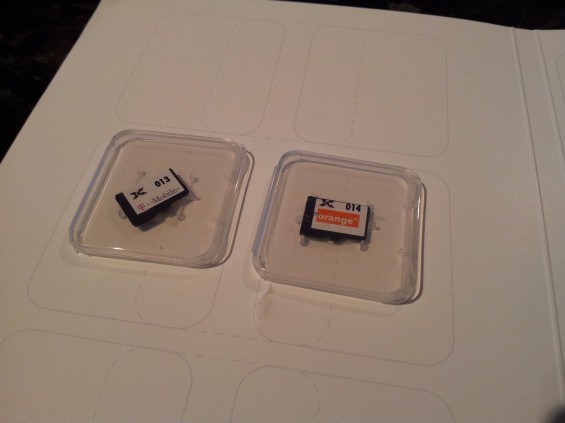 The second box is noticeably smaller than the first. They call it the "Coverage Unit". This needs to be placed where you need coverage the most. It's just a matter of plugging it in with the other 12 volt power supply. There's a few things to remember – don't place it too close to the window unit and don't place it too far away. The front panel will tell you whether it's in an optimum position and will display a "Good" green icon when it's on. You then need to try and move it around to get the "quality number" as high as possible. We only managed a "6" but a "7, 8 or 9" is ideal and indicates that it's in a really good place for enhanced coverage. It might take a couple of attempts to do this but it is worth it.
After the very quick setup we were all done and, I have to say, it really does work. The signal on my mobile went from an "iffy" 1-bar 3G signal to a full-bar HSDPA signal instantly. Calls were clearer, data was fast and there were no drop-outs on calls. There's other benefits, including the fact that I don't have to use my broadband connection to route mobile calls, and battery life on my phone is improved because it's not constantly searching for a signal.
Conclusion
The Cel-Fi RS2 is available here in the UK for T-Mobile, Orange (GSM1800) and O2, although the £449.99 price-tag does seem a little steep. The Nextivity Cel-Fi RS2 Signal Booster does win on ease-of-use and performance though. It took less than 2 minutes to install and I had the full 5 bars on my phone. No drilling, no cabling and full HSPDA performance onto my phone.
Link – Cel-Fi.co.uk