O2 have updated their coming soon section of their UK website to include the Motorola RAZR which was announced just yesterday, a day before all the Galaxy Nexus announcement.
Featuring a super thin design, 4.3 inch screen, 8 megapixel camera and 1080p video recording plus a lot more of course, the new RAZR is going to turn heads and get a lot of attention once on sale.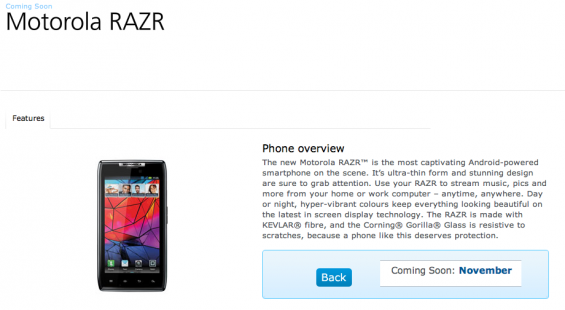 Listed as coming in November we have no information on pricing or when exactly in November we will see this, also something to remember is O2 offer all phones on PAYG now so even if you are on a Sim Only plan you can still pick up this latest Motorola handset.
As for my thoughts…. after a poor few years….. maybe it's time to once again say…. Hello Moto!!
Link: O2 Coming Soon