In June we reported how the ChevronWP7 team had been in talks with Microsoft about making their Windows Phone unlock tool an official paid for product. A few days ago on their blog they posted details of how this is going to work. Basically you give them some money, download some software to your pc, connect your phone and watch it get unlocked. Allowing you to install apps made by third parties.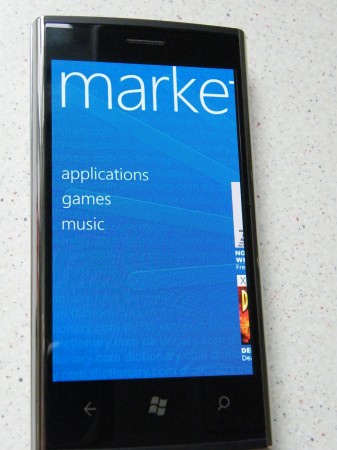 If you are reading this as an Android user you may be wondering what the fuss is about. Well in the Windows Phone world you can get apps from the Marketplace easily, but it ends there. So if you find a really useful app on XDA Developers (other mobile device developers sites may exist) then you cannot install it without flashing an older open rom or signing up as a developer (which costs money). So this program will allow you install whatever apps you want to and from wherever you can find them.
The only slight annoying thing about this is that originally the unlock tool was freely available, then Microsoft decided that they had to stop this shenanigans and approached the team. The rest is history and here we are eagerly waiting to part with cash to not void any warranties etc. Oh I forgot I had swapped the little memory card badly hidden inside my phone. Guess that's my warranty gone. Damn. Anyway I am a little off topic here. Below is a copy of their press release. Let us know your thoughts on this. Will you be handing cash over? Are you just still in a daze with your new iPhone 4S?
OCT14
ChevronWP7 Labs is reaching the finish line!
As you've probably worked out by now, we operate on Valve time – a measure of time that vastly differs from real time. So when we said we'd be launching ChevronWP7 Labs "soon", we really meant "in a few months" bringing us to now – only a few weeks away from launch!
While you wait, let's set some expectations.
The ChevronWP7 Labs site and service was designed to allow hobbyist developers to install, run, and debug unsigned applications on their personal Windows Phone. All you need to get started is a Windows Live ID. (A Windows Phone might also be handy.) It's important to note that we don't need the Windows Live ID tied to your phone. We simply require any Windows Live ID to simplify the registration and login process.
After registering, users will have the ability to purchase and manage what we're calling "unlock tokens". One token equals one unique Windows Phone device registration. (You get unlimited re-registrations of that device should the need arise.) Tokens will cost $9.00 USD and be sold via PayPal. If having a Paypal account makes you cringe though, you can elect to check out with a credit card instead.
On the desktop, you'll run our custom version of the unlocking tool. It's very similar to the official "developer registration" tool, however instead of requiring an App Hub account, it requires an unlock token. Oh and it looks prettier. Otherwise, it behaves identically. No magic spells. No exploits. Your phone's warranty and support lifelines will remain intact.
When using our tool, you may notice the "unlock queue" – you'll be put into one. This queue exists to serialize our unlock requests for various security and administrative reasons, so we'll just apologize for the inconvenience right now. We'll be monitoring these queues to ensure they're kept short and will add capacity where needed.
We know that our work is sometimes misinterpreted as promoting "jailbreaking" activities. This is not the case. Our goal is to help bright people do awesome things without infringing upon the developer community with apps in the Marketplace. In fact, we had many conversations with Microsoft to make sure we do this the right way. It may be the long way around, but we feel this approach is ethical, the best way to ensure that the program stays alive and hobbyists like us get more access to cool toys.
As said earlier, we're a few weeks away from launch. We've been working hard this year to plan, design and implement this system to meet the needs of the homebrew development community; we hope you like it.
Thanks for your patience!
Source – ChevronWP7 – WP7connect.com