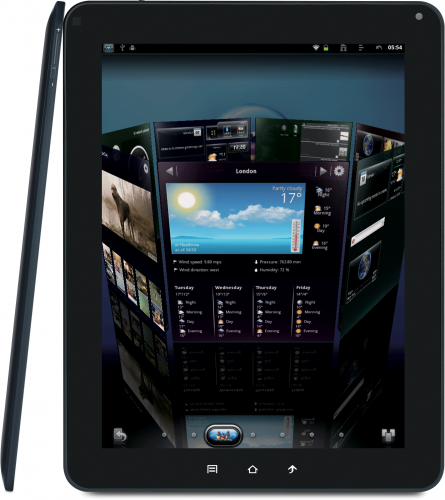 ViewSonic have added a new tablet to their range – the ViewPad 10e. It's due to arrive next month and there's Android 2.3 on a 9.7″ 1024×768 screen. ViewSonic have previously launched dual-booting Android / Windows tablets but this is their first pure Android tablet at 9.7″.
Powered by a 1GHz Cortex A8 CPU it has 4GB of on-board memory, a microSD slot and a big bag of connections include miniHDMI, 3.5mm audio, microUSB and more.
We're hearing that this will sell for around €250, which translates to around £217. Not bad, not bad at all. Get the full specs-sheet here.
It's a little unclear was to whether the Android Market is included on this device. The information we have states..
ViewSonic includes a market place application which allows access to 000's of additional applications and games.
Links – Viewsonic Europe (10e)
ViewSonic launches a hyper-slim 10" tablet with IPS panel technology

London, 11th October 2011 – ViewSonic is launching the ViewPad 10e, a thin powerful 9.7" 4:3 ratio tablet aimed at providing value conscious consumers with a superior display experience combined with Android technology

ViewSonic has utilised its pedigree display history and coupled this with its innovative tablet expertise to create a 9.7" mobile device that measures only 9.1mm thin and weighs only 620grams, making it perfectly portable. Powered by the more than ample 1Ghz Cortex A8 processor, the ViewPad 10e has extremely fast DDR3 memory, combined with 4GB built-in memory which can be expanded with an additional 32GB via the Micro SD slot.

Virtually hidden within the slim device is a range of connectivity options that ensures the ViewPad 10e is connected and makes an impact wherever it goes. The Wireless b/g/n and Bluetooth 3.0 connectivity ensure high speed data transfer when required. The Mini HDMI connector offers a display output of up to 720p resolution, making the ViewPad 10e a strong portable media playing device.

The ViewPad 10e does not just have impressive hardware specifications; Amazon Kindle is pre-installed providing immediate access to 700k+ books, magazines and papers, all displayed as they were meant to appear on the extra wide viewing angles an IPS panel brings. In addition ViewSonic includes a market place application which allows access to 000's of additional applications and games.

ViewScene 3D completes the ViewPad 10e by providing a customisable 3D style user interface that really maximises the IPS panel technology. Offering 16 customisable panels, intelligent interactive grouping, 3D style widgets and multiple time zone support, ViewScene 3D takes the ViewPad 10e to the next level.