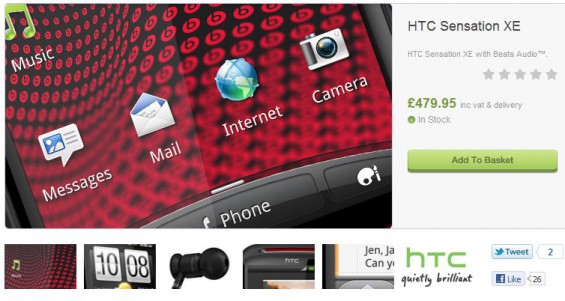 If you've got £479.95 burning a hole in your pocket then my personal bank account is definitely the place for it. Of course, if you'd rather get something in return, you may want to consider a brand new, unlocked HTC Sensation XE from those lovely people at The Smartphone Centre. Free delivery too.
The Android-powered handset has a 1.5GHz dual-core CPU, 5 megapixel camera (and a VGA up front for video calls), 4.3″ screen, DLNA media sharing, Bluetooth 3.0, GPS and WiFi.
The key feature here is the Beats Audio Technology and Beats headphones. They marry up with the 3.5 mm audio port and a specific profile is set to get the best sound, just as the artist intended it to be heard. We tried it out ourselves and the sound quality was extremely impressive. In fact, because we're friends with Dr Dre himself, we'd go so far as to say that "dem tunez is well sick".
We're so down with the kids.
Links – Hands on – Buy the HTC Sensation XE at The Smartphone Centre