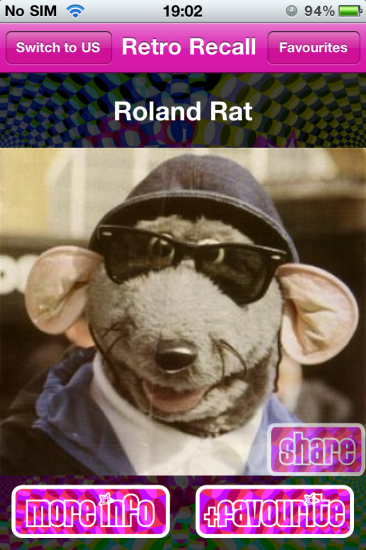 The idea behind this app, as the name suggests is to provide images of various retro films/toys/songs etc and includes a link to the relevant Wikipedia website for that particular subject.
The app has the ability to set favourites and you can also share items by email, Facebook, Twitter etc. It is also possible to switch between UK and US versions of the app.
Unfortunately the amount of content is rather lacking. You get a picture of the subject, and that's it. Tapping 'more info' just redirects you to the relevent Wikipedia page. Sound clips, or small video clips, would have made the app much more fun.
Whilst the form of an app means the content is nicely presented for phone viewing, I can't help think there are numerous websites out there which offer this content (and more) for free. You just need to open Safari…
Having said that, 69p isn't exactly going to break the bank, and may well kill time on a boring train journey.
*Update 13-09-11* – the guys at Retro Recall have now added YouTube links and other functionality. Details and a sample video are at RetroRecall.com