Viewsonic are due to announce a few new products at the IFA event in Berlin today. Here are some details of the devices.
ViewPad 7x – ViewSonic launches the ViewPad 7x. The 7" tablet comes with Android Honeycomb 3.2 and utilises a stylish design, using injection moulding techniques that moves away from conventional tablet covers and delivers lightweight yet durable casing. The attention to detail continues throughout the product, with ViewSonic's customised ViewScene 3D user interface and incredibly powerful NVIDIA Tegra 2 dual core processor. The integrated GPS works perfectly with the pre-installed GPS Tuner software that can allow maps to be saved locally so the device always knows where it is even without a data connection. Sporting a 1024 x 600 10-point multi-touch capacitive display the ViewPad 7x is an amazing mobile entertainment device with front and back cameras, 8GB memory and host of multimedia features. The ViewPad 7x will also be bundled with a host of applications including a free full version of the award winning LogMein Ignition software that enables the user to control their home PC via their ViewPad. This powerful software allows users to perform tasks as if they were local including access to files and applications. The ViewPad 7x will be available late September for an ESP of €349.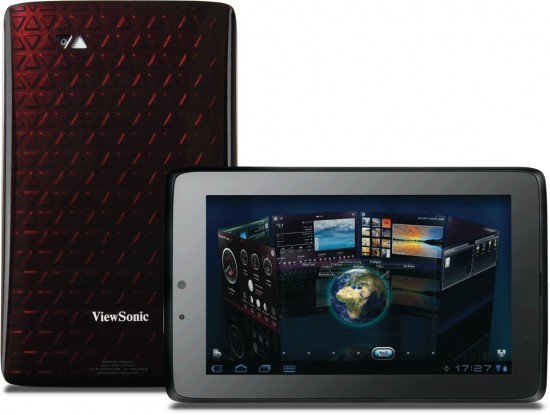 ViewSonic V350 Dual SIM Android Phone – The widely anticipated V350 will be available to preview as a last chance to see before it hits the market. ViewSonic's V350 dual SIM Smartphone features the ability to operate two SIM cards, running android 2.2 with no network limitations. The V350 is also Google market certified with access to over 200,000 applications, access to Google Maps, Mail and other essential applications. With full 3G/ WIFI wireless networking support, a 5 mega pixel camera and GPS, the V350 runs a 600MHZ Qualcomm MSM7227 processor that when combined with the ViewScene 3D UI makes a truly impressive experience.
ViewPad 7e – Amazing value – The ViewPad 7e delivers a compact design at an affordable price point and features a 4:3 ratio multi-touch display and pre-installed Amazon Kindle software that is perfect for e-reading, web browsing or enjoying multimedia anywhere that suits.  The ViewPad 7e includes other additional features to be expected of a ViewSonic tablet, such as wireless, Bluetooth and HDMI connectivity.   The ViewPad 7e will be available late Q4 for an ESP of €169
ViewPad 10pro – Windows Oaktrail tablet – The ViewPad 10Pro is a 10" professional tablet PC with dual operating system functionality, offering a quick switch capability between Windows® 7 Professional for business use and Google Android 2.3 for personal and social entertainment. The Dual-operating system enables users to access business software that only runs on Windows and enjoy Android without switching completely. The ViewPad 10pro will be available September 5th with an ESP of €499 for Wifi only version.
I find a few things in this press release interesting. Firstly the 7″ Viewpad 7x has a modified version of SPB Shell 3D installed on it. This supports a stereoscopic 3D image, which means if you have some of different colour lense 3D glasses you can view a 3D effect on the tablet. Also as of yet not many people have skinned Honeycomb (apart from Touchwiz) and it will be interesting to see how this works. The next thing I spotted was the dual sim V350 phone, no manufacturer has yet got a dual sim device into the mainstream. I would love one, it's the spec of this that looks like it won't be this one. Lastly the Viewpad 7e has a great price, it will be interesting to see if they manage to get the 7e to market before christmas, as tablets are probably going to rather popular again this year.