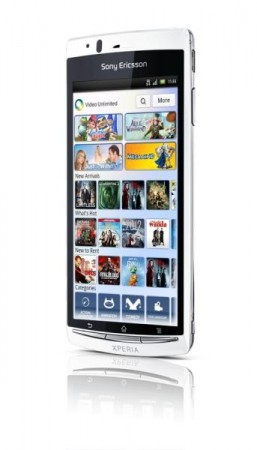 Sony are doing their spot at IFA and have announced the Arc S as a follow up to the Arc.
The updated phone will feature a 1.4ghz processor and the new enhanced software coming to 2011 Xperias, including 3D panorama mode on the 8.1mp camera.
Another new addition is the front video camera, to take advantage of the video calling abilities in Android 2.3.4.
The new phone will be available in "selected markets" from October this year.
Click on for the full press release…
Sony Ericsson unveils its fastest entertainment experiences to date with Xperia™ arc S

Xperia™ arc S has a powerful 1.4 Ghz processor delivering up to 25% faster entertainment compared to Xperia arc

Winner of the EISA award "European Camera Phone 2011-2012"*

31st August 2011, Berlin, Germany – Sony Ericsson today unveiled Xperia™ arc S at Sony's press conference in conjunction with IFA in Berlin. Taking the award-winning sleek design from Xperia arc*,the latest addition to the Xperia™ family has a processor upgraded to 1.4Ghz, Sony 3D sweep panorama technology and access to the Sony Entertainment Network services – "Music Unlimited" and "Video Unlimited"**. Xperia™ arc S features 25% faster camera start up and media conversion , along with 20% faster web page rendering compared to Xperia™ arc***.

Consumers with a 2011 Xperia™ smartphone are now able to enjoy "Music Unlimited" and "Video Unlimited" subject to market availability**:

"Music Unlimited" has a global catalogue of over 10 million unique songs**** with access to your personal music library and ad free radio channels across multiple devices. "Video Unlimited" (currently exclusive to Sony Ericsson Xperia™) is the ultimate source for the latest Hollywood blockbusters, all-time classics, and TV shows from all major studios.

Nikolaus Scheurer, Head of Product Marketing at Sony Ericsson said: "Xperia™ arc S is the fastest and most entertaining Xperia™ to date and it clearly demonstrates how the Xperia™ family are the best smartphones to experience great entertainment services such as Music Unlimited and Video Unlimited."

In addition to these services, Xperia™ arc S includes best-in-class Sony technology such as 3D sweep panorama. 3D sweep panorama images can be captured and then viewed by connecting the phone to a 3D TV using the HDMI output. Xperia™ arc S also has a visually brilliant 4.2" Reality Display with Mobile BRAVIA® Engine, an 8.1mp camera with HD video capability and Sony's award winning Exmor R™ for mobile image sensor that enhances still images and videos even in low light conditions.

Consumers also have access to a uniquely social entertainment experience of sharing and discovery with Facebook inside Xperia™, plus the extensive world of Android with over 250,000 applications.

Xperia™ arc S at a glance:

Super fast 1.4 GHz processor 3D and 2D sweep panorama photography 8.1 MP camera with Exmor R™ for mobile image sensor 4.2" Reality display with Mobile BRAVIA® Engine Latest Android™ platform Gingerbread 2.3

Sony Ericsson Xperia™ arc S will be available globally in selected markets from Q4 2011.
Link – Sony Ericsson Product blog