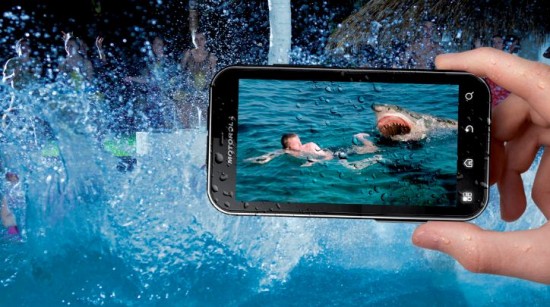 The Motorola DEFY+ popped up a couple of weeks back is set to arrive here in the UK from September. Packing a quicker CPU than it's predecessor, the DEFY+ still has the "life proof" design for protection against water, dust and scratches.
The handset is powered by Android 2.3 and has a 3.7″ screen with MotoBLUR, 5 megapixel camera, microSD expansion and a 1700mAh battery. Check into our earlier story for more details.
Click on to see it in action and read the press release. No news on pricing or what networks are picking it up just yet.
[yframe url='http://www.youtube.com/watch?v=may-imtwv_U']
Link – Earlier story
Motorola Mobility Brings Motorola DEFY™+ to the UK

It's faster, smarter and richer – Motorola DEFY+ is now equipped with faster Web-browsing and the social networking tools you crave to stay connected wherever you go

BASINGTOKE, UK. – Aug. 30, 2011 – Live life to the fullest with the latest life proof smartphone from Motorola Mobility, Inc., Motorola DEFY™+. Building on the Motorola DEFY's life proof heritage, Motorola DEFY+ offers exceptional protection from whatever life throws your way with its water resistant, scratch resistant and dust proof design (IP67). In addition, Motorola DEFY+ has a 1GHz processor that runs 25 percent faster and is more fun with the latest version of Android™ 2.3 (Gingerbread) delivering a smarter operating system and better battery life to fully enjoy your experiences. Motorola DEFY+ is expected to be available the UK in September.

Water resistant, dust proof, and featuring scratch resistant Corning® Gorilla® Glass Motorola DEFY+, can survive a sudden rain shower, a day on the beach, an all-night party – or even a tough workout with the pre-loaded CardioTrainer application, which transforms the device into the perfect running mate. Its brilliant 3.7-inch high-resolution touch-screen display enables you to easily view and track your work out progress. Wherever your days – or nights – take you, Motorola DEFY+ is the life proof device that can keep up with your toughest demands and wildest adventures.

Motorola DEFY+ is faster than ever, keeping up with your on-the-go lifestyles so you can effortlessly browse the Web, stay updated with social networking sites on your homescreens and stream and download rich media content more quickly than before. Motorola DEFY+ offers an Adobe® Flash® 10-enabled browser for a rich web experience that allows users to watch their favourite movies or view videos on the Web.

Powered by Android 2.3 (Gingerbread), Motorola DEFY+ is smarter than ever. This new version of Android boasts a better battery life, a more intuitive user interface and improvements on the features you use most – including enhanced calendar and email features and home screen options. Users can make Motorola DEFY+ their own by organizing and personalizing their Application trays for easy and quick access to their most used tools, games and content.

Boredom proof your life; the richest experiences in entertainment and social media are always within reach with Motorola DEFY+. The Music Player lets you access and share your favourite music. You can also stream your favorite music straight from your desktops at home or work, with Motorola Media Link. Motorola DEFY+ also features Google Talk™ to keep you connected with friends and colleagues, while built in apps like the *Zinio™ e-magazine service allow you to keep up with favourite publications on-the-go. Entertainment doesn't stop there: Motorola DEFY+ also features a 5MP camera with flash, digital zoom and auto focus, letting users capture the best of their social life and create their very own entertainment whatever the conditions.

"Motorola DEFY+, our latest life proof smartphone, delivers the endurance and design strength to keep up with even the most demanding lifestyles, along with the social and entertainment capabilities that put friends and fun in easy reach," said Victoria McManus, UK marketing director, Motorola Mobility. "We designed Motorola DEFY+ with all the smartphone features you need for a demanding lifestyle."

Smart Accessories

A suite of smart accessories ensures users get the most from the Motorola DEFY+. Available accessories include Vehicle Dock, Bluetooth Headset, Bluetooth Car Kit, Portable Power, and Car Charger.

Key Features and Specifications:

Powered by Android 2.3 (Gingerbread) and features more than 250,000 apps from Android Market™
1 GHz processor that runs 25 percent faster for efficient Web browsing and multitasking
Water resistant, scratch resistant and dust proof to withstand all that life throws your way
Features scratch resistant Corning Gorilla Glass
3.7-inch high-resolution touch screen display
Music Player connects you to all your favourite artists
MOTOBLUR lets users stay in touch with friends, providing quick access to social media accounts and live widgets directly from the homescreen
Motorola Media Link allows users to sync their media content from their desktops at home or work
Loaded with the ability to create group emails and communication to stay in touch with friends
Adobe Flash Player 10 for uncompromised viewing of applications, content and videos
5MP camera with auto focus, flash and digital zoom
2GB internal; *2GB microSD card in box, expandable up to 32GB
Access to Google™ apps (Google Maps™ 5.0 with Navigation, Google Talk, Browsing)
1700 mAH battery for 7.1 hours of talk time and 16 days in standby