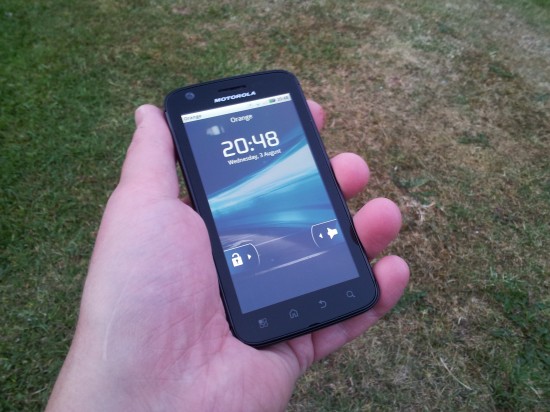 This is a weird one to get your head around. We're used to seeing smartphones here. They fly across the desk and have the usual things. A touch screen, a fast processor, a slick OS, a good camera, GPS, etc. Here though, we have a few additions. A Bluetooth keyboard.. a Bluetooth mouse.. a Lapdock.. a Webtop..
So what, what are these extra things?
Well, before we get to that let's describe this phone. It has a 4″ qHD (960×540) pixel screen sitting behind a Gorilla Glass display, microSD storage and 16GB internal storage. Powered by Android 2.2.2 it has a 5 megapixel camera with LED flash and a secondary VGA camera up-front. It's powered by a dual-core 1GHz ARM Cortex-A9 CPU and there's aGPS, 3.5mm audio port, WiFi and a 1930mAh battery.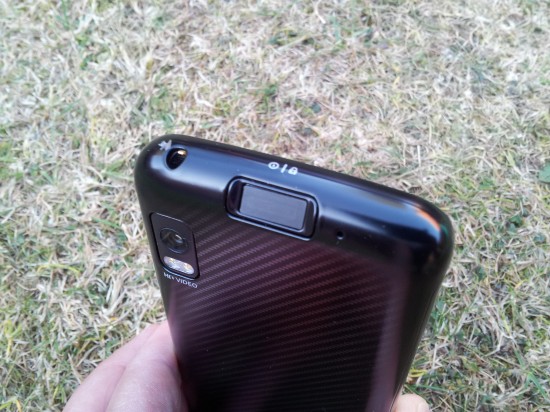 Around back there's a fingerprint recognition sensor. This is easy to setup. Click into the Settings to get going, go into "Change Screen Lock" and then scan your right index finger and left index finger by swiping across the sensor. Once it's done you simply need to whack the power button (that's actually the fingerprint sensor itself – you just push it in), then swipe over the same sensor. We found that the swipe-to-unlock system worked quite well, although you might have to swipe a little slower if you get sweaty 🙂
Like the Galaxy SII there's stacks of storage on tap. 16GB on board and a further 32GB via the microSD card. Nice.
The dual-core CPU provides a nippy response and video calls (via the face-pointing camera) are smooth as butter. That video calling technology doesn't include (as of now) the network-based video calling so we used software like Tango or Qik.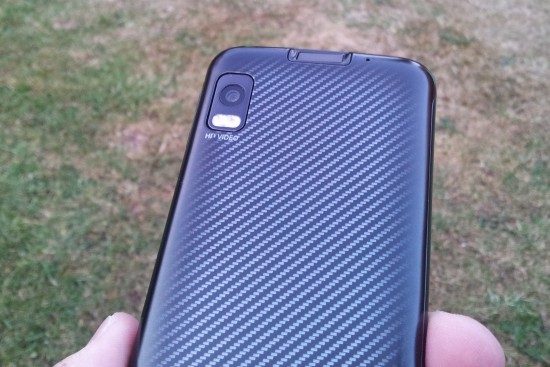 The phone will also output HD video via a HDMI port.. and this is where the fun begins.
What makes this phone different is the accessories. Here's a look at them in video..
Accessories – Lapdock
First there's this, the Motorola Lapdock. Imagine a netbook with the guts taken out and you've got this. It's a sleek keyboard and screen which is very thin and light. Around back there's two USB ports and surround-sound speakers at the edge. But what, I hear you say, powers this thing ?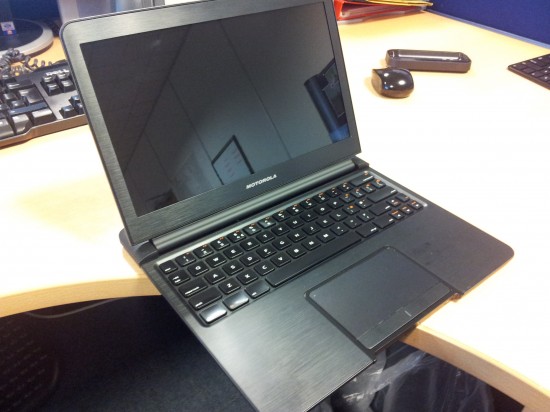 It's the Atrix. Slot it into the flip-up connector and bang – you get a full Firefox browser and a PC-like experience. In use it operated a lot like a cheap netbook – the Linux OS performed well and several apps and Firefox tabs. The Lapdock connects to the web using the Atrix connection, so you can browse where there's a mobile connection.
The Lapdock also provides extra battery power – inside there's two batteries and 7 hours of usage time.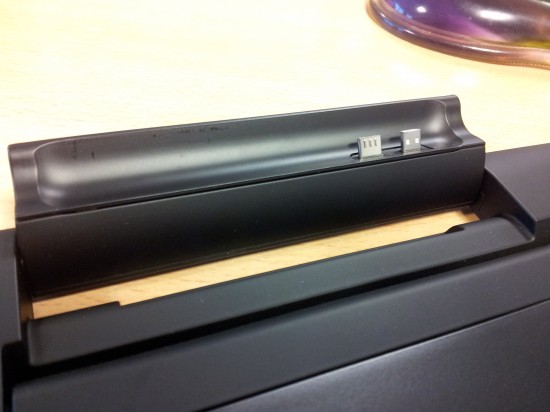 Slotting in the Atrix activates the main screen of the Lapdock and you're dropped into a Linux GUI which also shows you what's happening on the Atrix screen in a small window. Citrix has been added and the browser opens up a whole world of web-based apps. When you've finished using the Lapdock, every page is stored as a link on the phone. If you're using the phone with the Lapdock then you can use the speakerphone aspect.
The Lapdock itself is gorgeous, and I was quite happy using it to browse sites in the "full screen" mode. I also liked the fact that I could write articles like this using online document editing system like Google Docs. But.. I was questioning why I would pay for such an expensive item to edit stuff using online tools when I could do the same thing with a netbook.
The USP (Unique Selling Proposition) here should be the fact that your "stuff" is always with you on your phone, but it's only integrated to a limited degree. Yes, you get to use the phone connectivity and yes, you can play videos on the bigger screen, but you can do that with a netbook slaved to most Android phones. Oh, and this is £300 at the time of writing, so you could get a netbook for a lot less.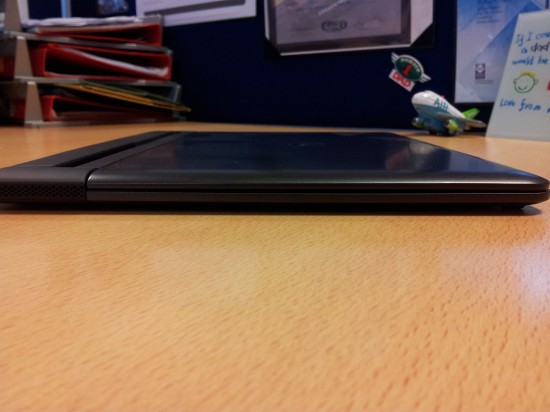 Accessories – Multimedia Dock
Next up is the multimedia dock. Around the back there's some USB ports and a HDMI connection into your TV. There's a HDMI cable in the box too. Plug this into your TV and you get a interface on-screen which can be controlled with the remote. Plonk your Atrix into the cradle and you can use the remote to select music or videos from your phone.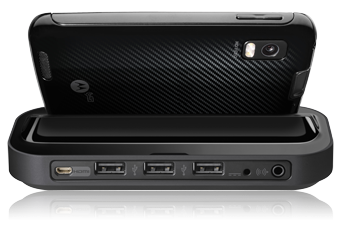 The Bluetooth keyboard and mouse were easy enough to hook up and simply a matter of pairing up with your screen. With this setup you can use your TV screen as a monitor (to be honest there's no real difference between a TV and monitor now, other than the tuner) and do some work with the keyboard and mouse. All the kit we tested was of good quality and we liked using the Bluetooth keyboard and TV setup. In this mode the PC-like experience we had on the Lapdock and have access again to web-based apps, Firefox and Citrix, plus the "phone in a window" experience which lets us navigate around the Atrix itself.
Again, I was a little puzzled as to why I couldn't just use a PC, but this bit of kit was more useful for me because I could attach it to my home TV and browse on the big screen. I did, however, feel a little lost with the phone sitting in a cradle by the screen and not in my hand where I can quickly text or email.
The phone itself
The Atrix has a long-lasting 1930mAh battery, 1GHz Dual-core Tegra 2 CPU, 5 megapixel camera with HD video and a bright qHD 4″ screen. A face-pointing camera will let you make video calls or just look at yourself if you're sticking make-up on (honestly, I've never done it) 🙂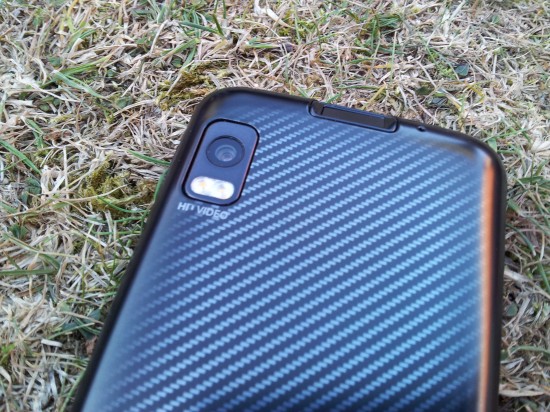 The front of the handset is a glossy black affair with touch-sensitive keys down the bottom. The screen is protected by a Gorilla Glass
Around back there's a cool paint job and the "Blur" logo sitting just next to an external speaker.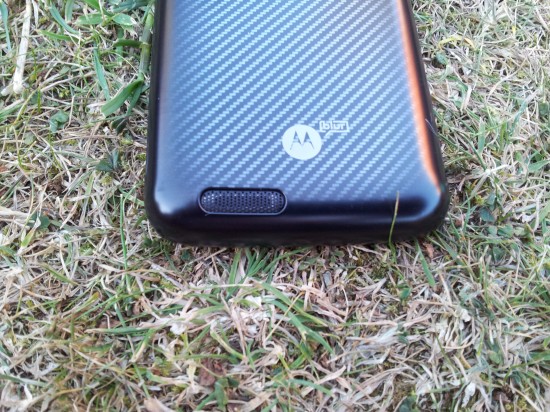 Up near the top you have a fingerprint recognition and the HD video camera just below. On the top edge there's a 3.5mm audio port too.
As you look at the device, on the right, there's the volume up / down keys.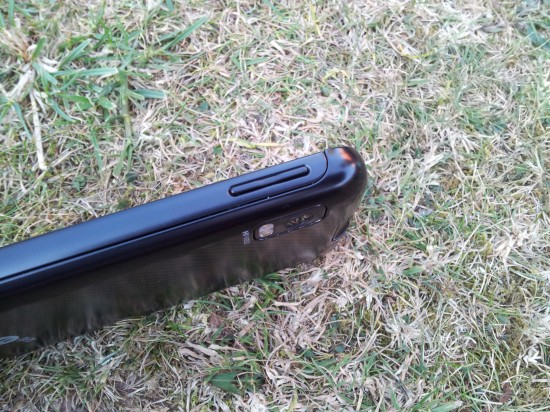 On the left we have the tiny HDMI connector and the charging point.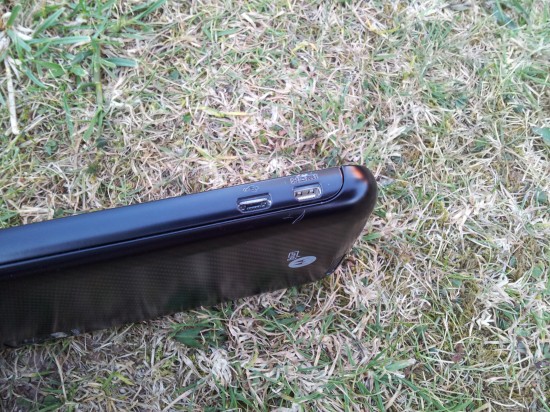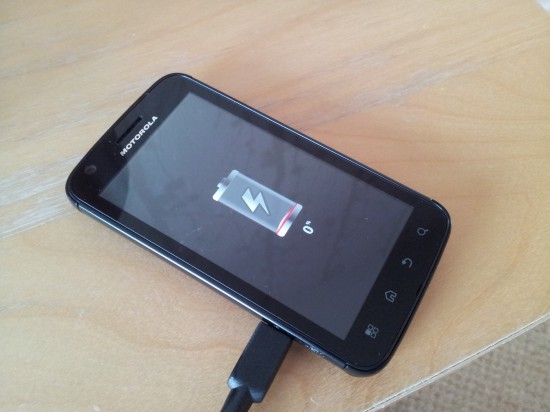 Inside
Android 2.2 sits on this device at the time of writing, so we're a little behind the Android "pack" and the Motorola Blur interface is layered on top. Inside this fast phone there's a certain amount of extra bloatware apps. That said, the Android OS, albeit 2.2, includes all the usual cloud-sync stuff via Google. You can also use Exchange and POP accounts if you wish.
Extras include QuickOffice for PDF and other documents. Opening these up on the go is always a good thing and you expect them just to open and work, which they do. The Moto Blur interface, love it or hate it, is woven into the experience to bring together your social networks into one place.
You can drag, drop and remove widgets and other features into the main screen. There's also a big load of apps to choose from at the bottom, and there's loads. As with other handsets, there's a tendency to duplicate things, especially if you buy the handset through a network such as Orange – extras will be dropped in like Orange Maps, which is pretty similar to Google Maps.
Conclusion
The best parts of the Atrix can also be the worst parts. Those excellent accessories are expensive. Very expensive. It's hard to understand why a laptop needs to be purchased when a netbook would be cheaper and probably more useful.
We liked the DLNA functionality and the docks available were fantastic. Being able to plug the phone into a dock and suddenly convert it into a PC is a really good enhancement. We also like the battery, which lasted well even after all our fiddling, and the camera wasn't too shabby either.
Yes, it's a little disappointing to see Android 2.2 on here and yes, I can't recommend all those accessories purely due to the cost, but taken alone this is an excellent phone.