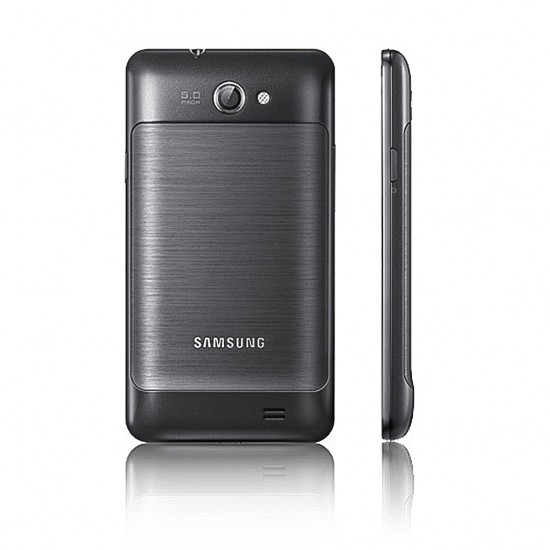 The Samsung Galaxy R is now official. The handset has already appeared on these pages a number of times and comes equipped with a Tegra 2 CPU running at 1GHz, a 4.2″ WVGA screen, WiFi, GPS, a 5 megapixel camera at the rear, 1.3 megapixel up front and Android 2.3. Other specs include Bluetooth 3.0, the Samsung "Hubs", 3.5mm audio port and the usual sensors.
Imagine an ever-so-slightly-slimmed-down version of the Galaxy SII. There's still nothing concrete about a UK launch although "North and Eastern Europe" is mentioned in the press release we received below. There's a hands-on video courtesy of the NVIDIA blog..
[yframe url='http://www.youtube.com/watch?v=_sxBvpEwgGc']
Links – Earlier Story – NVIDIA Blog
NVIDIA and Samsung Expand GALAXY Smartphones with New GALAXY R Smartphone

World's Largest Android Smartphone Maker Ships First Tegra-Powered
Super Phone

Santa Clara, Calif. ­- Aug. 10, 2011-NVIDIA and Samsung Electronics announced the latest GALAXY smartphone, the GALAXY R, which sports a 4.19-inch screen, features the NVIDIA® Tegra™ 2 mobile super chip and the Android 2.3 (also known as Gingerbread) operating system.

Samsung's GALAXY smartphones are among the world's most popular handheld devices.

The GALAXY R gives more consumers the opportunity to enjoy the never-before-seen experiences enabled by Tegra, the world's first mobile processor with a dual-core CPU. The GALAXY R also features a GeForce™ GPU for fast Web browsing with hardware-accelerated Adobe Flash Player support, full HD video and console-quality gaming.

Using the GALAXY R, consumers can multitask efficiently, surf the Web quickly with fast-loading pages and Flash-based content and enjoy HD movies. They can also access Tegra-optimized games through the Tegra Zone app on Android Market.

"Samsung's newest super phone shows off Tegra's multimedia power, and is a great example of what consumers expect from one of the world's top phone makers," said Michael Rayfield, general manager of NVIDIA's mobile business.

The GALAXY R features:
· Tegra 2 super chip
· 4.19″ WVGA Super Clear LCD touchscreen
· Android 2.3 (Gingerbread) operating system
· 720p HD video capture and 1080p Full HD playback (Divx, WMV, MP4, H.264 B/P only)
· Built-in memory of 8GB and support for 32GB Micro SD
· Size: 125.7 x 66.7 x 9.55 mm
· Weight: 131 grams

The GALAXY R is available in Sweden, and is coming to other regions soon, including North & Eastern Europe, South East & West Asia, Middle East Asia, and China.