Leigh has posted a very good review on the LG Optimus 3D full of images and some handy video clips for you all to see.
I was lucky enough to get a Optimus 3D on a short loan from Clove.co.uk to voice my own views on this new interesting device.
Many thanks once again to the team at Clove for supporting the site and for helping us by providing loan handsets so that we can bring reviews such as this one to the public and share our thoughts.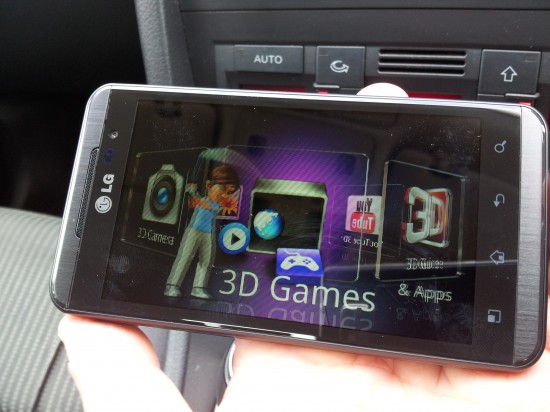 [yframe url='http://www.youtube.com/watch?v=3S9X313zMW8′]
[yframe url='http://www.youtube.com/watch?v=gW_P8s9ZWGw']
Normally I go around the phone and list where everything is located but as Leigh has already done such a great job this is a shorter review with my views and also a pros and cons breakdown of what is on offer.
Pros
+ Screen  –   The 4.3 inch screen with 480 x 800 pixel resolution is really up there with the best screens on mobile phones on the market today.  Images look crisp and clear and the colours also really stand out.  Although not 'quite' up there with the Samsung Galaxy S2 screen, the Optimus 3D is still very impressive and is great for viewing both photos and videos especially 1080p videos you might have to load on the memory.
+ High Speed Connectivity  –   The Optimus 3D is all geared up for the existing mobile networks and also the next stage of network upgrades giving you faster access to the internet.  With support for 21mb/s download and 5.76mb/s upload you get a phone which if paired with the right data plan could replace a standalone USB modem or MiFi device.  One thing worth noting on this test though was with a Three UK Premium Dongle which is HSPA+ ready at home I was hitting speeds of 9.9mb/s recently and this modem supports 21mb/s as does the Optimus 3D.
However the Optimus 3D was getting speeds of around 5mb/s which is about 1/2 the speed of the modem.  Now whilst 5mb/s is not exactly slow and many people would love that on a mobile phone for on the move it does show that specs and features are not always about numbers so it was worth pointing this out in the review.
Cons
– Battery Life  –   Battery life really let me down on the Optimus 3D, so much so I really found it hard to get a day of use from a single charge even with trying different power saving options such as no 3G, instead locked to 2G and also turning off location settings. One day for example the Optimus 3D was taken off charge at 9am on a trip to Exeter and by 3pm on the train back I was down to around the 20% mark, having to turn the phone off to ensure I had enough battery left to make an important call to be picked up afterwards.
– 3D Gimmick  –   The main feature of this phone has to be the large 3D screen which is used for 3D photos/videos plus some pre-installed 3D content such as games and YouTube 3D. Whilst 3D is starting to take off in the TV space for me it is too early to be on a mobile phone, the only reason is for a sales gimmick. In reality YouTube 3D has very little content, taking 3D pictures and videos is great if you have a TV which can display this format, if not then you are limited to the phone and to be honest the whole 3D experience was not an enjoyable one for me.
At times I refused to use any 3D content because it just hurt my eyes and when I did try it out it really was hard for me to focus to get the right angle and view. After trying out about 30 minutes of the 3D experience I did not want to go back and instead used the phone in normal 2D mode and whilst the Optimus 3D is a great phone, if you are only using 2D there are other better devices out there including the Samsung Galaxy S2 and the HTC Sensation.  The best thing if you are interested in getting an Optimus 3D phone is to go to your local phone stores who stock it and have a look at one before you decide to buy, you will either love or hate 3D and at over £400 a wrong decision could be costly.
– Android OS  –   For a phone which was announced at Mobile World Congress and only just gone on sale around the world you would expect that the Optimus 3D would be running 2.3 GingerBread right fro the start?.  Well no unfortunately it runs 2.2 FroYo although an upgrade to 2.3 is coming it seems strange for a top of the range high spec phone such as this to launch on an older version of the OS.  Thankfully he update is due over the next few months so if you do get this phone you do not have long to wait but it is still a wait which should have been avoided.
– Poor Camera Options  –   There are two disappointing things with the camera here.  The first is lack of a dedicated shutter key for taking photos or recording video clips.  Instead there is a dedicated 3D button where a camera key could (and should have been!).  Considering the Optimus 3D has 2 cameras to produce the 3D images a dedicated camera key would have been ideal so you dont need to tap on a small area of the touch screen to take the picture.  The other let down was the poor sensor used in the camera which produced quite disappointing results, especially if you take a look over on the other review at the images which have a lot of green in them such as a tree, the green often looks quite blurred and washed out which for a phone of this price and specification should not be the case.
Overall View
It is a shame that I have managed to find more negative points about the Optimus 3D than positive points especially considering when it was first announced at Mobile World Congress back in February the specifications blew most other phones away but the truth is once your in 'real world' conditions you start to get a better idea of what this phone can do.
As mentioned before, the main feature of this phone is clearly the new 3D technology in the screen but it seems to be like LG have spent all their time on picking top of the line specs and building 3D into the heart and not put as much thought into essential parts such as the camera and the battery which will have to power all the features.  If you take the 3D part out of the handset then you are left with a very large, poorly powered older OS handset which there are better alternatives already availalbe for around the same price and some even have higher specs and impress more than this does.
However if 3D is your thing and you really want to impress people with the latest up to date tech then this phone will be of interest to you but please make sure before you sign into any long contracts or spend over £400 sim free that you actually get hands on the phone and try out before you buy it.   I was really excited about the thought of 3D on a phone and when I heard I had this phone coming for review I could not wait to get my hands on it, however after having some hands on time this is a device I would now not buy personally due to not getting on with the 3D screen and the battery not living up to a full day with even less than normal use.
3D is an interesting idea and we will soon have the HTC EVO 3D available to compare it with, and what else comes out after that we will have to see but for now the 3D market on a mobile phone is very limited and will be so for a while yet.
Link: Clove.co.uk – Full Optimus 3D Review