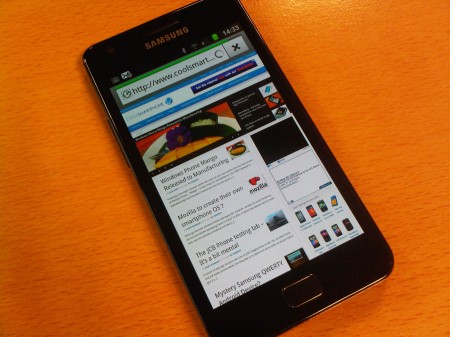 Earlier this month Samsung announced that a staggering 3 million Galaxy SII units had sold around the world. Yes, you thought that was a lot didn't you ? Try 5 million instead – that's the number of handsets sold according to todays announcement, adding more credibility to suggestions that Samsung may soon beat iPhone sales.
The numbers account for sales "to mobile operators" and not actual sales to customers, but we can make a quite startling comparison. Remember back in October 2010 when Microsoft launched their new range or Windows Phone 7 handsets ? Two months later Microsoft stated that they'd shifted 2 million copies of their OS in Q4. That's 2 million copies of the OS, across multiple handsets in one quarter. On July 4th Samsung told us that they'd hit 3 million, and now – 23 days later – they've shifted another 2 million.
Now, we know that Microsoft still have a way to go and these are Microsoft figures for the back-end of 2010, but let's take a minute to digest this. An entire Operating System, which is available across many handsets, is selling 2 million handsets in 3 months. Meanwhile, one Android phone is selling 2 million .. in just over 3 weeks.
Link – Yonhap News Agency
Samsung sells more than 5 mln Galaxy S2 smartphones
SEOUL, July 27 (Yonhap) — Samsung Electronics Co., the world's second-largest mobile phone maker, said Wednesday that it has sold more than 5 million units of Galaxy S2 smartphone in about three months since its debut.

The Galaxy S sequel, which is at the center of Samsung's smartphone push this year, was launched in South Korea on April 29 and was released in Japan and some European countries in the following month.

Earlier this week, the smartphone was released in China and it will be launched in the U.S. market next month, the company's mobile president Shin Jong-kyun told reporters last week.

Samsung said earlier this year that it plans to release the Android-based smartphone in 120 countries through 140 mobile carriers, as it aims to sell 10 million units.

Helped by the strong sales of the Galaxy S2, the company is estimated to have shipped nearly 20 million smartphones in the April-June quarter, according to Lee Seung-woo, a Seoul-based Shinyoung Securities analyst.

Samsung will "most certainly" be the top smartphone vendor in the April-June period, BNP Paribas analyst Peter Yu said earlier this month. The company was the world's fourth-largest smartphone supplier in 2010.

Nokia Corp., the world's biggest mobile-phone maker, said that it sold 16.7 million units of smartphones, while Apple Inc. said it sold 20.34 million iPhones in the April-June quarter.

Samsung is scheduled to disclose its earnings for the April-June period on Friday.

The 5 million milestone counts the number of models sold to mobile operators, not the number of the phones activated.
when you compare that to the two million devices sold by Microsoft