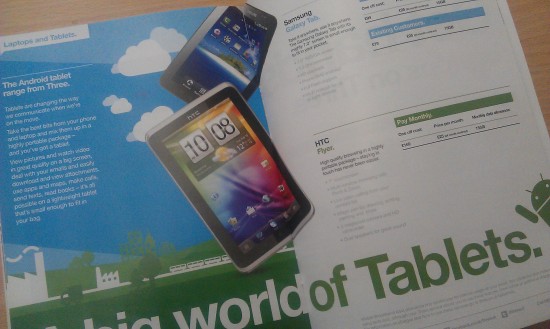 Three have, as promised added the HTC Flyer to their range of devices. Although it's still showing as coming soon on their website it's now appearing in their catalogues.
To get one you'll need to splash out £169, then it's £25 per month on a 2 year contract. For that you'll get 15GB data allowance and you can browse on 3G where-ever you may be. Three are also selling another 7″ tablet, the Samsung Galaxy Tab. You can get that on a similar deal but with a lower up-front cost.
The HTC Flyer, which we saw in Barcelona, is powered by a 4000 mAh battery and has two cameras – a 5 megapixel at the rear and a 1.3 megapixel up-front. The 7″ screen has is 1024×600 pixel, 1.5GHz CPU, GPS and the HTC Scribe technology.
Let us know if you're putting your name down for one.
Link – HTC Flyer, Up Close
Credit – Dan