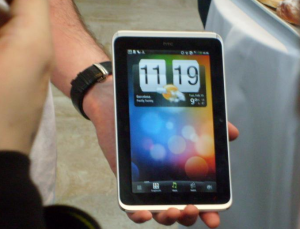 Today HTC announced the HTC Flyer – it's the tablet we've waited for from HTC and includes a totally re-worked HTC Sense interface. HTC have looked deeply into what people want and CEO Peter Chou told us that they "Didn't just want to make another tablet". There had to be something different about the HTC tablet. Through their acquisition of OnLive they'll be streaming games to your Flyer tablet – not downloading, but actually feeding them live to the device. The video of this in action looked very impressive indeed. Check the video below to see it being introduced. You can also see how the HTC Scribing system works…
[yframe url='http://www.youtube.com/watch?v=RP75oJy8osQ']
The streaming games aren't just going to stop on the Flyer – other devices will be getting this experience too. Another recent HTC buy – Saffron Digital – took to the stage to demo HTC Watch. Again, streaming entertainment but this time movies, TV and video all delivered to your new 7″ Flyer tablet. HTC have also added another technology in the form of "HTC Scribe" – it's a way to make notes, share and remind you of events and tasks. It's a natural feeling because you merely write, scribble and draw. You simply tap a page – any page – and start scribbling on it. It's a form of smart note-taking with an extra feature called "Timemark" to capture audio recordings. This, when combined with the Scribe technology, means that you can travel back to that exact thought, that exact moment in the meeting and sync it with Evernote.
Available in Q2 the Flyer has 32GB of internal storage, a microSD card slot and weighs just 415 grams. HTC tell us that they wanted the device to be "as light or lighter than a paperback book". They seem to have achieved that with grams to spare. Powered by a 1.5GHz CPU it's got a 5 megapixel camera at the back, a 1.3 megapixel camera up the front, a 3.5mm audio jack, WiFi, Bluetooth 3.0 and that screen is a 7″ 1024×600 capacitive unit. It also has HSPA / WCDMA connectivity, GPS, a G-sensor, light sensor, digital compass and HTC are confident that you can get 6 hours of gaming or video-watching out of the 4000 mAh battery.
The Flyer itself is yet another solid and strong device from HTC. It's got that unibody construction for added strength and two rubber areas at the top and bottom of the device. A pen is provided for "Scribing".
Everyone wants to see this device at the moment. We managed to grab this demo from a HTC guy moments after launch…
[yframe url='http://www.youtube.com/watch?v=cXUiDfIeXmU']
More shots below. We're being told that this runs Android 2.4 – there's some confusion around MWC on this point and the specs just state "Android".
Link – HTC Flyer