Google announced at their I/O conference today a new music streaming service where you can stream your own music to your Android device both tablet or handset.  There has been mixed feedback from people so far who heard about this announcement mostly being 'Why would i want to upload my music and then use up my data bandwidth to stream it when it is already on my memory card?". Make up your own mind after reading the information and watching the video!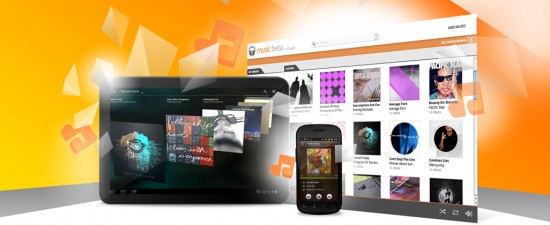 The disappointing news is that on requesting to join the Beta which is invitation only it popped up a message stating it is only available currently in the United States (booooo!)
Google have made a video and a separate site with more information all found below
Your collection, now in one place.
Upload your personal music collection to a single library, even if it's scattered across multiple computers. You can upload music files from any folder or add your iTunes® library and all of your playlists. And when you add new music to your computer, it can be automatically added to your music collection online.
Mix it up.
Create your own custom playlists with just a few clicks. Or use Instant Mix to automatically build new playlists of songs from your collection that go great together. All the playlists you create and all the changes you make to them are automatically available everywhere your music is.
Listen anywhere, even offline.
You can get to your personal music collection at home or on the go. Listen from the web or any enabled device with the Music app available from Android Market. Not online? No problem. The songs you've recently played will automatically be available offline. You can also select the specific albums, artists and playlists you want to have available when you're not connected.
Stay in sync, without the hassle.
Spend more time listening to your music and less time managing it. Once your music is online, it's always available. Playlists are automatically kept in sync, and you don't have to worry about cables, file transfers, or running out of storage space.
Update – Yep, the service is only available in the US and it's by invitation only at the moment. This BBC News story details how the original offering has had to be slimmed down.
Link – Google Music Beta