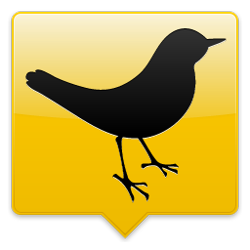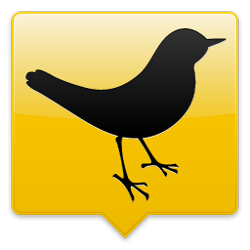 The iOS version of Tweetdeck, the hugely popular social networking desktop app, has been somewhat forgotten recently, and desperately needed an update. Tweetdeck 2.0 for iPhone, iPod Touch, and iPad was recently released with a complete overhaul. In short, it's fantastic.
Last year, Tweetdeck released their Android app, which was met with a lot of positive reception, and Tweetdeck 2.0 takes a lot of the cool features of the Android app to iOS. Upon opening the app, everything felt very familiar to both the desktop app (which I use exclusively, alongside the HTML5 'Chromedeck') as well as the Android app.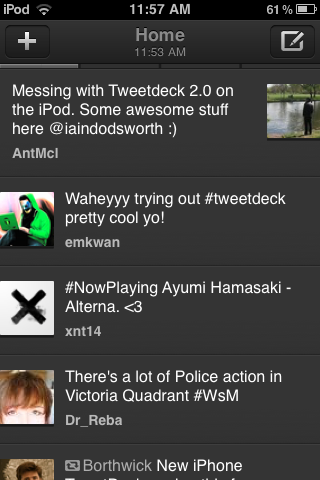 As with any Tweetdeck app, you can sign in with individual social networks, or with your Tweetdeck account. I did the latter, and all of my data from two Twitter accounts and Facebook was synced down to my device within seconds.
I'm using this on a second generation jailbroken iPod Touch, running iOS 4.2.1, and it runs way better than the previous generation of Tweetdeck. In that version, I experienced frequent app crashing when flicking through columns, and each column took ridiculously long to load. Sure, I have a lot more hardware constraints that, for instance, an iPhone 4 or 4th gen iPod Touch, but it was still pretty unstable. In Tweetdeck 2.0, I can flick between my columns with as much vigour as I desire, and the app will always remain responsive, even on my ageing device! If you're using a more powerful iDevice, then this app will fly. Simply swiping your finger from side to side will take you through each of your columns, with a useful set of bars at the top letting you know where you are.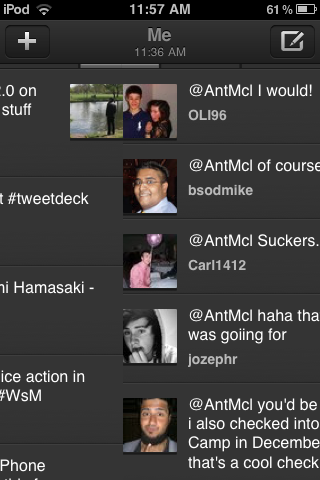 Tweetdeck 2.0 features everything you'd expect from a Twitter app, including the useful pull to refresh at the top of each column/timeline. Like the desktop and Android apps, you can create a column for pretty much anything, be it one of your lists, your own tweets, someone else's tweets, trending topics; Twitter power users will be more than satisfied with the experience here. The only minor annoyance is that photo uploads are currently only supported by yFrog, so you Plixi or Twitpic users might need to bear that in mind.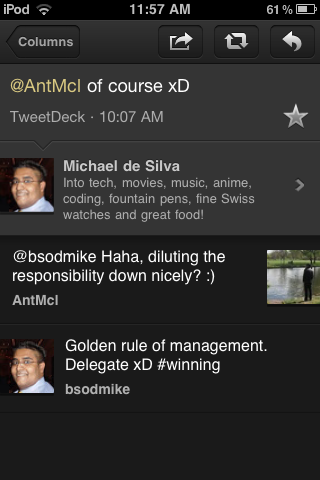 Conversation threads have also been improved; previously, one had to keep pressing the 'in reply to' icon in order to track back through the conversation; now though, the entire conversation thread is displayed as one timeline, and even displays the mini-bio of the user who's replied to you, which is a nice touch. The conversation view also gives you the option to reply, retweet, favourite, and return to your columns.
Tweetdeck 2.0 also takes advantage of  gestures more, which removes a lot of buttons from the UI. For instance, individual column preference editing is done through a simply multitouch pinch gesture: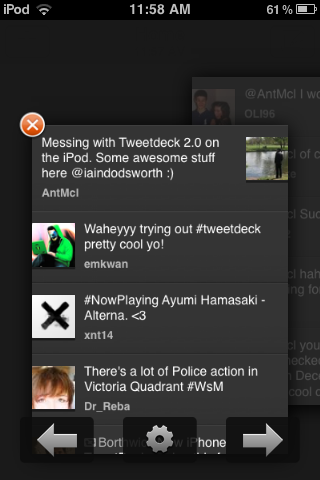 This brings up the settings menu for each column, where you can specify what updates and notifications you want; after all, Tweetdeck is designed to deal with multiple social networks, so you can have your Facebook updates show alongside your Twitter timeline, if you so wish. Overall, the UI is a lot more intuitive, and is significantly cleaner than the previous version of Tweetdeck.
Tweetdeck 2.0 is a much needed update to Tweetdeck on iOS, and it sure was worth the (pretty long) wait. It brings the app up to date, with a lovely new UI that oozes minimalism and simplicity. With a few more added features, such as the ability to change image hosts, and perhaps to edit columns colour preferences, Tweetdeck is certainly on to a winner here. Best of all though, Tweetdeck is one hundred percent free.