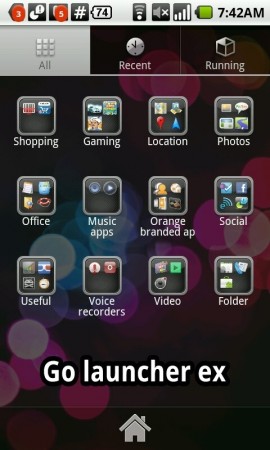 We have seen so many launchers in the android market, it's much to hard for you to find the right one to catch your eye. Some are visually appealing and some are useful for your needs. I have found a launcher that puts both into the perspective and provide you with something that is both useful and has good-looks.
the launcher has one of the most controversial features out there in terms of launchers; folders in the app drawer. this is a feature present in Apple's iOS and you know from the recent Samsung case that they would certainly sue the GO development team for this function. However, I've always felt that the Android OS has needed this. It certainly helps me to organize my apps in categories.
Another big feature in the launcher is the added ability to kill current apps using the default task manager. It is useful in killing processes on the phone to speed up the device. This maybe useful to people that want more speed and less lag.
This launcher is probably worth having a look at. It's one of the most innovative ideas out there. Go check it out;
Link – Go Launcher EX