Vodafone have just gone and posted a link to the HTC Sensation which is due to be announced today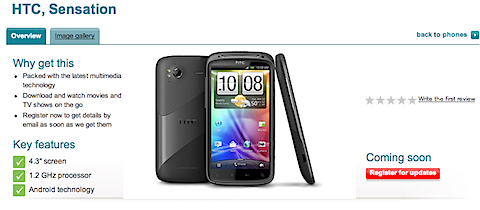 If you want a high-performing phone that lets you take HD video and see things clearly on its 4.3″ screen, choose the HTC Sensation.
Take crystal-clear HD video and photos

Say you're spending your birthday weekend with a group of mates in a cottage in Cornwall. Take along your HTC Sensation and you can capture the fun in pin-sharp quality on the HD video recorder – and listen to those hilarious comments in surround sound.
You can also take great photos of the trip with the Sensation's 8 megapixel rear-facing camera. The LED flash means shots after dark come out clearly, while face detection automatically focuses on everyone's faces when you're snapping away. And with geotagging, you can easily remember where each shot was taken. Then when you want to catch up with everyone after you're back home, you can chat face-to-face with them by using the Sensation's 1.2 megapixel front-facing camera.
The HTC Sensation makes browsing a breeze

The high-performing HTC Sensation has a 1.2 GHz processor built in – that's larger than the ones you'll find in the HTC Desire HD and Sony Ericsson arc. Because this processor is so powerful, it makes web browsing really fast and easy when you're in an area with a good mobile phone signal.
The Sensation also comes with 4GB of internal memory and an 8GB memory card. That means you can store more of your favourite music and apps than on the HTC Desire HD which only has a 4GB card.
See things in bright detail on the Sensation

The HTC Sensation has a huge 4.3″ screen, so you can see web pages, photos and videos just the way you like to. It also packs in the very latest QHD SLCD technology – which makes images appear crisper and clearer on the Sensation than they do on its predecessor the HTC Desire HD.
We will ve live from the HTC event in London in just a few hours bringing you hands on thoughts of this new device.  To follow what happens check our Live Blog at http://www.coolsmartphone.com/2011/04/12/live-from-htc-event-today/