It's sometimes difficult to think that the tablet that has spawned so many imitators this year, Apple's iPad, was only released last year. At this year's MWC there were tablets everywhere – Samsung, Motorola, HTC and HP to name but a few are all coming out with their new offerings this year, as well as Apple's new sequel tablet that was announced last week.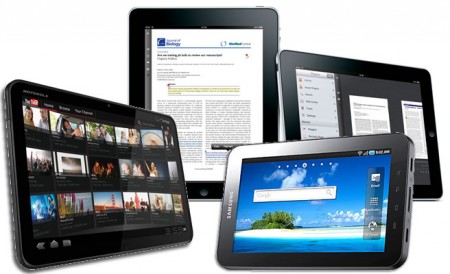 I, like a few people I know, have come to the point where I am going to take the plunge and buy a tablet, but which one?
(the answer may surprise you – or not!) 
There are now a variety of sizes, operating systems, and manufacturers to choose from, with some distinct differences between them.
For me the most important thing to consider, is what I intend to use the tablet for. There do seem to be some manufactures that have just jumped on the tablet bandwagon, and not given thought to how the tablet will be used (or if they have, I just can't see what they're seeing).
One of the great things tablets do, is allow for the easy consumption of media. I remember getting excited when I realised I could watch a video on the tiny 2″ish screen on my original SPV, but that looks a bit silly now, compared to watching a film on a modern tablet. But media is not just pre-recorded video – in fact, it can be much more traditional. I am a huge fan of Amazon's Kindle Apps and have them installed on every device I can. I love being able to carry multiple books around with me so easily, and it remembering where I was, no matter which device I pick up. To me that's what technology should be about – enable us to do what we do more easily, as well as adding twists that bring new life existing mediums. Traditional print is one medium I see as really benefiting from the rise of tablets. T3 is a magazine I read regularly, and I love what they have done in turning their magazine into an app for the iPad. Not only is it cheaper than buying the hard copy, but they have woven additional content into the app that really does enhance the experience. The Times (and Sunday Times) are more titles that have gone digital, and are the better for it. As well as enhanced content, the convenience factor is huge. Broadsheets have always been unwieldy things, they got print on your fingers and anything else they came into contact with, and they're harder to get hold of now. Gone are the days when you had a choice of shops offering to deliver the morning paper before you left for work – its pretty hard to find anyone to do it now. But with digital publishing, you can just press the button on  your tablet, and hey presto, there's your morning paper. It even up dates during the day and you get additional "evening editions" on big news days.
So that's media, but there are other things tablets do of course – the internet, games and of course, apps. Now I'll confess, I don't use the internet browser too often on mobile devices. I find that for my needs, apps cover most things, and only end up on the browser if there isn't an app instead, which is actually quite rare. That of course makes the apps very important. From a phone perspective my main device is an HTC Desire HD and I have an iPod Touch (latest version) as well. That gives me a large spectrum of apps for Android and iOS, which covers most things. However, there are some apps you can only get on a tablet. All the print media I mentioned above are currently only available on the iPad, and there is another area the iPad has quietly gained a niche in – music making applications.
As a part time musician, I've loved what technology has done to ease making music. When I was 21 I got a 4 track portastudio for recording demos, which was cutting edge then, but looking back, it was a real pain! On top of that I had rack system for my guitar that took 2 people to carry to get all the sounds I wanted just for my guitar. Roll forward, ahem, a few years, and all of that can be packed into an iPad, and for massively less cost. It's hard to believe frankly, but all the guitar amps and pedals I want I currently carry round in my iPod Touch (using Agile Partner's fantastic Ampkit),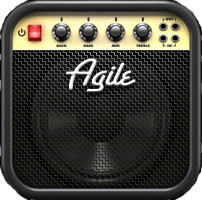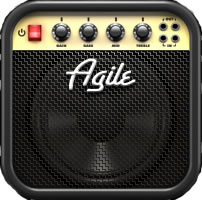 and everything cost me under £20!! There are lots of exciting synthesisers for the iPad too, and the announcement of Garageband at the iPad 2 launch to me was the most exciting part of the event. An 8 track sequencer with multiple instruments built in for £3 is absolutely staggering.
So after all that, you may have guessed which tablet I'm going to go for. Yes, an iPad. But surprisingly, an original iPad, not an iPad 2. And I'm going to get it a on contract too.
The offering of tablets on contract sparked some debate on Coolsmartphone.com, with not too many fans. The launch of the iPad 2 was one of the reasons cited for not getting locked into a 2 year contract, but actually is just that that has encouraged me. The iPad 2 does look like a great evolution of the iPad, but I don't need Facetime, and I think it will be some time for the apps are available that take full advantage of the hardware. With the price drop on the original, I think it look really attractive now. I'm going with 3's deal on a 32gb iPad – £149 upfront and £20 a month with 15gb of data included. 3's iPad data deals are hugely better than any other networks (more than 7x the data allowance), and 15gb should be plenty for nearly everyone.
But what of the other tablets?
Well for me, its Apple's apps that have swung me. I am much more interested in what technology can do, rather than technology for the sake of  itself. An iPad will enable me to read everything I want (books, magazines and newspapers), create music, write blogs, play games, watch TV and much more. I'm afraid there isn't another OS/market that can do that at the moment. I would not consider myself an Apple fanboy (the iPhone is  not for me & I use PC's), but I think Steve Jobs had a point when he said no-one else is near them for content. And for me, a device without content is useless.
If Android developers can get some killers apps out for tablets this year and if media organisations can make the leap to Android as well, then that will help the cause of Honeycomb tablets, but they have an uphill struggle. Android Honeycomb looks really good – I personally prefer Android to iOS from an OS perspective, but an OS is useless on its own. HTC have realised this I think, and their integration with Evernote gives the Flyer real purpose; for notetaking. For business meetings I'd use it, but that's too narrow a purpose – and for me 7″ is too small for a tablet. I think 10″ is a minimum frankly and I'd like to see 11″ tablets.
Finally I will comment on Flash, as I haven't above. The reason I hadn't above, is I don't think its an issue to not have flash on a tablet – it's absence might even be a bonus. For starters it will remove all those annoying flash adverts that take over webpages, but plugin use in general seems to be on the decrease. Microsoft have all but abandoned Silverlight for PCs as HTML 5 seems to be gaining real ground. So thanks, but not bothered frankly.