PC World have just added pricing for the Motorola Xoom. Are you ready ? It'll cost £449.99, which is actually a bit less than we were expecting (it's $799.99 in the US for the 3G version). You can pre-order the sexy 10.1″ tablet now or, if you want something to drool over, you can look at our up-close gallery.
The Xoom here seems to be the WiFi-only version. It uses Android Honeycomb – the all-new "designed for tablets" version and has a 5 megapixel camera with dual LED flash at the back, a 2 megapixel camera up front, Bluetooth 2.1, 3.5mm audio jack, aGPS, compass and that 10.1″ WXGA (1280×800 pixel) screen with 720p HD. Powered by a 1GHz dual-core CPU you get 32GB of on-board memory, HDMI output and Android Market access.
Update – Ohh.. we've upset someone. PCWorld have now removed the pricing details. Lucky we grabbed the image this morning eh ?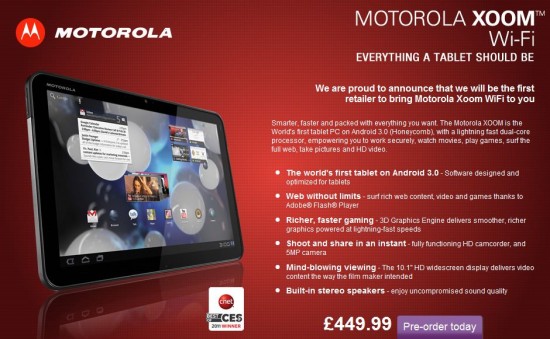 Links – Earlier story – PC World
Credit – Stephen Johnson