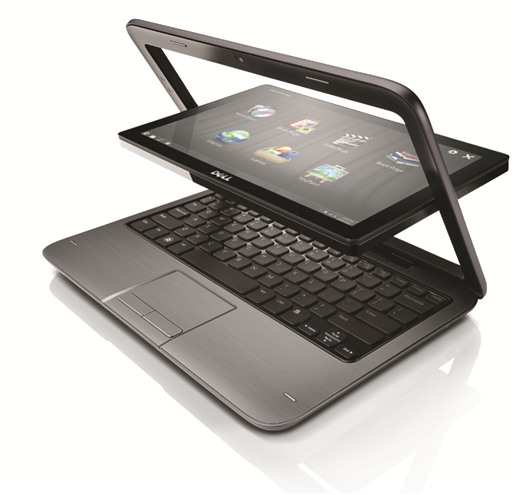 A few weeks back we told you about some new tablet devices coming to Three. The Samsung Galaxy Tab and the Linx Commtiva N700 were named as arriving soon to the network but, in an announcement today, Three have introduced a third device – the Dell Inspiron Duo.
The Dell netbook / tablet has already appeared in advertisements and has a slick flip-over screen which allows you to switch from a tablet to a netbook with a full keyboard. It has a 10″ display and is available on Three for £49.99 up-front and then £41.52 a month with 5GB data on a 24 month contract.
However.. the earlier Three announcement also differs from this new announcement because they've renamed the "Galaxy Tab" to the "Galaxy Tab 1" in their picture. This pretty much proves to us that the Samsung Galaxy 2 will be the name of the new Samsung tablet and, with any luck, we'll have a hands-on in a couple of days time.
Update – According to Three the picture below (taken from here should in fact just read "Galaxy Tab" and not "Galaxy Tab 1". More in a day or two..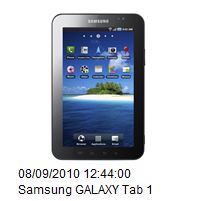 Link – Three Media Centre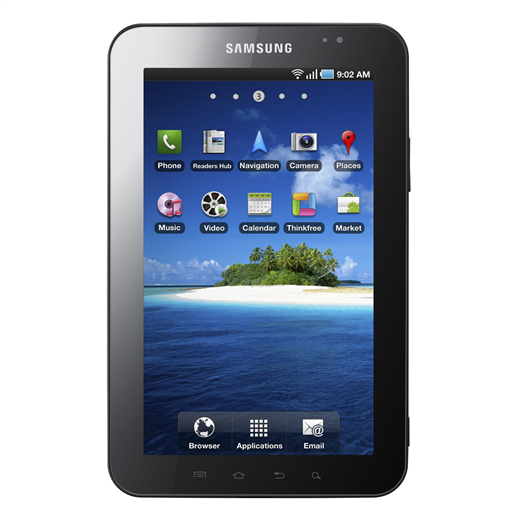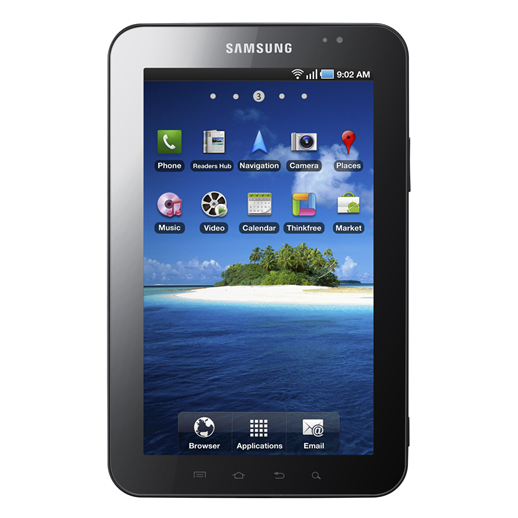 Full press release..
Three new tablets, available now on Three.

Three announces new connectivity options for its award-winning network. Available in store and online this month, Three is introducing affordable choices for customers seeking the latest in internet-enabled tablets and laptops with the Samsung Galaxy Tab, Commtiva N700 and Dell Inspiron Duo joining its ranks with a low monthly cost of £25.

David Kerrigan, Head of Mobile Broadband, commented: "With the tablet market going from strength to strength, we're proud to be ranging three of the hottest tablets on the market at the moment. These devices are ideal to take out and about with you and our generous data allowances and great coverage mean you can keep using your tablet whenever you need it.

"In today's world of increasing data use, tablet owners need to feel confident that their network can provide the coverage and speed needed to support their browsing, online buying and social media habits. We're confident that following our recent network investment and YouGov positioning us as the UK's number one mobile broadband provider that Three is the perfect tablet partner."

Commtiva N700

Three will be the first operator to launch this sleek, new and affordable tablet this month. With a black front and silver back, this gadget simplifies your digital life by acting as a computer, sat nav, MP3 player and photo album all rolled into one, together with the latest Apps for games, fun and productivity.

The Commtiva N700 is available in store and online for an initial cost of £99 on a £25 a month, including 15GB data on a 24 month contract.

Key features include:

* 7" capacitive touchscreen (WVGA 800 x 480)
* Android 2.2 FroYo operating system
* 3MP camera
* Mini-USB (USB 2.0)
* 3.5mm stereo audio jack
* Access to more than 100,000 apps via Google Marketplace
* 4GB microSD card
* Weight 375g
* Flash support (via Marketplace App).

Samsung Galaxy Tab

Samsung's flagship android tablet combines portability with high performance. It's super-fast 1GHz processor, coupled with Three's award winning, fast 3G network*, makes browsing the internet, watching YouTube videos and sharing social media updates easy.

It has full Flash capability, front and rear facing cameras and access to the Samsung Media Hub.

The Samsung Galaxy Tab is available in store and online for an initial cost of £199 on a £25 a month, including 15GB data, on a 24 month contract.

Key features include:

* 7.0″capactive touchscreen (WSVGA 1024 x 600)
* 1.0 GHz processor
* 16 GB storage
* HD playback
* Full Flash support
* Android 2.2FroYo operating system
* Front and rear facing cameras for video calls
* Mini-USB (USB 2.0)
* Access to more than 100,000 apps via Google Marketplace

The Samsung Galaxy Tab also comes with a content bundle from Samsung worth £200 including films, music, ebooks, magazine and games. This free entertainment package is available if you register your tablet before 31st March 2011.

Dell Inspiron Duo

Sometimes you want to touch. Sometimes you need to type. The Dell Inspiron Duo, Three's first hybrid netbook tablet, allows you to do both in style. This Flash-capable device has an innovative flip design so you can switch modes in seconds and a 10″ HD display perfect for watching movies and playing games.

The Dell Inspiron Duo is available on Three.co.uk only for an initial cost of £49.99 on a £41.52 a month, including 5GB data on a 24 month contract.

Key features include:

* Powerful Intel® AtomTM processor – N550 Dual Core
* 10.1 HD Screen (resolution 1366×768)
* 2GB of RAM
* 320 GB Hard drive
* Genuine Windows®7 Home Premium
* Hi-definition display and HD accelerator for smooth HD playback performance
* 1.3MP webcam
* 2 x USB ports

*Rated number one mobile broadband provider by YouGov.All figures, unless otherwise stated, are from YouGov Plc. Total sample size was 4,072 adults, of which 2,016 used Smartphones. Three's smartphone mobile internet sample was 123 users. This is the fifth wave of an independent study. Fieldwork was undertaken between 17th December and 21st December 2010. The survey was carried out online. The figures have not been weighted. MVNOs have been excluded.

Follow us on #ThreeUK on Twitter for the latest product announcements.