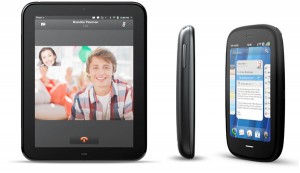 HP (Rip Palm) have just announced a Tablet and 2 phones, the Pre 3 and veer.
Probably the pick of the bunch is the Tablet, the very ipad looking device does have an impressive specification,including:
9.7″ screen
1.2GHz Dual core snapdragon Cpu
"Twice as much memory as the Pre 2" (?)
1024×768 resolution
1.3 mp front camera for video calling
16GB or 32GB of storage.
And finally, no price….
Looks nice, certainly a decent option over the ipad and various Android Tabs all due for release any day.