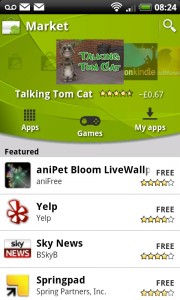 Google look set to recruit a new team of people to develop apps for Android. The Wall Street Journal states that "dozens" of software developers will be taken on to create apps for Android. They appear to be trying to increase the quality of apps whilst at the same time driving more revenue through AdMob, the Google-owned advertising network which displays ads on some apps.
"The company, they said, will bankroll small groups of engineers to create a range of apps, from the kinds of games made famous by Rovio Mobile Ltd.'s Angry Birds to services that are based on a user's location, like the popular app from Foursquare Labs Inc. that lets users "check in" with friends at, say, a store or park."
The move comes off the back of other moves to improve the amount of paid-apps being bought.
Link – Wall Street Journal